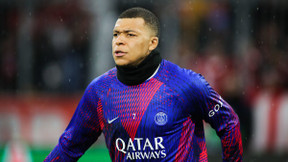 Last weekend, Kylian Mbappe spoke about the impact the result against Bayern Munich in the Champions League could have. And the response of the Parisian striker, far from being trivial, leaves some very telling clues about his position today vis-à-vis a future at Paris Saint-Germain.
At the end of last week, Kylian Mbappe spoke about his future in front of the microphones, responding in particular to the question of whether the result against the Bayern would have an impact on his future: Without disrespecting PSG, I don't think because if I had tied my future to the Champions League I would have gone very far. I'm very happy here and I only think about making the best of the club's days (…) The fact that the public is with me? Just playing here is a privilege, I have had the chance to enjoy every moment, I have progressed as a player. I have changed a lot, a lot. I arrived I was a young player, maybe very talented, whatever, but I was a young player. As a man too, I learned a lot here. And as I said, playing at Paris Saint-Germain even more for me, a Parisian by birth, is something special.".
Incredible, he fails Kylian Mbappé! https://t.co/MK8DfkLibK pic.twitter.com/RKhutQvs4I

— 24hfootnews (@24hfootnews) March 9, 2023
A part of communication but not only…
How to decipher the words of the Parisian player? On the one hand, they aimed not to add additional pressure on the team before the return by disconnecting the match from the possible bad consequences it would have. It is certain that if the French striker had made comments suggesting that an elimination in C1 against Bayern could have an impact on his future, this would have had a very negative impact on the pre-match. There is therefore of course an element of communication in this response.
A long-term mindset
But it's not just that. The words of Kylian Mbappe all the same leave very favorable clues about his state of mind, far from the time when he did not hide his desire elsewhere. Today at the head of the project, Mbappe has taken responsibility for the management of the group and seems – in terms of its state of mind – determined to take it to the top in the long term. This is certainly a very favorable element for the PSG for its future.
Mercato Mercato – PSG: Mbappé, far from trivial phrases about his future… 24hfootnews.