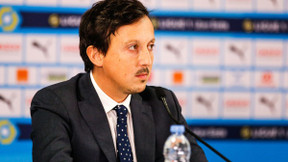 At 19, Simon Ngapandouetnbu is now OM's third goalkeeper. But now the Phocaean wants to develop and play. Thus, the Cameroonian goalkeeper could well be loaned during the next summer transfer window. A departure from Ngapandouetnbu which could have already taken place in recent months, but it fell through due to a few twists and turns.
Behind Paul Lopez And Ruben Blanco this season at OM, Simon Ngapandouetnbu complete his apprenticeship as a goalkeeper. But at 19, the Cameroonian now aspires to more. So, as explained by Provence this Sunday, the Olympian goalkeeper could well look elsewhere for the next summer transfer window. A loan could offer Ngapandouetnbu the opportunity to play, which could already have been the case this season.
"He had to leave": OM take advantage of a big opening in the transfer window https://t.co/4X5po2XI4K pic.twitter.com/HFR1ALrhK1

— 24hfootnews (@24hfootnews) March 26, 2023
A failed loan last summer
According to information from the regional daily, Simon Ngapandouetnbu should have already been lent by theOM this season. Last summer, during the transfer window, there was talk of a loan for the Cameroonian. An operation that finally fell through due to the injury of the principal concerned.
Bis repeated this winter for the goalkeeper of OM
In January, Simon Ngapandouetnbu could have left theOM in the form of a loan. A Ligue 2 club seemed very interested, while Paul also inquired. Again, it didn't happen due to the injury of Paul Lopez and the door closed for Ngapandouetnbu.
The transfer window of OM turned upside down, his departure falls into the water 24hfootnews.