By Anya Pelshaw on SwimSwam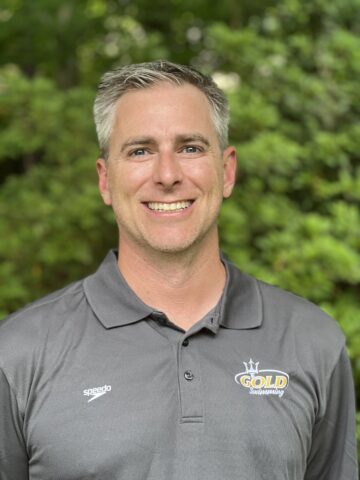 Former Head Coach at Division III John Carroll University Mark Fino has taken over as head coach at Chattahoochee Gold's Cumming Aquatic Center Site.
Fino most recently was the head coach at Division III John Carroll located in the suburbs of Cleveland, Ohio. Fino spent seven years there as head coach before stepping down in May 2020. Both the men's and women's teams captured Ohio Athletic Conference (OAC) titles from 2017-2020 under Fino's guide.
Fino spoke of the personal reasons he left John Carroll saying, "I loved my time at JCU, and what we built was special. But, my family was presented with an opportunity that allowed one parent to stay home with our children. We chose that option while we were confronted with COVID and all of the uncertainty around it. Obviously, I am back working now. We learned I am not the best stay-at-home dad, and I find more joy in teaching other kids than I do with the household duties."
He spent a few years off of the pool deck raising his twin boys but has now been drawn back to the pool. He tried coaching a few sports such as "my boy's rec soccer team; then, I coached their baseball team, their flag football team, and my neighborhood recreational swim team." Fino realized he "find(s) real joy in teaching young people through sports but, I know swimming best. Therefore, I sought out a job that enabled me to teach young people within the sport of swimming."
There are many differences between coaching college students and club swimmers. Fino spoke of this difference saying, "the greatest (difference) is the ability to teach swimming from the ground up. At college, you are polishing a mostly finished product. Club coaching is about building great swimmers from scratch. Additionally, there is no recruiting. It was exciting to build a team; but, I think my new team will grow as the word spreads about what we are doing with Chattahoochee Gold. I am excited about this opportunity."
Prior to his time at JCU, Fino was an assistant coach at Division III Oberlin College also located in Ohio and was elevated to head coach there in 2004. Fino swam in college at Division III Kalamazoo College located in Michigan.
Fino will be taking over the head coaching position from Pat Murphy who is taking over as an administrator with the team.
Chattahoochee Gold has a total of 750+ swimmers with three sites. In addition to their Cumming Aquatic Center Site they also have the Mountain View Aquatic Center Site and Woodstock Aquatic Center Site.
SwimSwam: Former John Carroll HC Mark Fino Takes Over at Chattahoochee Gold's Cumming Center Site