By James Sutherland on SwimSwam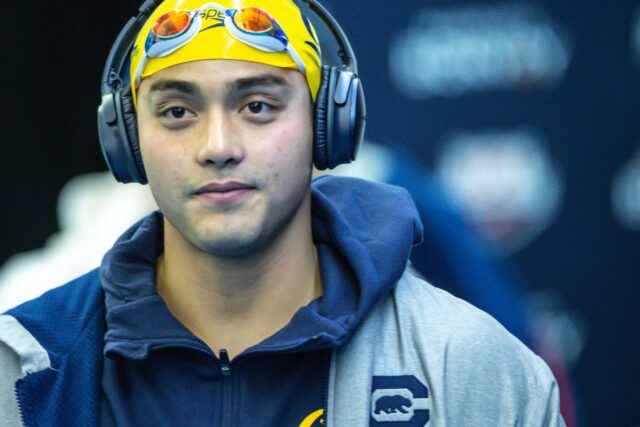 2023 NCAA DIVISION I MEN'S SWIMMING & DIVING CHAMPIONSHIPS
March 22-25, 2023
Jean K. Freeman Aquatic Center | Minneapolis, MN
SCY (25 yards)
After nearly stunning pre-race favorite Shaine Casas at the 2021 NCAA Championships as a freshman, Destin Lasco has asserted himself as the best male 200 backstroker in college swimming over the past two years.
In that 2021 NCAA showdown, Lasco had entered the meet with a personal best time of 1:38.13 in the 200 back—set less than a month prior at Pac-12s—and managed to drop a blistering time of 1:35.99 in the final, finishing just 24 one-hundredths back of Casas while reeling off the third-fastest swim in history.
Lasco also overtook Cal legend Ryan Murphy as the fastest freshman in history by more than a second.
Things changed last season, as Lasco went from the hunter to the hunted, entering as the big favorite. He came through to win the title, pulling away from Texas' Carson Foster on the last 50, but his time of 1:37.71 maybe left something to be desired, especially given how well he performed in the 200 IM two nights earlier.
This season, Lasco will have to be on his toes if he's to retain the title, as fifth-year teammate Hugo Gonzalez was hot on his heels at Pac-12s.
CAL POISED TO GO 1-2, PUT THREE UP
Lasco has already been three-quarters of a second faster than he was at NCAAs last year this season, dropping a 1:36.94 performance to win the Pac-12 title earlier this month over Gonzalez (1:37.19).
That performance marks Lasco's fastest swim since that 1:35.99 two years ago, and his track record of dropping time at NCAAs indicates that Murphy's NCAA and American Record of 1:35.73 that barely managed to hold on in 2021 is in serious jeopardy.
Gonzalez, meanwhile, will swim the 200 back at NCAAs for the first time since 2018, having opted for the 200 breast in recent seasons.
The Spaniard was on fire at Pac-12s, hitting best times in both the 200 IM and 200 back, and sits more than a second clear of the third-fastest swimmer in the country this season, making a Cal 1-2 likely.
The Golden Bears have a long history of success in this event. After Murphy won four straight 200 back titles from 2014 to 2017, Lasco led a 2-3-4 finish behind Casas in 2021, and then last season, they put three men into the 'A' final once again, with Lasco winning and the now-graduated Daniel Carr placing third.
Could Cal go 1-2-3 this year?
It's possible, as Colby Mefford—the younger brother of Bryce, who was third in 2021—dropped a big personal best of 1:38.83 from the consolation final at Pac-12s, ranking him fourth in the nation this season. But with Brendan Burns opting not to enter the race, Mefford finds himself third on the psych sheets.
Mefford was 12th last season in 1:39.66, and although it may be a tall order for him to recreate his Pac-12 swim this week (given the big drop), there were only two swimmers sub-1:39 in last year's final and the field remains somewhat wide open.
OTHER RETURNING FINALISTS
There was some speculation that Foster might race the 200 fly this season, but he's returning to the backstroke field and comes in as the fifth seed after clocking 1:38.87 at Big 12s, with his PB sitting at 1:38.00 from last year's NCAA prelims. He went on to finish second to Lasco in the final in 1:38.77.
The 200 back was once regarded as Foster's best event when he was an up-and-coming age grouper, but his evolution into one of the world's best medley swimmers, the 200 back simply feels as though it's the event in which he has the most scoring potential on Day 4 and isn't necessarily an event he's super focused on.
Stanford senior Leon MacAlister was fifth last year in 1:39.67, having recorded a best time of 1:38.95 in the prelims, and comes in flying under the radar as the 21st seed in 1:40.13.
Another returning 'A' finalist is Mizzou fifth-year Jack Dahlgren, who owns a best time of 1:38.85 from last year and has been 1:39.80 this year. Dahlgren's primary event has shifted to the 200 free, having clocked a blistering 1:31.17 at SECs, but remains a threat for the 'A' final here.
Among last year's 'B' finalists, UVA's Jack Aikins figures to have more in the tank than his 1:39.26 best time set last year, given what he's done in the LCM pool (1:56.29). Aikins placed ninth last season and is seeded 20th this year in 1:40.11, though that's within a second of the top eight on the psych sheets.
NC State's Kacper Stokowski and Hunter Tapp finished 10th and 11th last season, respectively, and are coming off of hitting respective season-bests of 1:39.94 and 1:40.44 to place second and fourth at ACCs, with Aikins in third.
OTHER CONTENDERS
Last month's ACC champion was Virginia Tech sophomore Nicolas Garcia, a Spanish Olympian who won the event in a PB of 1:39.49. That's a big result after he was ninth as a freshman last season in 1:41.00, missing NCAA qualification.
Georgia senior Ian Grum, who missed the final last year in 23rd, is coming off a 1:38.84 best time at the UGA Fall Invitational in November, while his teammate Bradley Dunham hit a PB of his own at SECs in the prelims in 1:38.90 before winning the final in 1:39.27.
Arizona State's Owen McDonald has been on a rapid rise this season and comes in seeded seventh at 1:39.01, followed closely by fellow ASU freshman Hubert Kos (1:39.26), while Texas A&M medley star Baylor Nelson is also in the hunt after breaking 1:40 for the first time at SECs (1:39.79).
SWIMSWAM'S PICKS
Dark Horse: Aaron Sequeira, Stanford – The Cardinal sophomore dropped nearly a full second from his lifetime best at Pac-12s in 1:39.94 and is the most unheralded name sub-1:40 this year.
SwimSwam: 2023 M. NCAA Previews: Lasco Propels Cal Legacy Forward In 200 Back