By Spencer Penland on SwimSwam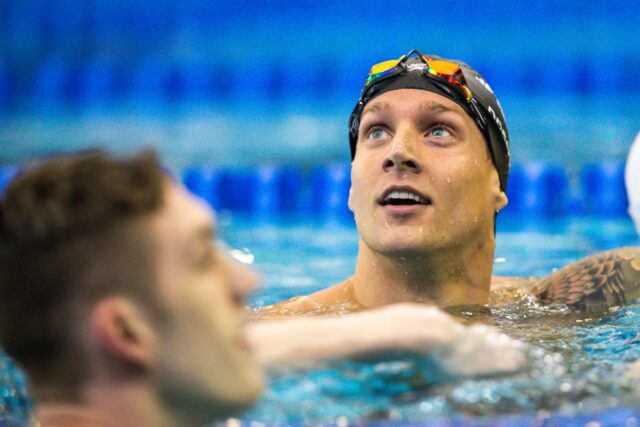 2023 SPEEDO ATLANTA CLASSIC
Friday, May 12 – Sunday, May 14, 2023
McAuley Aquatic Center, Atlanta, Georgia
LCM (50 meters)
We've been waiting all week for the 2023 Atlanta Classic to kick off, and the moment is finally here. The star-studded meet at the McAuley Aquatic Center will feature the 200 free, 100 breast, 100 fly, and 400 IM this morning.
Of course, all eyes are on Caeleb Dressel, who is making his return to racing after taking a break from the sport following the World Championships last June. The 26-year-old Dressel is entered in the 200 free and 100 fly this morning, so it will be interesting to see if he ends up racing both events. He's seeded with a 53.75 in the 100 fly, which is well off his personal best of 49.45, which also stands as the World Record in the event. Tonight could turn out to be a very exciting race in the final of the 100 fly, as Dressel will likely be going up against Canadian Record holder Josh Liendo, who enters the meet as the top seed with a 50.36.
We'll also be keeping a close eye on NCAA superstar Kate Douglass, who is entered in a pair of events this morning as well. Douglass will first be racing the women's 100 breast, where she is entered with a yards time, but don't let the fool you. She's hinted that she's focusing on the 200 breast as a primary event as she trains to make the 2024 Olympic Team next summer, so we'll get some insight into how her LCM breaststroke is coming along today in the 100.
Douglass is also set to race the women's 100 fly, which ought to be a really fun race. The NCAA Record holder in the yards 100 fly, Douglass comes in as the second seed in the event this morning, sitting behind 16-year-old Summer McIntosh, who comes in as the top seed. McIntosh and Douglass are actually swimming the same schedule today, as the 400 IM World Record holder is forgoing that event today and is racing the 100 breast instead.
We can't forget about Katie Ledecky either. The legendary freestyler is the top seed in the women's 200 free this morning by a huge margin.
WOMEN'S 200 FREESTYLE – PRELIMS
MEN'S 200 FREESTYLE – PRELIMS
WOMEN'S 100 BREASTSTROKE – PRELIMS
MEN'S 100 BREASTSTROKE – PRELIMS
WOMEN'S 100 BUTTERFLY – PRELIMS
MEN'S 100 BUTTERFLY – PRELIMS
WOMEN'S 400 IM – PRELIMS
MEN'S 400 IM – PRELIMS