By Spencer Penland on SwimSwam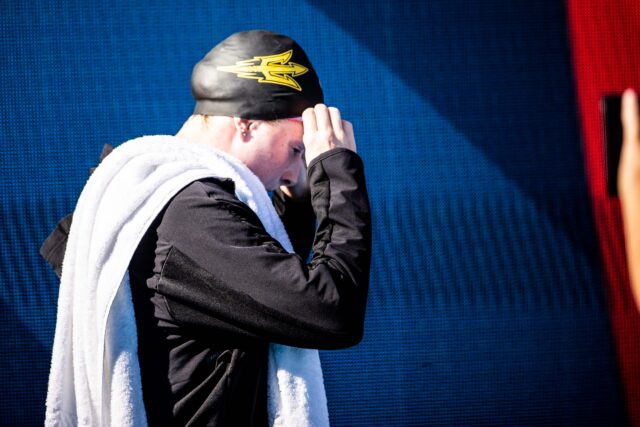 ARIZONA STATE vs WASHINGTON STATE
January 14, 2022
Mona Plummer Aquatic Center, Tempe, AZ
LCM (50 meter)
TEAM SCORES
Arizona State – 206
Washington State – 56
Arizona State hosted Washington State on Saturday, January 14th for a rare LCM college dual meet. The Sun Devils beat their Pac-12 opponent handily, outscoring them 206-56. The meet didn't feature any diving events, as Washington State does not have a diving program.
ASU's Lindsay Looney was excellent in her first LCM meet of 2023, putting up a 2:08.81 in the 200 fly. She was terrific on the opening 100, splitting 1:01.36, then faded a bit, splitting 1:07.45 on the final 100. Nonetheless, 2:08 is a great time for Looney, whose personal best is 2:07.25.
She also swam the 200 free, where she won with a 2:00.94. That time was just off Looney's personal best of 2:00.03. Looney's personal bests in the 200 fly and 200 free were both swum last summer.
Looney also helped Arizona State to victories in both relays as well. In the 400 medley relay, Charli Brown, Iza Adame, Looney, and Erin Milligan teamed up for a 4:09.53, winning the race convincingly. Unfortunately, the split were messed up on that relay, so all we know is that Brown led off in 1:02.51.
In the 400 free relay, Milligan (57.60), Looney (55.98), Ieva Maluka (58.55), and Brown (56.06) combined for a 3:48.19, beating Washington State by nearly four seconds.
Iza Adame was on fire in the 100 breast, swimming a 1:09.48 to win the race by nearly three seconds. That time comes in just off Adame's personal best of 1:09.25. She went on to win the 200 breast with a 2:36.25, pulling away from the field on the back half of the race.
Charli Brown swept the women's backstroke events. She kicked things off with a 1:02.18 in the 100 back, marking a new personal best. Brown's previous best was a 1:02.55 from last summer, meaning she first clocked a personal best when she led the medley relay off in 1:02.51 at the start of the meet.
Brown then went on to win the 200 back in 2:16.26, touching about two seconds off her personal best.
Ieva Maluka was another double event winner, taking the 100 free and 200 IM. In the 200 IM, Maluka swam a 2:19.84, getting out to an early lead and continuing to build on it through the back half of the race. She also won the 100 free convincingly, swimming a 56.44, going out in 27.08 and coming home in 29.36.
Erin Milligan posted a 26.39 to win the 50 free, marking another Sun Devils victory. Jade Foelske took the 100 fly in 1:01.17.
ASU's Katherine Randall won the 800 free decisively, clocking a 9:02.08. Teammate Molly Batchelor won the 400 free in 4:21.32.
SwimSwam: Lindsay Looney Posts 2:08.8 LCM 200 Fly in Dual Meet with Washington State