By Spencer Penland on SwimSwam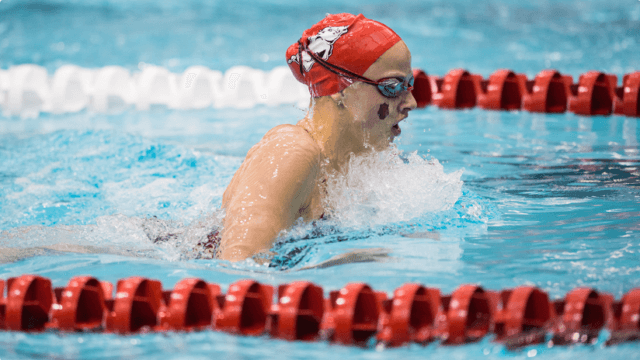 ARKANSAS vs LITTLE ROCK (WOMEN'S DUAL)
Saturday, January 14, 2023
Arkansas Natatorium, Fayetteville, Arkansas
SCY (25 yards)
TEAM SCORES
Arkansas – 137
Little Rock – 85
Arkansas hosted Little Rock for an in-state women's dual meet on Saturday, winning in a 137-85 decision. It was a short meet format, excluding the 200 fly, 200 back, and 200 breast.
Though she swam exhibition (not for points), Arkansas' Vanessa Herrmann led the women's 100 breast with a 1:01.60. She touched out teammate Alessia Ferraguti, who swam a 1:01.63. This Arkansas breaststroke group is looking very solid, as both women have already been under 1:00 this season.
Ferraguti won the 200 IM, swimming a 2:01.71, taking the race over thanks to a 34.11 split on the breast leg.
Arkansas freshman Betsy Wizard has been excellent all year and was again on Saturday. She won the 500 free in 4:59.06, touching as the only swimmer in the field under 5:00.
Razorback Bella Cothern put up a solid swim in the 50 free, winning the race with a 22.98. Kobie Melton came in second with a 23.27. Melton went on to win the 100 back in 55.56, touching first by well over three seconds.
Arkansas sophomore Eleonora Camisa took the 100 free in 51.78, going out in 25.10 and coming home in 26.68.
Andrea Sansores touched in 56.23 to win the 100 fly. Little Rock's Jaelle Carlson came in second with a 57.56.
Arkansas freshman Maddy Hartley took the 200 free in 1:50.75, finishing only two seconds off her personal best of 1:48.49. She also was the second-fastest swimmer in the 100 free, where she swam a 52.38.
Arkansas fifth year Luciana Thomas took the 1000 free in 10:20.12. She got out to the early lead and never looked back, winning the race by 28 seconds.
 DIVING WINNERS
1-meter: Malea Martinez (Arkansas) – 276.75
3-meter: Regan Caufield (Arkansas) – 313.95
SwimSwam: Arkansas Rolls Past Little Rock 137-85 in In-State Dual Meet