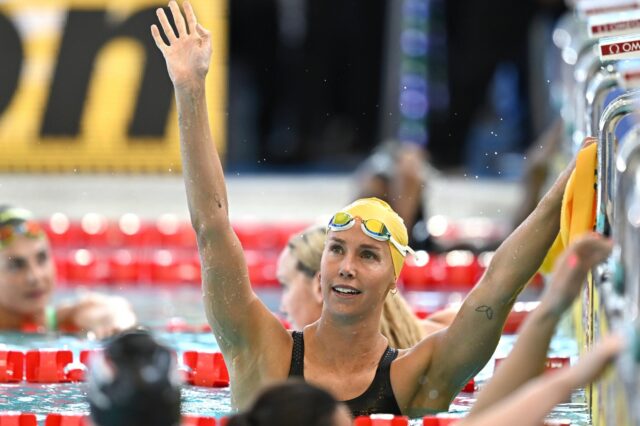 2022 FINA SHORT COURSE WORLD CHAMPIONSHIPS
Tuesday, December 13 to Sunday, December 18, 2022
Melbourne Sports and Aquatics Centre, Melbourne, Australia
SCM (25m)
Psych Sheets (Updated)
WOMEN'S 50 FREESTYLE – FREESTYLE – FINALS
RESULTS:
GOLD: Emma McKeon (Australia) – 23.04 (Championship Record)
SILVER: Katarzyna Wasick (Poland) – 23.55
BRONZE: Anna Hopkin (Great Britain) – 23.68
Julie Jensen (Denmark) – 23.71
Michelle Coleman (Sweden) – 23.72
Meg Harris (Australia) – 23.73
Erika Brown (United States) – 23.76
Melanie Henique (France) – 23.90
In the finals of the 50 free at the 2022 Short Course World Championships, Australian swimmer Emma McKeon won in a time of 23.04, taking 0.04 seconds off of Sarah Sjostrom's championship record set last year at the 2021 Short Course world championships. In addition, she also broke the Oceanic record, which was previously a 23.19 from her countrymate Cate Campbell.
McKeon is now the third-fastest performer of all-time in the short course 50 free, sitting only behind Ranomi Kromowidjojo and Sarah Sjostrom. Prior to short course worlds, her best time was 23.50 from the 2021 FINA World Cup, which had her at 13th all-time.
All-Time Top Performers, Women's 50 Meter Freestyle (SCM)
Ranomi Kromowidjojo, Netherlands — 22.93 (2017)
Sarah Sjostrom, Sweden — 23.00 (2017)
Emma McKeon, Australia — 23.04 (2022)
Kasia Wasick, Poland — 23.10 (2022)
Cate Campbell, Australia — 23.19 (2017)
Earlier on during the meet, McKeon had broken the championship record in the 100 free with a time of 50.77 en route to taking gold. She was also a part of Australia's 4×100 free relay and 4×50 medley relay, both of which broke the world record.
SwimSwam: Emma McKeon Swims 23.04 50 Free For New Oceanic Record, #3 Performer All-Time