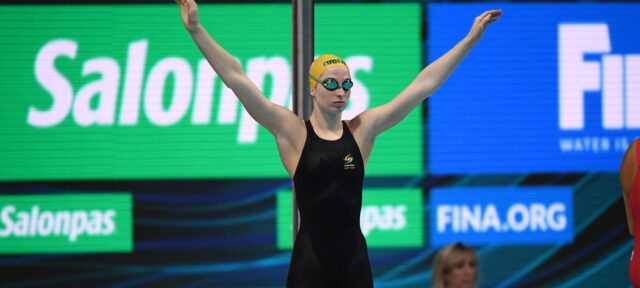 2022 FINA SHORT COURSE WORLD CHAMPIONSHIPS
Tuesday, December 13 to Sunday, December 18, 2022
Melbourne Sports and Aquatics Centre, Melbourne, Australia
SCM (25m)
Psych Sheets (Updated)
While leading off Australia's 4×50 medley relay that broke the world record at the 2022 Short Course World Championships, Mollie O'Callaghan swam a 25.49 50 back to beat out her own Oceanic record time of 25.61 from the individual 50 back finals. She also overtakes Claire Curzan to become the second-fastest performer of all-time in the event.
All-Time Top Performers, Women's 50 Back (SCM):
Maggie MacNeil, Canada — 25.25 (2022)
Mollie O'Callaghan, Australia — 25.49 (2022)
Claire Curzan, United States — 25.54 (2022)
Kira Toussaint, Netherlands (2020)/Mariia Kameneva (2022) — 25.60
Kylie Masse, Canada — 25.62 (2021)
O'Callaghan's relay leadoff marks the third time she's broken the Oceanic record throughout the course of short course worlds. The first occasion was in the 50 back semifinals when she clocked a 25.69 to break Minna Atherton's old Oceanic mark of 25.81. Then, in finals, O'Callaghan went a 25.61 to break the record for the second time and claim a bronze medal.
In addition to the 50 back, O'Callaghan has also raced the 100 back individually at short course worlds, finishing second to her teammate Kaylee McKeown in the finals. She was also on Australia's world-record breaking 4×100 and 4×200 freestyle relays.
O'Callaghan solely racing in individual backstroke events at short course worlds comes despite the fact that she is primarily a freestyler in long course. Ironically, at this year's long course world championships, O'Callaghan qualified for the 50, 100, and 200 back but opted to scratch all three events to focus on the 100 and 200 free.
SwimSwam: Mollie O'Callaghan Breaks Oceanic Record With 25.49 50 Back, #2 Performer All-Time