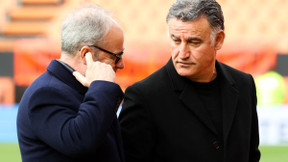 Aged only 19, Rayan Cherki was the target of an offensive by PSG this winter. In search of an offensive reinforcement, the Parisian management had tried to recruit the nugget from Lyon, retained by Jean-Michel Aulas. Despite the Lyon president's refusal, PSG intends to return to the charge and try to secure the player's services during the next transfer window.
The tracks were numerous on the side of the PSG this winter. Looking for a replacement Pablo Sarabia, the Parisian club had studied the Rayan Cherki track in particular. The young nugget of theOL had, at some point, become a priority for the Parisian management, which came across a Jean Michel Aulas inflexible.
PSG want to keep Messi, that's why it gets stuck https://t.co/hHvylufkm1 pic.twitter.com/10Pg2bouUO

— 24hfootnews (@24hfootnews) February 6, 2023
OL retained him this winter
Contacted directly by PSG, the president of Lyon refused to let go Cherki this winter. " Rayan is a child of the club who is part of our project, Seeing him courted is normal and makes us proud of our academy too, but having him with us is much more important than anything. said Aulas.
PSG will return to the charge this winter
But according to information from RMC SportsPSG has not said its last word in this matter. Cherki has many supporters within the Parisian club and an offensive is said to be scheduled for next summer. Jean Michel Aulas has a good chance of being contacted again for his nugget.
After its big failure, PSG plans a transfer for the summer of 2023 24hfootnews.