By James Sutherland on SwimSwam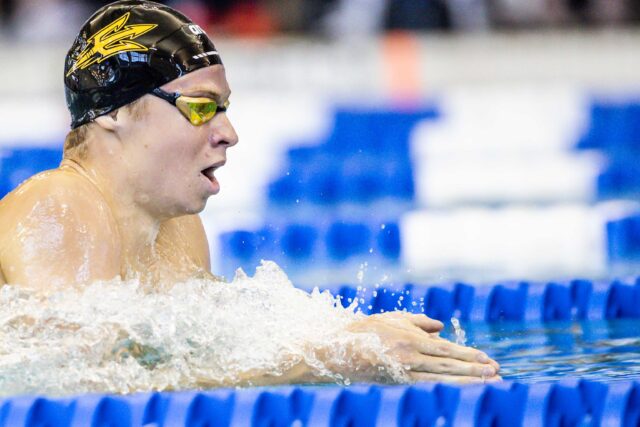 SwimSwam Pulse is a recurring feature tracking and analyzing the results of our periodic A3 Performance Polls. You can cast your vote in our newest poll on the SwimSwam homepage, about halfway down the page on the right side.
Our most recent poll asked SwimSwam readers if the Arizona State Sun Devils would win their first Pac-12 men's championship title this weekend in Washington:
Question: Do you think the ASU men will win their first Pac-12 title in school history?
RESULTS
Yes – 40.0%
On the fence – It'll be close – 32.4%
No – 27.6%
The men's swimming and diving landscape in the Pac-12 has long been dominated by the California trio of schools—USC, Stanford and Cal. But this season, the Arizona State Sun Devils may be on their way to making history with their first-ever conference championship title within reach.
First, it was the Trojans, winning 13 of the first 15 Pac-12 titles in conference history, and then the Cardinal went on an unprecedented run of victories from 1982 to 2012, and the Golden Bears have been the latest juggernaut, claiming five straight victories and seven of the last 10.
The Sun Devils have been building something special in Tempe. Bob Bowman was hired prior to the 2015-16 this season, and then, the bold move to redshirt their entire roster for the COVID-interrupted 2021 campaign has seemingly worked out in spades as a strong recruiting class joined a squad that had few subtractions the following year.
Leon Marchand was the driving force for ASU last season, and he remains their top performer to be sure, but the team has rounded out incredibly well and has few holes as they vie for their first Pac-12 title in school history this week.
Last year, the Sun Devils were in the fight early before Cal ultimately pulled away en route to the conference title with 853.5 points, more than 200 clear of ASU (652) in third.
This season, Arizona State has seemingly improved everywhere, highlighted by the leaps Marchand has made with his record-breaking in-season swims, leading many to believe it's their time to win the team trophy.
Our latest poll saw 40 percent of readers predict Arizona State to win the conference championships, while nearly a third of voters are on the fence, undecided, but think it will be close. Just over 27 percent don't think they have enough to get it done, likely predicting Cal to make it six straight.
(Of course, things are further complicated with Cal and ASU's top swimmers trying to save their peak taper for NCAAs.)
It was certainly a good start for ASU on Wednesday night, as they swept the 200 medley and 800 free relays and had the added bonus of Cal and Stanford getting DQed in the 200 medley.
With diving wrapping up last week, Arizona State heads into the first full day of swimming competition in fourth place with 127 points, with their main rivals, Stanford (117) and Cal (72), currently in the rearview mirror.
Below, vote in our new A3 Performance Poll, which asks: With the psych sheets released, which confirmed matchup are you most anticipating at women's NCAAs?
Note: There is a poll embedded within this post, please visit the site to participate in this post's poll.

A3 Performance is an independently-owned, performance swimwear company built on a passion for swimming, athletes, and athletic performance. We encourage swimmers to swim better and faster at all ages and levels, from beginners to Olympians.  Driven by a genuine leader and devoted staff that are passionate about swimming and service, A3 Performance strives to inspire and enrich the sport of swimming with innovative and impactful products that motivate swimmers to be their very best – an A3 Performer.
The A3 Performance Poll is courtesy of A3 Performance, a SwimSwam partner.
SwimSwam: SwimSwam Pulse: 40% Pick Arizona State To Win Men's Pac-12s, 32% "On The Fence"