By James Sutherland on SwimSwam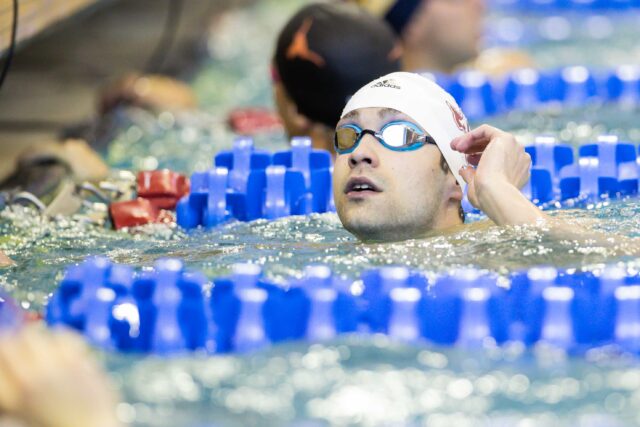 2023 NCAA DIVISION I MEN'S SWIMMING & DIVING CHAMPIONSHIPS
March 22-25, 2023
Jean K. Freeman Aquatic Center | Minneapolis, MN
SCY (25 yards)
A handful of swimmers have scratched out of the third and final preliminary session at the 2023 Men's NCAA Championships in Minneapolis, though none from swimmers seeded inside the top 24.
The top seed to withdraw from an event is NC State's Zachary Cram, who was ranked 29th in the 200 backstroke. Cram also dropped his only other event of the competition, the 100 back, on Friday.
Kentucky's Mason Wilby, who was entered in the daunting 200 back/200 fly double today, has dropped out of the 200 back to gear his focus towards the 200 fly, where he comes in seeded 13th.
Texas A&M's Koko Bratanov has dropped the 100 free as the 55th seed, as he'll now likely swim five relays for the Aggies, having been on all four thus far and has raced two individual events.
Harvard's Umitcan Gures is also out of the 100 free, while Tennessee's Michael Houlie is out of the 200 breast and OSU's Alex Quach is out of the 200 fly.
No one has scratched out of the 1650 freestyle, which will have the early heats run in the afternoon before the fastest-seeded heat will swim with finals.
FULL SCRATCH REPORT
200 BK
100 FR
200 BR
200 FLY
1650 free
SwimSwam: Bratanov Drops 100 Free, Wilby Out of 200 Back On Day 4 of NCAAs (Prelim Scratches)