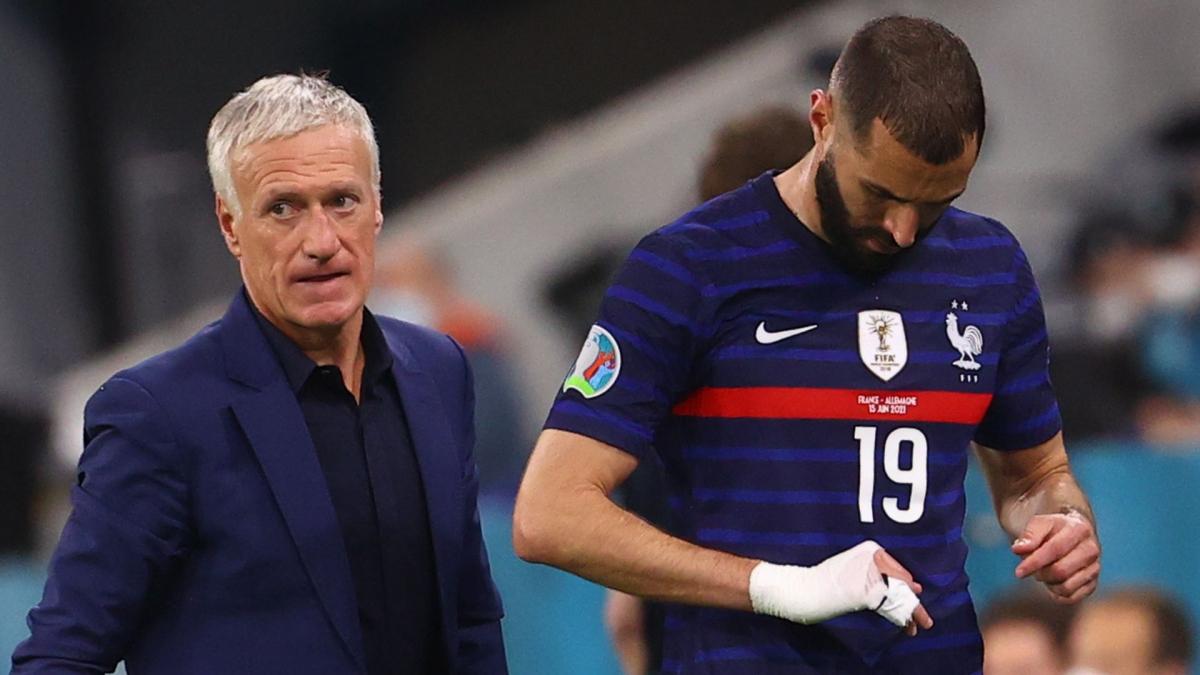 End clap now official for Karim Benzema with the France team. The Real Madrid striker has decided to retire from international football at the age of 35. Initially selected for the 2022 World Cup with the Blues – where he remained in the list of 26 without going to Qatar – he was finally forfeited for this competition due to an injury. A blow for the Merengue who obtained the status of vice-world champion 2022 far from the field. A rather sad end to the course when we see that a difficult and winding love story could have ended in a better way. 15 years earlier, the enthusiasm was there when the then young Olympique Lyonnais striker made his debut with the Blues. Entering the break against Austria in a friendly where he allowed Djibril Cissé to score, he scored after 7 minutes to give France a 1-0 victory.
Slowly clearing a place in the tricolor group with in particular a double against the Faroe Islands (6-0) in qualifying for Euro 2008, he participated in this competition. Two matches out of three played, zero goals and a disappointing French team, Karim Benzema will not keep fond memories of his first international competition. Continuing to grow in the group as in the club, he will leave for Real Madrid. A transfer to grow but which will put a brake on his history with the Blues. He will just miss the 2010 World Cup in South Africa. Entangled in the "Zahia affair" before the competition – in which he will be released – he will be absent mainly for his difficult acclimatization to Madrid. Living a fiasco with a players' strike at Knysna, its training center during the competition, the Blues experienced the worst moment in their history and Karim Benzema narrowly avoided the slump.
Sporting difficulties, the extra-sporting in the second curtain
Playing on August 11, 2010, the first match of the Laurent Blanc era during a 2-1 defeat against Norway, he will slowly take his place at the forefront with 7 goals and 6 offerings during the 18 matches taking place between the Coupe du World 2010 and Euro 2012. Interesting during this competition with two offerings against Ukraine (2-0) during the only tricolor victory, he will nevertheless remain silent. A mixed feeling like the competition of his team. Change of coach again with Didier Deschamps who decides to bet fully on him. Although successful in the game at times, Karim Benzema will experience major shortcomings in the finish with a series of 15 games without scoring or 1222 minutes until a goal synonymous with delivery against Australia (6-0). Maintaining his confidence in Karim Benzema, Didier Deschamps will put him in good condition for the 2014 World Cup.
Unfortunately for me and for all those who have always supported and supported me. I will not be selected for our Euro in France…

— Karim Benzema (@Benzema) April 13, 2016
Scorer in a historic play-off against Ukraine (0-2/3-0) in November 2013, he will deliver a promising World Cup in Brazil in the image of his selection. With 3 goals and 2 offerings on the clock as well as a quarter-final against Germany (1-0 defeat), we can feel France and Karim Benzema gaining momentum two years from a Euro at home. On October 8, 2015, he also scored twice against Armenia (4-0) and without knowing it he had just played his last match with the Blues before suffering a long withdrawal. Involved and sentenced in a sextape blackmail case with his selection teammate Mathieu Valbuena, Karim Benzema will be sidelined from the France team. Missing Euro 2016 in France where he will announce that he will not be in the game, the Ballon d'Or 2021 will stand out negatively before the competition by declaring that Didier Deschamps "yielded to pressure from a racist part of the France". The house of the French coach will be tagged and the divorce will seem total between the two men from this moment.
A comeback, a title and then sadness…
The France team will do just fine without Karim Benzema with a Euro 2016 final and even a victory at the 2018 World Cup. without him, Karim Benzema is nevertheless selected to everyone's surprise. After a few timid first steps, he will gain momentum during the competition with a double against Portugal (2-2) and another against Switzerland (3-3/4-5 at TAB). France will be eliminated at the stage of the round of 16 despite everything. If the disappointment is present, a certain alchemy is created with Kylian Mbappé and will result in the League of Nations. France will dominate Belgium (3-2) and Spain (2-1) each time with a goal from Karim Benzema and will therefore win the competition.
One and only title in selection A for Karim Benzema which will have been decisive once again. With 10 goals and 2 offerings in 16 meetings with the Blues since his return from selection and crowned with a Golden Ball in club, it is a Karim Benzema at the top of his game who was to present himself in Qatar during this Cup World Cup 2022. Finally injured and forfeited for this competition, he experienced it from afar and he was never so close to winning this trophy as on his sofa. A blow of fate for Karim Benzema whose love story with the Blues remains bitter and unfinished. Despite 37 goals and 20 offerings in 97 matches and a status of Real Madrid legend, Karim Benzema will have narrowly missed making his mark in the history of the Blues.