By Annika Johnson on SwimSwam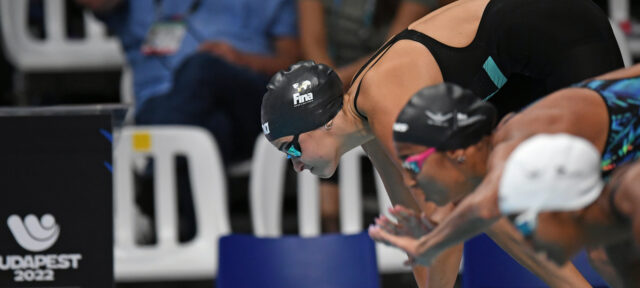 Who are the most popular swimmers on social media?
Instagram is currently the most used social media platform among active swimmers, except for those in China where the app is banned.
In a world where follower counts can have monetary value (affecting things like sponsorship deals), we collected these statistics and found that online popularity is caused by more than just a swimmer's achievements in the pool. To qualify for our list of most-followed active swimmers, athletes:
Must be at least a FINA 'B' cut swimmer

Must have competed since the 2021 Tokyo Olympics
This includes, for example, Australian pop star Cody Simpson, but not the most decorated Olympian of all time Michael Phelps who has 3.4 million followers or MMA reporter Helen Yee (113K).
Simpson is by far the most popular active swimmer on Instagram with 5 million followers. He has an established career on stage–with four solo studio albums and 21 singles–and in the pool. Most recently, he qualified for the 2022 Commonwealth Games and he plans to train for Paris 2024.
Ranked second is Yusra Mardini who represented the first-ever IOC Refugee Olympic Team at the 2016 Rio Olympics, and then competed again at the Tokyo Olympics. Mardini's inspirational life story–her escape from war-torn Syria and her journey to the 2016 Olympics–is depicted in the Netflix biopic The Swimmers (2022).
Her Instagram follower count stands at 804K, nearly double what it was two years ago before the film was released. Now, she has obtained German citizenship and has said she plans to try to qualify for Paris 2024. 
Seven-time Olympic champion Caeleb Dressel is the most popular American swimmer with 645K followers. He's lost about 50K followers in the past two years, likely due to two factors: the dying down of the Tokyo Olympic hype train and he has been relatively out of competition since the 2022 World Championships. 
The next most followed swimmer on Instagram is British three-time Olympic gold medalist Adam Peaty (610K) who has built himself an intensely-focused athletic brand on social media. In the past couple of years, he's shared more light-hearted and vulnerable moments like photos of his young son and his thoughts on mental health. He also participated in the 2021 season of BBC's Strictly Come Dancing.
American distance star Katie Ledecky now has seven Olympic gold medals as well as 579K Instagram followers. She is the last active swimmer with over 500K followers.
Japan's Rikako Ikee, a two-time Olympian, is ranked sixth on our list with 475K followers and five-time Olympian Katinka Hosszu is seventh (394K.) The energy and support of the Italian swim fan base make it no surprise that Gregorio Paltrinieri is eighth (345K.)
U.S. Paralympian Anastasia Pagonis has a large following of 2.6 million on TikTok and some of that support has trickled over to her Instagram where she has 338K followers. The two-time Paralympic medalist is the most popular para swimmer, followed by Jessica Long, the second-most decorated U.S. Paralympian in history, with 100K followers. Great Britains's Alice Tai is currently at 72K while Italy's Simone Barlaam is at 41.5K.
Rounding out the top ten most-followed swimmers is Romanian superstar David Popovici at 302K followers. The 18-year-old with the Instagram handle "chlorinedaddy" has had a stellar past year, winning two 2022 World Championship titles and breaking the 100 free world record.
Speaking of young European stars, you might have expected to see French Olympian Leon Marchand among our list of most-followed swimmers. He's made headlines in the NCAA with ASU this season and he nearly broke Phelps' 400 IM world record last summer. But, Marchand currently only has 51K followers on Instagram.
Other big names are absent from our list because they have either retired since we last analyzed Instagram followers (Federica Pellegrini, Delfina Pignatiello) or they haven't competed since the Tokyo Olympics (Ryan Lochte, Nathan Adrian, Allison Schmitt.) 
When it comes to social media popularity, medals, world records, and Olympic titles aren't everything. Otherwise, why would Emma McKeon, the most decorated female swimmer at a single Olympic Games, be ranked 19th with 199K followers? Instead, fan bases seem to accumulate around those who also have inspirational stories, other successful careers, and other popular social media platforms like TikTok and YouTube channels.
Check out our full list of the top 30 most popular swimmers on Instagram below.
The 30 Most-Followed Active Swimmers on Instagram