By Sidney Zacharias on SwimSwam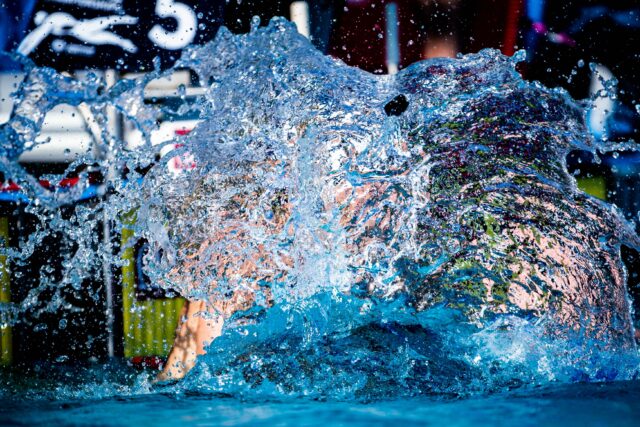 WEST FARGO WINTER SECTIONALS
March 9-13, 2023
West Fargo, ND
LCM (50 meters)
Meet Mobile: "2023 Winter Sectionals (North) – West Fargo"
The 2023 West Fargo Speedo Sectional meet wrapped up yesterday. The final day's line-up featured the 1500 free, 100 back, 100 breast, 50 free, and 200 IM.
Skylar Knowlton from Phoenix Swimming captured her 4th win of the meet in the 1500. Knowlton swam a 17:20.27, taking 11 seconds off her previous best time. Finishing 2nd was 47-year-old Heidi George, who broke her own U.S. Masters Record in the event with a 17:27.90.
Barrington Swim Club's Rylan Anselm and Luke Bucaro went 1-2 in the men's 1500. Anselm touched 1st at 16:31.87, while Bucaro was about 8 seconds back at 16:39.29.
16-year-old Isabella Schneider from Phoenix Swimming added two more individual wins on the final night of racing. She first won the 100 backstroke by nearly a second to clock 1:04.70 after setting a best time of 1:04.56 in the morning. She followed that swim up with a decisive victory in the 200 IM, where she topped the field by almost 4 seconds to post a 2:22.05.
Ian Steffen from Linn-Mar Swim Team took 1st in the men's 100 backstroke. Steffen recorded a personal best time of 57.55, which put him over a second ahead of Dylan Herink in 2nd (59.29).
Steffen was also runner-up in the men's 50 free with a 24.29. He finished less than two tenths back from 15-year-old Brody Engelstad, who won the event in 24.10.
16-year-old Brooke Corrigan from Rockford Marlins won the 100 breast and 50 free in back-to-back events. She first dominated the women's 100 breast, stopping the clock at 1:12.92 for a best time by over three seconds. She also decisively won the 50 free as the only athlete in the field under 27-seconds at 26.96.
The men's 100 breast belonged to Phoenix Swimming's Alexei Avakov. He got his hand on the wall 1st with a 1:03.82, while 16-year-old Brock Russell snagged 2nd in a personal best time of 1:04.99.
The men's 200 IM was a tight battle between Phoenix Swimming's William Carrico and Brookings Swim Club's Cody Vertin. Vertin had the stronger front half of the race and held about a second advantage over Carrico at the 100. However, Carrico came back in the final two legs and touched 1st at 2:09.89, while Vertin posted a 2:10.13.
SwimSwam: Brooke Corrigan Wins 100 BR and 50 FR Back-To-Back On Day 4 Of Fargo Sectionals