By Anya Pelshaw on SwimSwam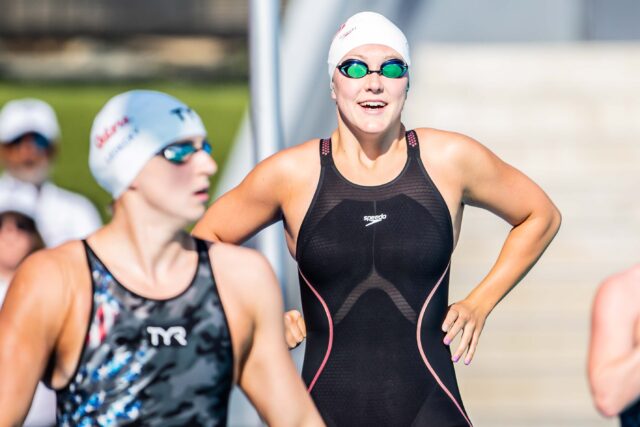 Winter training can be some of the toughest times of training during the year. There are no classes for student-athletes so they technically just turn into athletes. We've decided to ask some athletes (and some coaches) from our most recent Top 10 NCAA Team Power Rankings what their favorite/best set was during this time of training. We tried to get a mix of athletes from different specialties to not get all "sprint" sets or not all "butterfly" sets.
Check out our previous winter training set articles here:
In this edition, we will take a look at the #6 Indiana men and the #8 Indiana women as both teams were in the top 10 of our latest power rankings.
Denigan's SCY bests:
500 free: 4:41.21
1650 free: 16:06.55
400 IM: 4:08.35
Set 1: IM Work
12×400 IMs Best Average
Denigan averaged 4:24s and her fastest one was 4:22 on number 12.
She liked this set because "it helps build confidence when it comes to racing the 400IM. I have also been focusing on working my underwaters on [the] 400 IM, so on this set I made it my goal to do six kicks off every wall on fly and backstroke."
Set 2: 500 Work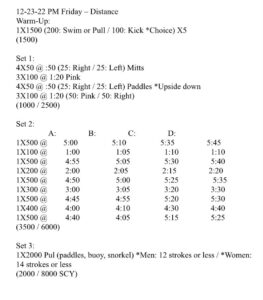 Denigan went on the C group interval and went:
500 -5:15
100- 58
500-5:10
200-1:58
500-5:09
300-3:01
500-5:04
400-4:01
500-4:55
She likes this set because of "the focus to get faster as I go. I have been really trying to work that back half speed in practice and this kind of set challenged me to do so. I was holding a strong pace and getting faster as the intervals got tighter."
Set 3: Distance Challenge LCM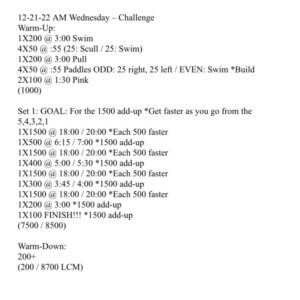 This was the distance challenge set. Denigan said she did it together with Ahmed Hafnaoui.
She said she liked this one because it was "so hard mentally and physically! I love those types of sets though especially with it being long course (I love LC distance practices!!). This type of set helps so much with building a strong aerobic base as well as introduces some long straight swimming into our week which helps me focus on pool and open water at the same time."
Burns best SCY times:
100 back: 44.15
200 back 1:39.34
100 fly: 44.54
200 fly: 1:38.71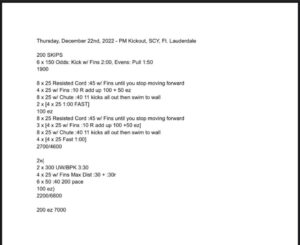 Burns was holding 24 mids on the 50s @:40 for fly and back. On the 4x25s add up in the first main set, he was averaging 37s.
He liked this set because "doing it and doing it well gives me confidence heading into championship season."
Peplowski's best SCY times:
100 breast: 58.91
200 breast: 2:05.52
200 IM: 1:55.88
400 IM: 4:08.89
10 rounds of (LCM):
1×100 as 25 kick/25 swim @2:00
1×100 pull @1:50
1×100 at backend 200 pace primary stroke from a push
Note: Rest was allowed to be "banked" on this so after the 100 at 200 pace, they could go straight into the 100 (25 kick/25 swim) to get "extra rest" on that.
Peplowski held 1:13s and 1:14s on the 100s at backend 200 pace while suited up.
Matheny's best SCY times are:
100 breast: 51.65
200 breast: 1:50.65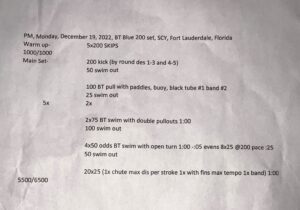 Matheny got down to 2:10 on the 200 kick which is at the beginning of the main set. On the 100s pull, he sat around 59s. For the pace, he was 27.o on the 50s and 12.9-13.0 on the 25s while holding his stroke count.
He said he really liked this set because "we did this set in while in Fort Lauderdale that Ray and I thought went super well for me. The main focus of the set is the 4•50 or 8•25 at the end of each round. These are supposed to be at 200 pace or better with the right stroke count. The goal of the set is to really work the kick and pull so that both are fatigued by the time you start trying to hit pace. I really enjoyed this set because even though it was not the hardest set we did over training trip, it gave everyone in the group the opportunity to do a little less yardage and a great chance to hit a good pace."
Looze's best SCY times are:
100 breast: 1:00.68
200 breast: 2:07.04
200 IM: 1:55.42
400 IM: 4:07.07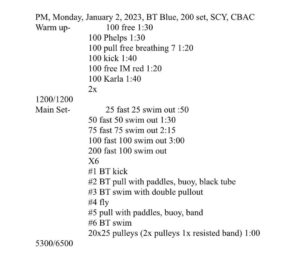 At the end of practice, Looze went a 2:15 in her 200 breaststroke.
"Here is one of my favorite practices that the breaststroke group did during winter training. Active rest has been a staple of our group for a while and it's one of my favorite types of practices. This one was particularly fun because of how difficult it was. Starting with a fast 25 and building to a fast 200 is challenging because it asks you to switch from different modes of breaststroke quickly. The way that the practice is designed is to do every aspect of the stroke so it's fatigued by the time you get to full on swimming. The goal of the practice is to go fast even when your stroke is fatigued. This is important because it practices how the end of a 200 br is supposed to feel."
SwimSwam: Winter Training Sets: Indiana Goes 12×400 IMs Best Average; 100s with Fins Add Ups