By Sophie Kaufman on SwimSwam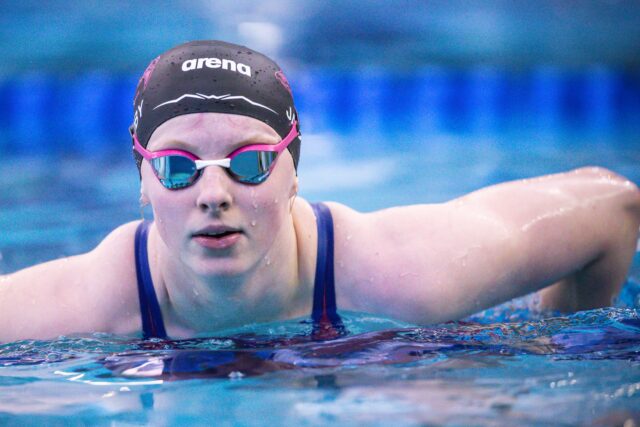 TEXAS VS. NC STATE
January 27 to 28, 2023
Lee & Joe Jamail Texas Swimming Center, Austin, Texas
SCY (25 yards)
Women's 100 Yard Breast – Timed Finals
Lydia Jacoby (Texas) – 57.45 (17-18 NAG)
Anna Elendt (Texas) – 57.54
Heather MacCausland (NC State) – 58.29
Abby Arens (NC State) – 59.09
Andrea Podmanikova (NC State) – 59.67
Channing Hanley (Texas) – 1:00.52
Aubree Brouwer (NC State) – 1:00.66
Jordan Morgan (Texas) – 1:012.12
The fast times from the Texas versus NC State dual meet just keep coming. Olympic gold medalist Lydia Jacoby got in on the action, clocking 57.45 for the win in the 100 yard breaststroke. That time lowers her own girls' 17-18 National Age Group record, which she set at 57.54 during this season's Minnesota Invite.
Top 17-18 U.S. Performers, Women's 100 Breast:
Lydia Jacoby, Texas — 57.45 (2023)
Kaitlyn Dobler, USC — 57.71 (2021)
Miranda Tucker, Indiana — 58.10 (2019)
Zoie Hartman, Georgia — 58.27 (2019)
Alexis Wenger, UVA — 58.31 (2019)
Jacoby has made massive strides in the yards pool during her first season with the Texas Longhorns. While she was the #3 recruit for the high school girls' class of 2022, there was lots of talk about how her yards performances were not up to par with what she had accomplished in the long course pool.
Jacoby silenced the those critiques at the Minnesota Invite and with this swim, further shows what she's capable of in the yards pool. Before arriving in Austin, her lifetime best in 58.87. With championship season still to come, she has cut 1.42 seconds off that mark. She's also moved into NCAA 'A' final contention–57.45 would have qualified second for finals and ultimately finished seventh.
Split Comparison: Jacoby NAGs
| | | |
| --- | --- | --- |
| | Jacoby – 2023 Texas vs. NC State | Jacoby – 2022 Minnesota Invite |
| 50 | 27.02 | 27.07 |
| 100 | 57.45 (30.43) | 57.54 (30.47) |
Compared to her previous NAG, Jacoby improved on both her 50s, going out in 27.02 compared to 27.07 then coming home faster than her previous self as well.
This swim moves her up from third in the NCAA this season to second, passing her Longhorn teammate Anna Elendt. Kaitlyn Dobler leads the NCAA in 56.94 and is the only person under 57 seconds so far this season.
It was Elendt who was actually out first at the halfway mark, as she split a speedy 26.93 on her first 50. The German Olympian also had an excellent race, getting under 58 seconds to take second in 57.54. That's just off the 57.48 she swam at the Minnesota Invite. Together, Jacoby and Elendt are a powerful pair that should rake in major points for Texas in this event come championship season.
SwimSwam: WATCH: Lydia Jacoby Rips 57.45 100 Breast for U.S Girls' 17-18 NAG at Texas Dual Meet