By Sophie Kaufman on SwimSwam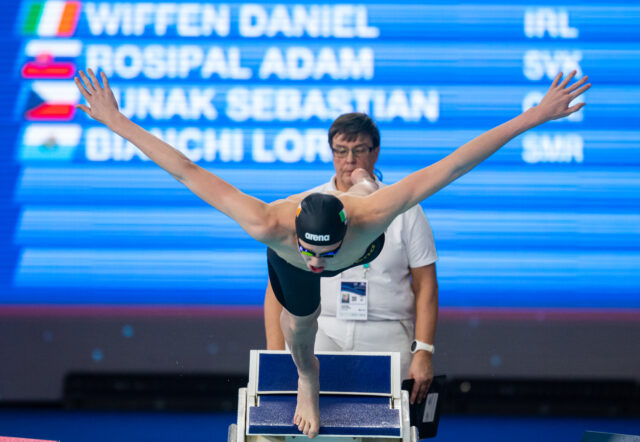 SWIM IRELAND WINTER CHAMPIONSHIPS
Thursday, December 15th – Saturday, December 17th
National Aquatic Centre, Dublin, Ireland
SCM (25m)
Many of swimming's biggest stars closed out their 2022 competing at the Short Course World Championships in Melbourne, Australia. Irish Olympian Daniel Wiffen, however, was among those who opted for meets closer to home. At the Swim Ireland Winter Championships, he ripped 7:25.96 in the 800 freestyle, becoming the first Irish swimmer to hold a European record.
In a new video on Wiffen Twins, the YouTube channel he shares with his brother Nathan, the 21-year-old broke down his record-breaking swim, sharing insight on his race strategy and how he executed it.
Full Race Analysis, courtesy of Wiffen Twins:
At Scottish nationals a week prior, Wiffen had set an Irish record in the 1500 freestyle in 14:14.15. On the way out, he'd also set an Irish record in the 800 free, splitting 7:35.71 to the feet. At the start of the video, he talks about how based off that he knew he'd have a good swim in the individual 800 free, but he "wasn't sure how good."
Using the race video, Wiffen analyzes his splits as well as his technique. One of the things that he talks about most is his walls, and how he's been experimenting with the number of dolphin kicks he takes off each wall. He says that fly kicks aren't one of his strong suits, so he prefers to get up and into the freestyle stroke as quick as possible. During this race, he says he was doing about one fly kick off the wall.
In the last 200 meters of the race, Wiffen mentions how his stroke begins to break down, and discusses his decision to bring his kick rate up in the last 100 meters of the race. His analysis is especially interesting in parallel with the race commentary that's focused on by how much Wiffen will break the record.
In post-race interviews, swimmers don't typically share too much of their race strategy or their thoughts about a race. Here, Wiffen has had a few days to process the swim, and therefore brings a level of analysis that swim fans don't usually hear from the athletes.
SwimSwam: WATCH: Daniel Wiffen Breaks Down His 800 Free SCM European Record