By Spencer Penland on SwimSwam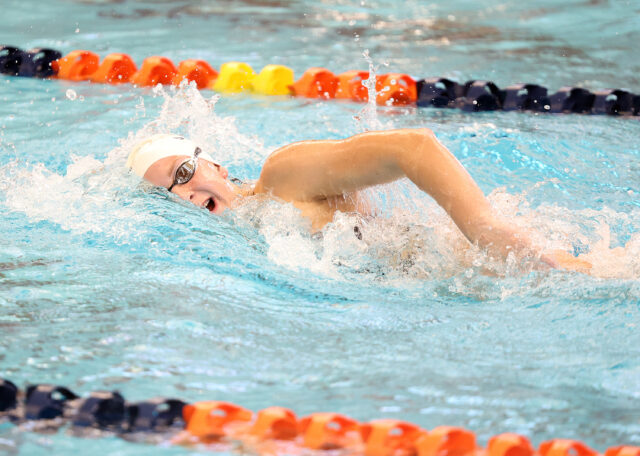 Virginia freshman Claire Tuggle is now in the NCAA transfer portal, signaling her intention to potentially leave the Cavaliers after her first season with the program. Before we get into it, as always, it's very important to note that an athlete entering the transfer portal does not mean they must transfer schools, it only means that they have opened up communication with different schools and coaches.
That being said, it does look like Tuggle intends to leave Virginia, who just yesterday won their third-consecutive women's NCAA Championship title. SwimSwam reached out to Tuggle about her name appearing in the portal, to which she replied "I've really been happy with my swimming experience at UVA and I love the coaches and team, but due to some personal issues it's time for me to transfer. I'm excited for the next chapter and will forever be thankful for UVA."
Tuggle's appearance in the portal comes after she was at NCAAs this weekend alone rather than with UVA. Tuggle notably swam fast enough to qualify for NCAAs this season, however, she was left off UVA's 17-athlete roster for the meet due to roster limits for the meet.
Though it seems like Tuggle's time at Virginia is coming to an end, this season has been a pivotal one in her career. Tuggle burst onto the scene when she was very young, blowing the minds of those throughout the swimming community when she clocked a 1:44.96 200 free and 4:41.36 500 free at just 13 years old. Unfortunately, Tuggle would hit a plateau with her swimming shortly thereafter, one which lasted for a long time. When she arrived at UVA this fall, Tuggle's personal best times in the 200 free and 500 were still those performances from March of 2018, when she was 13 years old.
After years of seeing no improvement in those events, Tuggle quickly saw a change of pace at Virginia, swimming a lifetime best of 1:44.81 in the 200 free in early January at the Cavalier Invitational. The swim marked her first personal best in the event in nearly five years. She also swam personal bests of 23.64 in the 50 free and 48.99 in the 100 free at the Cavalier invite. Tuggle went on to clock another pair of lifetime bests at the ACC Championships, swimming a 4:40.41 in the 500 free and 16:15.91 in the 1650 free.
Here is a table showing Tuggle's personal bests in the freestyle events before she came to UVA versus after one season with the team:
| | | |
| --- | --- | --- |
| EVENT | PRE-UVA | AT UVA |
| 50 Free | 24.00 | 23.64 |
| 100 Free | 49.43 | 48.99 |
| 200 Free | 1:44.96 | 1:44.81 |
| 500 Free | 4:41.36 | 4:40.41 |
| 1000 Free | 9:41.96 | 9:41.96 |
| 1650 Free | 17:41.17 | 16:15.91 |
As for where Tuggle may be looking to go, it's anybody's guess. Anything we could put forward is simply wild speculation, however, it's worth noting that Tuggle is from California, so perhaps she'll be looking to transfer to somewhere closer to home.
SwimSwam: Virginia Freshman Claire Tuggle Has Entered the NCAA Transfer Portal