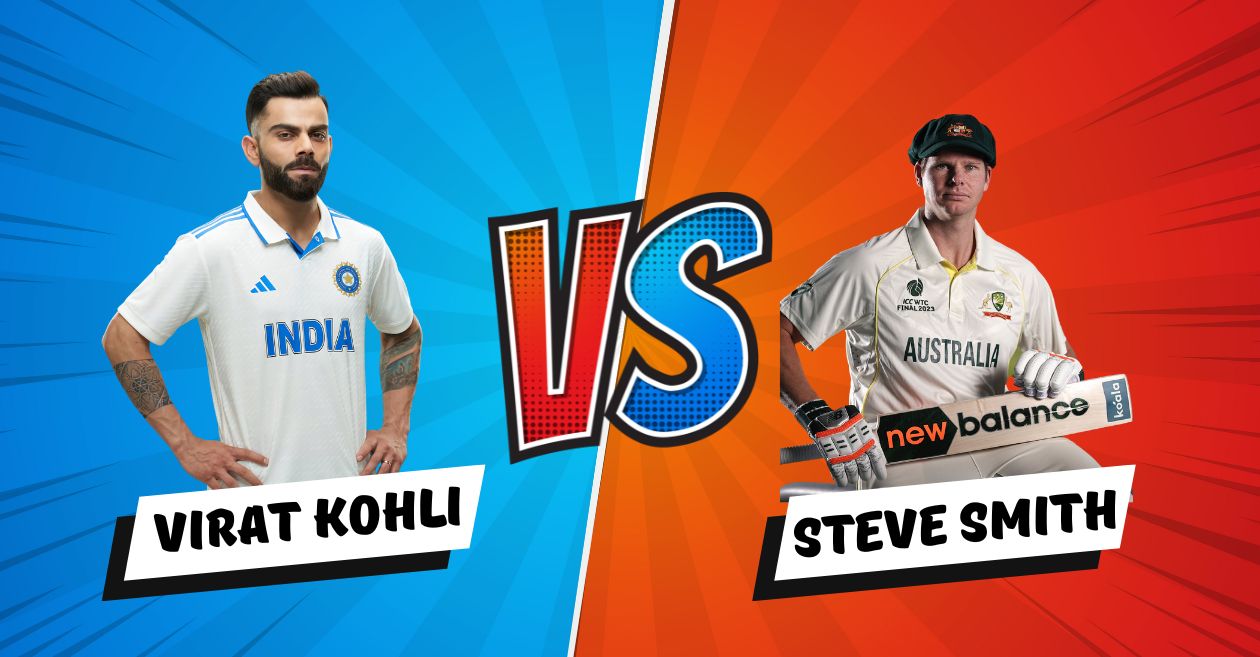 Test cricket, the ultimate form of the game, has witnessed some extraordinary batting talents throughout its rich history. In the modern cricket, two contemporary batting maestros who have captivated fans worldwide with their sublime skills and astonishing records are Virat Kohli and Steve Smith. Both batters have dominated the longest format with their outstanding consistency and amassed staggering numbers with the willow.
These two extraordinary cricketers have delighted fans with their astonishing skills and amassed phenomenal records over the years. With less than a week remaining, the much-debated clash between Kohli and Steve Smith will reignite as India and Australia go head-to-head in the highly anticipated World Test Championship (WTC) Final. The match will be held at a neutral venue, The Oval in London.
Let's delve into the numbers that define the remarkable careers of Kohli and Smith, comparing their performances in the longest format of the game:
Batting Technique:
Kohli: The former India skipper is hailed for his textbook technique and a wide array of strokes. Kohli's precise footwork, impeccable balance, and compact technique enable him to play both pace and spin with equal proficiency. His cover drives, flicks, and pulls are a treat to watch for cricket fans.
Smith: Known for his unorthodox style, Smith has an idiosyncratic batting technique. His back-and-across trigger movement and unique stance have been the subject of analysis and fascination. Despite his unconventional approach, Smith has been incredibly effective in gaining immense success and frustrating bowlers irrespective of the conditions.
Run machine:
Kohli: The number of runs scored provides a clear indication of a player's impact and longevity and both Kohli and Smith have excelled in this portion. Kohli has accumulated over 8,000 runs in Test cricket, including 28 centuries and as many fifties. His prolific run-scoring ability has established him as one of the premier batters of the modern-day cricket.
Smith: Smith's run-scoring prowess is highly impressive, with close to 8,800 runs in the red-ball format, including 30 centuries and 37 fifties. His knack for converting starts into big scores has been instrumental in his extraordinary success.
Consistency and Conversion Rate:
Kohli: Kohli's consistency in Test cricket is a testament to his breathtaking skills. Barring the last few years, he has consistently maintained an average above 50 throughout his career, scoring runs in all conditions. The former skipper also boasts an exceptional conversion rate, regularly converting fifties into hundreds.
Smith: Smith's ability to churn out big scores with remarkable consistency sets him apart. His insatiable hunger for runs has resulted in numerous match-winning knocks. The Aussie averages close to 60 is a testament to his ability to accumulate runs at an astonishing pace in the longest format.
Handling Pressure Situations:
Kohli: Kohli thrives under pressure and often raises his game to the top when the stakes are high. The Delhi-born cricketer has a remarkable record of scoring crucial runs in challenging situations, leading his team's fight-backs from difficult positions.
Smith: Smith, too, has shown outstanding composure and resilience in pressure situations. His ability to dig deep, absorb pressure, and bat for long durations has been instrumental in his glorious career. The New South Wales star has an unflappable temperament which allows him to deliver when his team needs it the most.
For latest cricket news & updates, visit CricketTimes.com.