By Sophie Kaufman on SwimSwam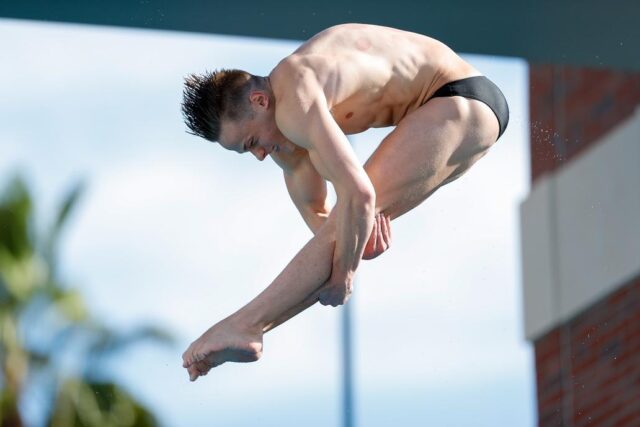 2023 Men's PAC-12 Championships
March 1-5, 2023
Weyerhauser King County Aquatic Center – Federal Way, WA
SCY (25 Yards)
Defending Champions: Cal (5x)
Team Scores Thru Diving
USC – 170
Stanford – 125
Utah – 122
ASU – 79
Arizona – 67
Cal – 38
In the PAC-12, men's diving competes at the women's championships, meaning that heading into the first day of pool competition at the men's meet, the first trophies have already been handed out.
USC swept the boards, giving them a healthy lead over the rest of the field. Freshman Laurent Gosselin-Paradis won both 1-meter and platform diving, helping propel USC into first place with a 170 points. The Trojans hold a 45 point lead over Stanford, who have a solid diving group of their own, despite losing last year's 2x champ Conor Casey to graduation.
Gosselin-Paradis and his teammate Georgii Korovin went 1-2 on the 3-meter, with Korovin winning by just 2.4 points.
USC's depth showed on the springboards–they put three divers into the championship flight on both the 1- and 3-meter.
Last year, Cal did not score any points on the boards, meaning they came into Day 1 with significant work to do in order to catch up to their main rivals in the team race, Stanford and ASU. The Golden Bears sat in last place through the first seven events of the meet, before starting to claw through the standings and eventually win their fifth straight PAC-12 title.
This year they won't start from quite the same disadvantage, as freshman Joshua Thai helped secure 38 points for the Golden Bears via his three top-8 placements (4th on platform, 7th on 1-meter, 8th on 3-meter). There is still a gap between them and the rest of the conference–Arizona is 29 points ahead of them in fifth–but this marks a major improvement for them.
Diving Championship Flight Results
Men's 1-Meter Diving — Final
Top 8:
Laurent Gosselin-Paradis (USC) – 354.80
Jack Ryan (STAN) – 340.15
Elias Petersen (UTAH) – 337.95
Peyton Donald (STAN) – 333.10
Bjorn Markentin (ARIZ) – 329.90
Georgii Korovin (USC) – 319.95
Joshua Thai (CAL) – 315.30
Robert Gref (USC) – 279.85
Men's 3-Meter Diving — Final
Top 8:
Georgii Korovin (USC) – 431.80
Laurent Gosselin-Paradis (USC) – 429.40
Elias Petersen (UTAH) – 423.25
Bjorn Markentin (ARIZ) – 400.70
Jack Ryan (STAN) – 398.05
Luke McDivitt (UTAH) – 366.60
Shangfei Wang (USC) – 357.05
Joshua Thai (CAL) – 338.70
Men's Platform Diving — Final
Top 8:
Laurent Gosselin-Paradis (USC) – 416.05
Bjorn Markentin (ARIZ) – 359.95
Luke McDivitt (UTAH) – 350.40
Joshua Thai (CAL) – 348.55
Austin Flaute (ARIZ) – 284.50
Thomas Wesche (ASU) – 283.65
Ethan Foster (STAN) – 279.60
Jenner Pennock (UTAH) – 272.45
SwimSwam: USC Divers Sweep Boards, Trojans Lead Heading Into Day 1 Of Swimming at Men's PAC-12s