By Bradley Bush on SwimSwam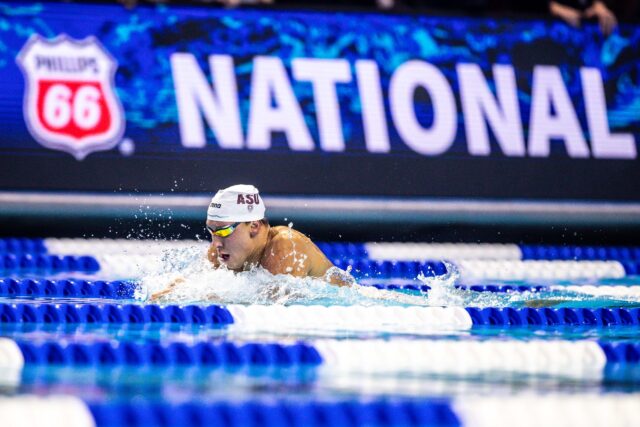 With the release of the United States National Team, we've been given another opportunity to analyze some swimming data, looking at the factors that make the best of the best. The selections are based on the best Olympic event performers from throughout the previous season. From USA Swimming:
"The six athletes with the fastest times in each Individual Olympic Event will be selected to the Team."
The times must come from USA Swimming-sanctioned meets, World Championships, or any international competition in which the United States sent a team. Times swam leading off a relay or during a swim-off do not count in qualifying for the National Team. The full selection criteria can be found here.
GEOGRAPHY
Looking at the hometowns of each swimmer, it's evident where swimming is more popular within America. 27 states are represented on the roster, with states like California and Texas featuring the most swimmers. The top states amongst both the men's and women's teams are:
Texas: 7
California: 6
Florida, Georgia, Indiana, Maryland, New Jersey, Nevada, Ohio: 5
Women's Team Map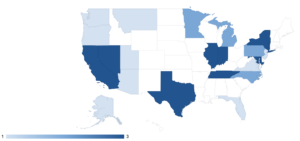 Men's Team Map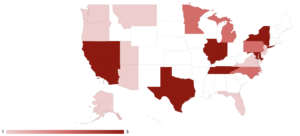 Combined Team Map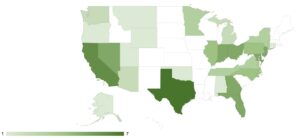 The men from Ohio and Georgia were the sole representatives from their states, as were the women from New York and Tennessee. 
UNIVERSITY AFFILIATION
While most swimmers on this roster are currently college students or have already graduated, there are a few exceptions. Swimmers who chose to go pro without graduating college, like Michael Andrew and Regan Smith, are listed as "N/A" on the official report. For the purposes of this article, we'll count Smith for Stanford, Hunter Armstrong for Ohio State, Matt King for UVA, and Shaine Casas for Texas A&M. Other swimmers, such as Kayla Han and Thomas Heilman are still working their magic in the juniors world, not having committed to a school yet. Including recent commits, current swimmers, and alumni, from twenty-one colleges across the United States, the teams that featured the most appearances on the roster are: 
Texas: 13
Virginia: 12
Georgia: 8, Cal: 8
Florida: 7, NC State: 7
Stanford: 4
Arizona State: 3, Indiana: 3
There's one school on the list below that you don't often see on this list: Drexel. That's the alma mater of breaststroker Rachel Bernhardt (class of 2017).
Other schools include Alabama (1), Auburn (1), Drexel (1), LSU (2), Michigan (1), Missouri (1), Notre Dame (1), Ohio State (2), UPenn (1), Texas A&M (2), USC (1), and Wisconsin (1). 4 swimmers have yet to commit. 
CLUB AFFILIATION
Across the board, there was a good mix of "hometown" club teams, university clubs, and professional teams represented in the roster. Heavy-hitting clubs like the Sandpipers of Nevada boasted both young and veteran talent, in names like Claire Weinstein and Cody Miller. The following clubs were the most frequently listed on the roster:
Longhorn Aquatics (9)
Sun Devil Aquatics (8)
Wolfpack Elite (6)
California Aquatics (5)
New York Athletic Club (4), Sandpipers of Nevada (4), University of Florida (4)
Cavalier Aquatics/Piedmont Family YMCA (3), Indiana Swim Club (3), Nashville Aquatic Club (3)
Athens Bulldog Swim Club (2), Carmel Swim Club (2), Gator Swim Club (2), Louisiana State University (2), Mason Manta Rays (2), Mission Viejo Nadadores (2)
*NOTE: While some swimmers have swam for multiple clubs in the past, their current affiliation with USA Swimming is listed on the roster.
EVENT LOAD
The United States is known as a swimming powerhouse in events across the board, largely in part to multi-event superstars like Kate Douglass, Katie Ledecky, and Regan Smith. Between those three women, each Olympic event is covered, across all 5 disciplines and every distance. There are 17 swimmers who qualified for the National Team in three or more events:

6
5
4
3
The full roster can be found here.