By James Sutherland on SwimSwam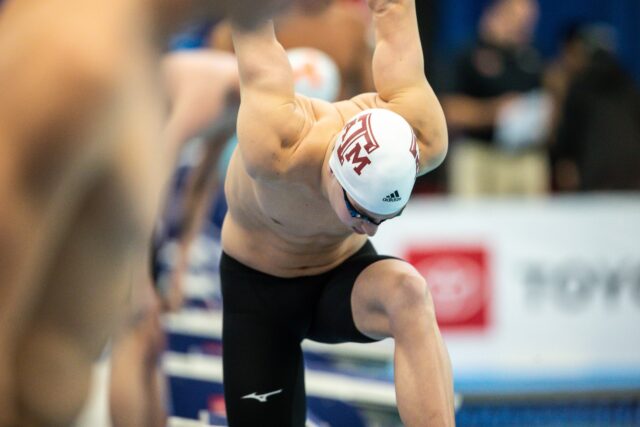 Ultra Swim Swimmer of the Month is a recurring SwimSwam feature shedding light on a U.S.-based swimmer who has proven themselves over the past month. As with any item of recognition, Swimmer of the Month is a subjective exercise meant to highlight one athlete whose work holds noteworthy context – perhaps a swimmer who was visibly outperforming other swimmers over the month, or one whose accomplishments slipped through the cracks among other high-profile swims. If your favorite athlete wasn't selected, feel free to respectfully recognize them in our comment section.
It's been nothing short of a standout freshman season for Baylor Nelson at Texas A&M, and that really came to light in his conference championship debut last month in College Station.
Nelson reeled off personal best times en route to victory in the men's 200 IM (1:40.86) and 400 IM (3:38.14), becoming the first male swimmer to complete the medley double at SECs since Chase Kalisz in 2017, and he also dropped a lifetime best of 1:39.79 to place second in the 200 backstroke.
With two victories and one runner-up finish, Nelson tied Tennessee's Jordan Crooks and Bryden Hattie for the men's meet lead with 92 individual points.
In improving his previous 400 IM best time from the Art Adamson Invite in November (3:38.39), Nelson also leapfrogs Tom Dolan to become the sixth-fastest under 20 swimmer in NCAA history (a definitive list of freshmen was difficult to nail down).
Fastest U20 Swimmers In NCAA, Men's 400 IM
Leon Marchand (ASU), 3:34.08 – 2022
Carson Foster (Texas), 3:35.27 – 2020
Hugo Gonzalez (Cal), 3:35.76 – 2018
Chase Kalisz (Georgia), 3:36.89 – 2014
Tyler Clary (Michigan), 3:38.03 – 2009
Baylor Nelson (Texas A&M), 3:38.14 – 2023
Tom Dolan (Michigan), 3:38.18 – 1995
On top of his individual performances, Nelson was also a key cog on the Aggie relays, producing a pair of 19-low 50 free splits (19.00/19.11), a 42.76 100 free leg, and a 1:32.53 split on the 800 free relay.
With the Men's Pac-12 Championships still to come, Nelson ranks third this season in the 400 IM and fourth in the 200 IM as he prepares for his NCAA Championship debut later this month.
Ultra Swim is the shampoo made for swimmers. It gently removes harmful chlorine, and prevents damaged hair. So swim all you want, without sacrificing your hair.
See all Ultra Swim Products here
Buy Ultra Swim at these locations
Ultra Swim is a SwimSwam partner.