By James Sutherland on SwimSwam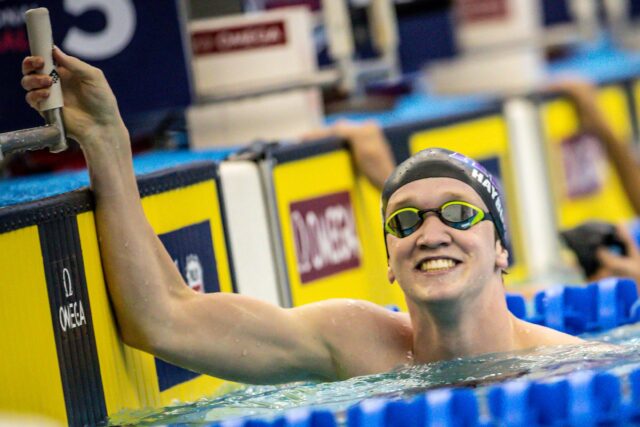 Joe Hayburn is the newest member of Team USA for the 2023 World University Games this summer in Chengdu, as the incoming freshman at Loyola University Maryland was named to the team on Wednesday.
Hayburn, 19, is the fourth swimmer yet to begin their college career to be selected to the roster, joining USC's Macky Hodges, Diggory Dillingham and Cal's Keaton Jones.
 

View this post on Instagram

 
Hayburn's addition brings the U.S. roster tally up to 34, with 32 swimmers having been named in early May and NC State's Kyle Ponsler being added one week later.
U.S. MEN'S ROSTER
Jack Armstrong, Henderson State
Christian Bart, Oakland
William Christenson, Minnesota
Jared Daigle, Michigan
Jack Dahlgren, Missouri
Diggory Dillingham, USC
Zhier Fan, Stanford
Chris Guiliano, Notre Dame
Bryce Halterman, Michigan
Joe Hayburn, Loyola (MD)
Jack Hoagland, Notre Dame
Tommy Janton, Notre Dame
Keaton Jones, Cal
Connor LaMastra, Northwestern
Chris Nagy, Minnesota
Kyle Ponsler, NC State
U.S. WOMEN'S ROSTER
Eliza Brown, Princeton
Eva Carlson, UCLA
Delaney Carlton, UNC Asheville
Abby Daniel, Akron
Callie Dickinson, Georgia
Noelle Harvey, Washington State
Macky Hodges, USC
Sabrina Johnston, Princeton
Anna Kalandadze, UPenn
Susan LaGrand, Oakland
Emily Lundgren, Washington State
Paige MacEachern, UCLA
Lily Mead, Loyola (MD)
Madyson Morse, Illinois State
Anya Mostek, Harvard
Heidi Smithwick, Princeton
Caroline Theil, Texas A&M
Megan Van Berkom, Minnesota
Hayburn gives the U.S. team a strong addition in the 100 backstroke, where he owns a personal best time of 55.34, set earlier this year at the Speedo Sectionals in Buffalo.
That time ranks him fourth among swimmers currently on the U.S. roster, trailing Jones (54.90), Tommy Janton (54.90) and Jack Dahlgren (55.09).
Hayburn owns a PB of 2:02.64 in the 200 back, trailing the likes of Jones, Dahlgren and Ponsler on the team depth chart, and he also holds respective bests of 23.94 and 52.32 in the 50 and 100 free events.
Hayburn will join future Loyola teammate Lily Mead on the American team, along with Greyhound head coach Brian Loeffler, who is among the assistants on the U.S. coaching staff.
Incoming collegiate athletes are eligible to compete at the Games, as are competitors who have graduated within the last year. That period has been extended due to this edition of the World University Games having been postponed twice—it was initially scheduled for 2021—which has made college graduates from 2020, 2021 and 2022 also eligible to compete.
The World University Games in Chengdu will run from July 28 – August 8, 2023 in Chengdu, China after initially being slated for August 2021.
SwimSwam: U.S. Roster At World University Games Grows With Addition of Loyola's Joe Hayburn