By Braden Keith on SwimSwam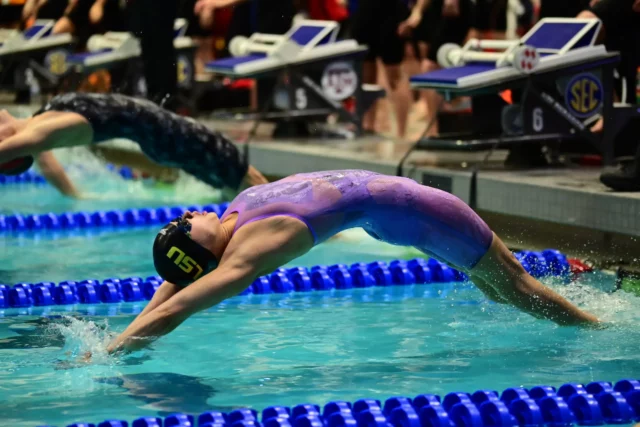 2023 SEC SWIMMING & DIVING CHAMPIONSHIPS
Tuesday, February 14 – Saturday, February 18, 2023
Rec Center Natatorium, College Station, TX
Defending Champions:

Women: Tennessee (1x)
Men: Florida (10x)
The LSU women's swimming & diving team, having not qualified a relay for the NCAA Championships since 2016, have officially booked their tickets for all five relays for the 2023 championship.
The Tigers added their 4th and 5th NCAA relays on Wednesday evening to open the SEC Swimming & Diving Championships. First, the team of Maggie MacNeil (with the fastest 50 backstroke split in history), Hannah Womer, Hannah Bellina, and Miaela De Villiers combined for a 1:36.59 in the 200 medley relay. That lowered their season-best of 1:37.78 and got them under the 1:37.02 NCAA "B" standard. That team placed 8th.
Later in the evening, the team's 800 free relay of Katarina Milutinovich, Megan Barnes, Reagan Osborne, and Chloe Cheng combined for a 7:02.12. That was a drop of almost nine seconds from their seed time of 7:10.98 (which was actually an add-up time of the four swimmers' individual season-bests).
Combined with their 200 free relay "A" cut 1:27.63 from the Art Adamson Invitational, their 3:33.47 "B" cut in the 400 medley relay from the same meet, and their 3:13.93 "A" cut from the team's January dual meet against Texas A&M, the Tigers now have the right to take all five relays to the NCAA Swimming & Diving Championships.
For second-year head coach Rick Bishop, that immediate shift in results is something to hang his hat on when recruits come calling.
Of course, bringing his former Michigan protegé Maggie MacNeil, one of the top five swimmers in the NCAA, along with him, helps a lot. She has raced on four of those qualifying relays.
But that's not the whole story. The 800 free relay broke the LSU Record without MacNeil: the old record was a 7:04.77 from 2016, the last year they sent relays to the NCAA Championships – and that old record was a very good relay for the Tigers.
Here's a wild stat: the 7:02.12 that they swam is faster than the add-up of the school's four best flat starts in program history – a list that includes former US National Team member Amanda Kendall.
The Tigers will probably need a few more tenths in that 800 free relay to score at NCAAs (it took 7:01.71 last year), but their other relays are all in scoring position headed toward March.
The team's next challenge will be to get a few of those swimmers individual invites: they are allowed up to four uninvited relay swimmers who didn't qualify as individuals, but will need more than that to put their best relays forward next month.
The 2022 Women's NCAA Swimming & Diving Championships will run from March 15-18 in Knoxville, Tennessee.
SwimSwam: The LSU Women Haven't Sent a Relay to NCAAs Since 2016; This Year, They'll Send All 5