Not long ago, the future looked bright for Keston Hiura and the Brewers. The former No. 9 overall draft pick (2017) had been a universally lauded top-25 prospect in the sport due to a high-probability hit tool that overshadowed concerns about his glovework. He breezed through the minors, torching opponents in Rookie ball, Class-A, High-A, Double-A and Triple-A before reaching the Majors in 2019 and erupting with a .303/.368/.570 batting line and 19 home runs in just 348 plate appearances at 22 years of age.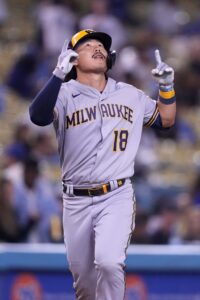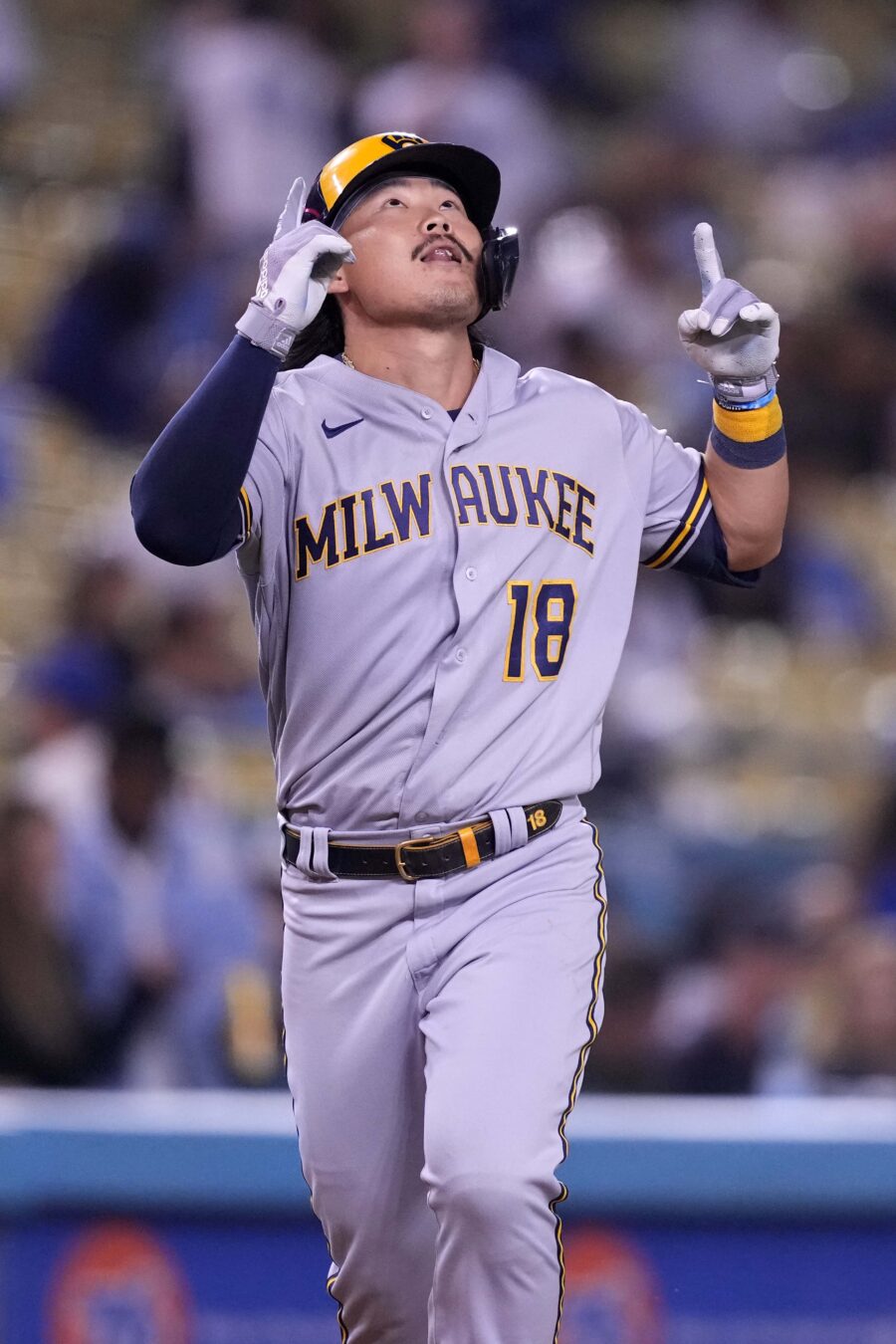 Hiura's long-term position was something of an open question due to an elbow injury that required surgery in college and left questions about his arm strength even at second base. However, his bat was so advanced and his professional track record was so strong that it didn't seem to matter much. That rookie production and his minor league track record suggested a player whose offensive profile would fit at any position on the diamond.
Granted, Hiura's 30.7% strikeout rate as a rookie was a red flag, but strikeouts weren't an issue at all until he reached Triple-A and the big leagues. There was reason to believe that with more experience, he could pare back on the swing-and-miss in his game. Further, given the 91.4 mph average exit velocity and 48.1% hard-hit rate he boasted that season, the impact when he did make contact was substantial. Even with a .402 BABIP pointing to some regression in the batting average department, Hiura looked the part of a slugger who could turn in an average or better batting average with plenty of power.
That now feels like a distant memory. In the three seasons since that time, Hiura hasn't improved upon his strikeouts but rather seen the problem worsen. He fanned at a 34.6% clip in his sophomore season while posting a disappointing .212/.297/.410 line. Optimists could perhaps chalk that up to a relatively small sample (59 games) and the strangeness of the Covid-shortened 2020 season, but Hiura hit just .168/.256/.301 with an even worse 39.1% strikeout rate in 2021. His bottom-line results were better in 2022 — .226/.316/.449, 14 homers in 266 plate appearances — but Hiura punched out at a career-worst 41.7% rate last year.
Along the way, defensive metrics have regularly panned his abilities in the field. Defensive Runs Saved (-16), Ultimate Zone Rating (-14.1) and Outs Above Average (-12) all offer resoundingly negative reviews of his 1204 career innings at second base. Those metrics grade him as an average defender in 603 innings at first base. He's also logged 40 innings in left field, but those days are likely behind him, given the number of interesting outfield prospects on the horizon in Milwaukee. Garrett Mitchell, Sal Frelick and Joey Wiemer could all join Christian Yelich and the currently injured Tyrone Taylor in the 2023 outfield (as could third baseman/outfielder Brian Anderson). Uber-prospect Jackson Chourio is also rapidly approaching the Majors.
With Hiura's struggles at second base and both Brice Turang and Luis Urias presenting options at the position, he's unlikely to spend much more time there. A move to third base seems out of the question, given concerns about his arm strength. Both Urias and Anderson are more seasoned options at the hot corner anyhow. At first base, Hiura's right-handed bat would seem like a natural pairing with lefty-swinging Rowdy Tellez … except for the fact that Hiura has pronounced reverse splits in his big league career. He's batted .253/.332/.508 against righties but just .201/.283/.323 against lefties. Even that stout production against righties comes with a 34.5% punchout rate and .342 BABIP, suggesting regression could be in order.
As things stand, Hiura looks like a right-handed bench bat who'll primarily work at first base and designated hitter, perhaps with very occasional appearances at second base and in left field. It's a limited role to begin with, and it's one that's further complicated by a dismal showing this spring. Obviously, spring results don't carry much weight, but hitting .174/.269/.217 with nine strikeouts in 26 plate appearances (34.6%) on the heels of a difficult three-year stretch in the big leagues doesn't inspire much confidence in a rebound.
Furthermore, the Brewers have multiple right-handed first base options in camp who are simply outproducing Hiura this spring. Again, we're dealing with the smallest of samples, so it's all to be taken with a grain of salt, but each of Mike Brosseau, Owen Miller and non-roster invitee Luke Voit have posted better numbers thus far.
Brosseau hit .255/.344/.418 last season — comparable overall production to that of Hiura. He's having a monster spring showing and can play first base, second base, third base and the outfield corners. Unlike Hiura, he's a right-handed bat who has more traditional platoon splits: .276/.338/.485 versus lefties (127 wRC+), .207/.295/.356 versus righties (84 wRC+).
Miller, acquired from Cleveland over the winter, had a big start with the Guardians in 2022 before wilting and finishing out the year with a .243/.301/.351 showing. Hiura's 115 wRC+ from last season handily tops Miller's mark of 85, but Miller's 19.8% strikeout rate is less than half that of Hiura's 41.7%. Miller is more capable at second base and has even been working out in center field this spring.
Voit was also outproduced by Hiura at the big league level last year, but his 31.5% punchout rate — while still unsightly — still clocked in 10 percentage points lower. Voit has the bigger track record of MLB success, having led the Majors with a 22-homer showing back in 2020. Injuries have sapped his production since 2021.
Perhaps the biggest thing working in Hiura's favor is that he's out of minor league options. The Brewers can't send him down without first exposing him to waivers. It's possible that the $2.2MM salary to which he agreed when avoiding arbitration over the winter might allow him to pass through waivers unclaimed, but Milwaukee may not want to risk waiving a former top-10 pick and top-25 prospect only to watch him break out elsewhere. Brosseau and Miller both have a pair of minor league options remaining. Voit isn't on the 40-man roster after signing a minor league deal, although he'll reportedly have the chance to opt out of his deal tomorrow if he's not added to the roster.
To Hiura's credit, he's a career .299/.400/.600 hitter in 508 Triple-A plate appearances. Even last year while striking out a nearly 42% clip, he averaged a whopping 91.7 mph off the bat and put 45.2% of the balls he hit into play at 95 mph or better. The quality of his contact is elite. The frequency of contact is among the worst in MLB. Hiura's strikeout rate was the worst of the 317 batters who had at least 250 plate appearances. His 62.3% overall contact rate and 71.2% contact rate on pitches within the strike zone both ranked third-worst among that same group.
It all presents the Brewers with a quandary. They have at least three right-handed-hitting alternatives in camp who are capable of filling that first base/designated hitter spot. Brosseau has more defensive versatility, comparable recent production and is a more natural complement to lefties like Tellez and DH candidate Jesse Winker. Voit has similar power upside, although he's limited to first base/DH and is two years removed from being a legitimate middle-of-the-order threat. Miller doesn't have the same offensive upside but might have the most defensive versatility and definitely has the best bat-to-ball skills of this bunch.
Milwaukee has several alternatives to Hiura, whose trade value is minimal at this juncture in his career. There's understandable risk in parting ways with him and allowing for the possibility of another club claiming him on waivers. But, at the same time, hanging onto him leaves the Brewers with limited roster flexibility while simply hoping for him to finally hone his approach at the plate after years of being unable to do so. And since he can't be optioned to Triple-A, he'll likely be left to do so in sparse playing opportunities since he currently projects as a bench piece in the event that he does crack the Opening Day roster.
It's a tough spot for the Brewers to find themselves, and there's likely no solution that'll make them feel truly comfortable. Opening Day is just over two weeks away, however, so one way or another this will culminate in the team making a difficult choice.