By Riley Overend on SwimSwam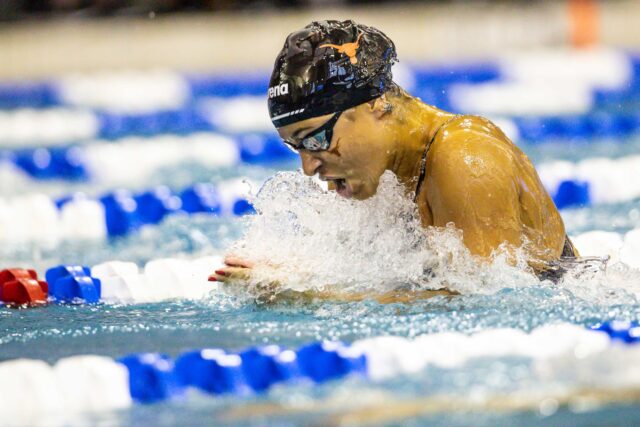 TEXAS vs. NC STATE
January 27 to 28, 2023
Lee & Joe Jamail Texas Swimming Center, Austin, Texas
SCY (25 yards)
Until today, no women's 200 medley relay team in the nation — or in the history of the Texas program — had broken 1:34 in the race. Then the No. 2 Longhorns blazed a 1:33.70 to kick off Friday's dual meet against No. 4 NC State as Anna Elendt posted one of the quickest breaststroke splits ever to help take down the Texas school record of 1:34.04 from last year's Big 12 Championships.
The only problem? The Wolfpack went even faster in their final dual meet of the season.
NC State clocked a total time of 1:33.49, nearly a second faster than the previous NCAA-leading mark of 1:34.33 that belonged to Virginia from last November. Katharine Berkoff (23.55), Heather MacCausland (25.76), Kylee Alons (22.44), and Abby Arens (21.74) combined to edge the Longhorns by just .21 seconds.
On paper, Elendt's 24.57 blew away Lilly King's previous 50 breast relay split record of 25.36, but she appears to be in the 25-point range based on hand-timing of the race video linked above — still, at the very minimum, it's one of the fastest splits of all time. Elendt's previous-best split was a 25.73 from last year's Big 12s.
After Texas junior Emma Sticklen posted a 22.29 split on the butterfly leg, the Longhorns clung to a slim .01-second advantage headed into the freestyle anchor. There, Arens just barely outdueled Texas junior Grace Cooper (21.96) to give NC State the tight victory.
Check out the comparative splits below. Both times would have placed 5th at last year's NCAA Championships.
Texas vs. NC State, 200 Medley Relay
Notably, the Longhorns were faster than they were at last year's NCAA Championships (1:34.46). See how they stack up against the old Texas school record from last year's Big 12s below.
Comparative Splits, Texas vs. Previous School Record
SwimSwam: Texas Women Break 200 MR School Record, But NC State Wins with Top NCAA Time of 1:33.49