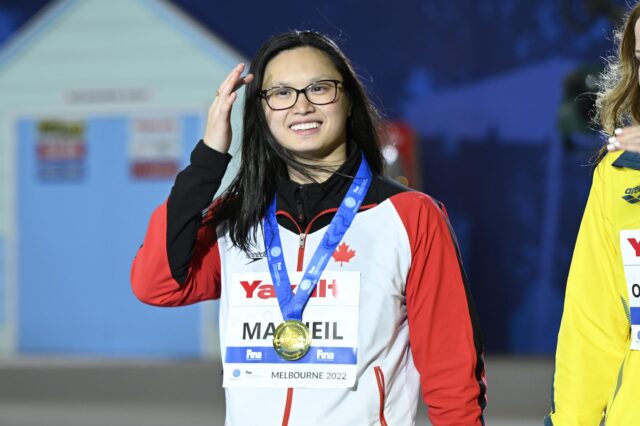 2022 FINA SHORT COURSE WORLD CHAMPIONSHIPS
Tuesday, December 13 to Sunday, December 18, 2022
Melbourne Sports and Aquatics Centre, Melbourne, Australia
SCM (25m)
Psych Sheets (Updated)
Swimmer Of The Meet: Maggie MacNeil, Canada
Who would get the female swimmer of the meet award was up to debate for a good portion of this World Championships, but by the last day of the competition, giving the honor to Maggie MacNeil was a no-brainer.
The LSU-trained Canadian was one out of two female swimmers (with the other one being Lani Pallister) to win three individual titles, taking home golds in the 50 fly, 50 back, and 100 fly. In addition, the latter two events she won were done in world record fashion, meaning that two out of three individual world records set at this meet are tied to her name. And if that doesn't solidify her argument for this award, then I don't know will.
MacNeil began her meet with the 50 fly, a race where she was in dead last at the 25-meter mark but then came back on the second 50 to tie Torri Huske for first, with both swimmers clocking a time of 24.64 to become the seventh-fastest performers in history. Then, in the 50 back, MacNeil won her race by nearly three tenths, clocking 25.25 to break her world record set at last year's short course worlds by 0.02 seconds.
Arguably MacNeil's best swim came on the last day of the meet where she won her signature event, the 100 fly. She was trailing Huske and Louise Hansson at the halfway mark, but had an incredible back half to overtake both swimmers and clock a new world record time of 54.05. That world record shattered Kelsi Dahlia's previous standard of 54.59 by over half a second.
In addition to her individual medals, MacNeil also won two bronze medals from being a part of the Canadian women's 4×100 freestyle and medley relays.
After a relatively quiet long course summer, MacNeil has since then moved her training base from Michigan to LSU, where she reunited with her head coach Rick Bishop. And considering her recent success in the NCAA and at short course worlds, that move seems to be paying off.
Honorable Mentions:
Emma McKeon, Australia— McKeon successfully completed the sprint sweep at this meet, winning the 50 free and 100 free. In the 50 free, she clocked a 23.04 to break Sarah Sjostrom's championship record of 23.08, and also became the third-fastest performer of all-time—just 0.11 seconds away from Ranomi Kromowidjojo's world record of 22.93. Her 100 free win was also in championship record fashion, as her time of 50.77 took down Siobhan Haughey's old standard of 50.98 from last year. However, where McKeon truly excelled was in the relays. She put up the fastest relay splits ever in the 50 free (22.62), 100 free (49.96), and 100 fly (53.93), breaking barriers to become the first woman under 50 in a 100 free and the first woman under 54 in the 100 fly. In total, McKeon's efforts helped Australia claim two golds, three silvers, and two world records on relays.
Lani Pallister, Australia— With Li Bingjie's early dominance in the short course season, it seemed unlikely that Pallister was to come home with any gold in the distance events. However, Pallister made the most out of her opportunity when Li scratched the entire meet due to COVID-19, winning titles in the 400 free (3:55.04), 800 free (8:04.07), and 1500 free (15:21.43). Pallister's swims in the 800 and 1500 free were done in Australian record fashion, while her 1500 free time broke the championship record (that being said, with this meet being the first time the women's 1500 free has been raced at SC worlds, the winner of the event automatically got the CR). In addition, Pallister split 1:52.24 anchoring the 4×200 free relay for Australia, being the fastest on her team and helping them to gold and a new world record.
Kate Douglass, United States— With five golds and two silvers, Douglass was the most decorated swimmer, male or female, at this meet. She put her versatility on display, taking individual gold in the 200 IM and 200 breast, but also posted some of the fastest splits ever in the 50 free, 100 free, 50 fly, and 100 fly. She kicked off her meet by winning the 200 IM in a time of 2:02.12, which broke the American record and was also the second-fastest performance of all-time, just behind Katinka Hosszu's world record of 2:01.86. She then won the 200 breast by nearly two seconds, with her time of 2:15.77 taking down Rikke Moeller-Pedersen's decade-old championship record time of 2:16.02. Douglass was the X-factor on almost all team USA relays, helping her country to three relay golds and two silvers. Her best relay splits in the 50 free (22.72), 100 free (50.47), 50 fly (24.09), and 100 fly (54.56) all rank amongst the top five splits of all-time in their respective events.
Maggie MacNeil was so dominant in the women's 100 fly to the point where the world record line was at her hips when the race was finished. Her time of 54.05 was 0.54 seconds faster than Kelsi Dahlia's old world record time of 54.59, which was set last year in the 2021 ISL final. To break a world record by over half a second in a 100-meter race is an incredibly rare feat, which is why we opted for MacNeil's 100 fly swim as the race of the meet.
In fact, the margin that MacNeil broke her world record by was the largest world record-breaking margin for a 100-meter event since Caeleb Dressel broke the 100 IM world record by 0.6 seconds in November 2020.
The most impressive thing about MacNeil's swim was that she wasn't even leading for a good portion of her race. At the 50-meter mark, she was in third behind Torri Huske and Louise Hansson and was 0.7 seconds back from the leader. At 75, she was side-by-side with Huske. However, she then charged ahead of the rest of the field on the last 25, winning by 0.7 seconds—the same amount of time that she was trailing by in the first half of her race.
This race wasn't fast entirely due to MacNeil, either—Huske and Hansson swam times of 54.75 and 54.87 for silver and bronze, becoming the fourth and fifth-fastest performers in history. All three swimmers on the podium got under 55 seconds for the first time at this meet.
Honorable Mentions:
Maggie MacNeil, 50 back— Unlike her 100 fly record, MacNeil only broke her 50 back world record by 0.02 seconds. However, a world record is a world record, so therefore it deserves an honorable mention in our article. The significance of this world record is that it further increases MacNeil's dominance over the rest of the world in the SCM 50 back. To put things in perspective: Claire Curzan, the silver medalist in the event, swam a 25.54 that made her the third-fastest performer of all time, and yet MacNeil still beat her by half a body length. On the all-time rankings, MacNeil's world record is 0.24 seconds ahead of Mollie O'Callaghan's 25.49, which is the fastest performance in history done by another swimmer.
Ruta Meilutyte, 50 breast— After going 28-point and approaching the world record in the 50 breast three different times on the FINA World Cup this year, Meilutyte finally got the job done at short course worlds, breaking Alia Atinkson's world record time of 28.56 by swimming a 28.37 in the semi-finals. This world record highlights Meilutyte's incredible comeback into the sport, as it was her first world record broken since 2013—when she was only 16 years old. Now 25 and back from a two-year retirement that kept her out swimming from 2019 to 2021, she finally has another record to her name.
Kate Douglass, 200 IM— This swim wasn't a world record, but it approached one of the most impressive world records in swimming. Prior to short course worlds, no woman had been close to Katinka Hosszu's time of 2:01.86 in the 200 IM. The second-fastest performer in history was then Kaylee McKeown at 2:03.68, a time that was nearly two seconds behind. However, Douglass came in and swam a 2:02.12, which was just 0.26 seconds off the world record and the second-fastest performance of all time. Douglass also snapped Hosszu's ownership of the eight fastest swims in the history of the 200 IM. Notably, she wasn't even originally planning on swimming the 200 IM at short course worlds—it was only added to her lineup in late November. In fact, this race was Douglass' first 200 IM race since the 2021 Short Course World Championships.
Emma McKeon, 4×100 free relay— After the first 300 meters of the women's 4×100 free relay, the United States was 0.98 seconds ahead of Australia, and well under world record pace. That all changed when McKeon dove in though, as she came from behind to overtake the Americans and help Australia win by nearly a second in world record fashion. Her split of 49.96 was the fastest of all-time, and also made her the first woman in history to go under 50 seconds in a 100 free—a monumental achievement in a monumental race.
Breakout Performer Of The Meet: Kate Douglass, United States
People who follow the NCAA have always known how good Kate Douglass was. She's one of the most versatile yards swimmers in history, being capable of breaking American records in three different strokes. However, she was viewed as a bit of an underdog on the international stage.
Sure, Douglass was already a very strong swimmer internationally, having individual bronze medals from the Olympics, long course worlds, and short course worlds. But prior to this meet, her international profile paled in comparison to the dominant, Swiss army knife-type swimmer that she was in the NCAA. That being said, having to face competition like Lilly King, Alex Walsh, and Kaylee Mckeown, SwimSwam didn't pick Douglass to win either the 200 breast or the 200 IM.
Looking back now, we were very, very wrong.
In the 200 IM, when Douglass completely blew past her competition, including her Virginia teammate, long course World Champion and NCAA record holder Walsh, as well as McKeown, who was the #2 performer in history prior to the start of the race. She went a mind-boggling 2:02.12, the second-fastest performance ever, scaring Katinka Hosszu's world record time of 2:01.86 that no other woman had been near in the past. In addition, she dropped over two seconds from her best time of 2:04.24 from last year. In an event that she hadn't swum in a year, she was suddenly approaching a mark that was once thought to be untouchable. Something similar happened in the 200 breast, where Douglass beat King by over a second, despite the fact that King beat her twice in long course this year and was favored by some to do so again.
Douglass' breakout extended beyond individual events too, as she was constantly America's top performer on the relays. As said above, her relay splits in the 50 free, 100 free, 50 fly, and 100 fly all rank amongst the top five in history, and helped the United States win golds in three different relays.
Overall, Douglass' medal count of five golds and two silvers makes her the most decorated swimmer at this year's edition of short course worlds. In addition, she was also the only American woman to win two individual titles.
And while some may argue that Douglass wasn't a "breakout" because she was already an accomplished swimmer before, it's important to note that at last year's short course worlds, she only had one individual bronze medal, was out-split by Abbey Weitzeil and Claire Curzan on the freestyle relays, and was left off finals medley relays. To go from that to the most decorated swimmer medal-wise and top American performer of the meet is a massive breakthrough, as she jumped from being a good swimmer to one of the best in the world.
Honorable Mentions:
Marrit Steenbergen, Netherlands— After dropping a considerable amount of time in long course this summer, it was inevitable that Steenbergen would see short course success as well. However, she was still a bit undervalued prior to the start of the meet, being seeded seventh in the 100 free, fifth in the 200 free, and third in the 100 IM. However, she ended up taking bronze in both the 100 and 200 free, dropping from a best time of 51.92 to 51.24 in the 100 free. Her most impressive swim came in the 100 IM, though, where she dropped over half a second and won in 57.53 to become the fourth-fastest performer of all time. In addition, Steenbergen also produced the fastest freestyle splits of the field in the 4×100 medley relay (50.47) and 4×200 free relay (1:51.94).
Tes Schouten, Netherlands— Prior to short course worlds, Schouten had never won an individual medal at a senior international meet. She was seeded ninth in the 100 breast with a time of 1:04.71 and fourth in the 200 breast with a 2:19.55, and was in a field of swimmers like King, Douglass, Meilutyte, Reona Aoki, Tang Qianting, and Benedetta Pilato, who all had more prior success and were projected to beat her. However, Schouten saw massive improvements at this meet, dropping to a 1:03.90 to take 100 breast silver and improving over a second to a 2:18.19 for 200 breast bronze. With world medals under her belt at just 21, she could be one to look out for on the breaststroke scene in the coming years.
18-And-Under Swimmer Of The Meet: Claire Curzan, United States
This award has to go to 18-year-old Claire Curzan, who won three individual medals—the most out of any 18-and-under swimmer at this meet. All of those medals came in backstroke, as she took silver in the 50 back, bronze in the 100 back, and silver in the 200 back.
Curzan's most impressive performance was in the 50 back, where she clocked a time of 25.54. That time makes her the third-fastest performer in history, and is also an American record. In fact, Curzan took down the American record twice in the 50 back at this meet, as she first swam a 25.60 in the semi-finals to beat out Olivia Smoliga's old standard of 25.74, and then re-broke that record by going 25.54.
In the 100 back, Curzan tied for third with Ingrid Wilm in a time of 55.74, whereas in the 200 back she swam a 2:00.53 to finish second to Kaylee McKeown. Notably, Curzan scratched the 100 fly to focus on the 200 back, despite the fact that she was only set to swim the 200 back because Rhyan White pulled out of the meet.
Alongside her individual swims, Curzan also won two golds and two silver medals as a part of Team USA relays.
Honorable Mentions:
Mollie O'Callaghan, Australia— O'Callaghan had a similar race schedule compared to Curzan, swimming the 50 and 100 back individually. She broke the Australian record three times in the 50 back, first in the semifinals and finals of the individual events and then leading off the 4×50 medley relay. She took bronze in the 50 back with a time of 25.61, but then she bettered that time to 25.49 in her relay leadoff to become the second-fastest performer of all-time. In the 100 back, O'Callaghan was second to her teammate Kaylee McKeown, swimming a 55.62. The 18-year-old was a part of all five Australian women's relays, including the three that broke the world record (4×100 free relay, 4×200 free relay, 4×50 medley relay).
Elizabeth Dekkers, Australia— The 18-year-old Dekkers had an international breakthrough in the 200 fly this year, making international teams in both long course and short course. She also swam one event at this year's short course worlds, but she made the most out of it, taking bronze in the 200 fly with a time of 2:03.94. That time was just over a second off of Ellen Gandy's Australian record time of 2:02.88.
SwimSwam: SwimSwam's Awards For The 2022 Short Course World Championships — Women's Edition