By Ben Dornan on SwimSwam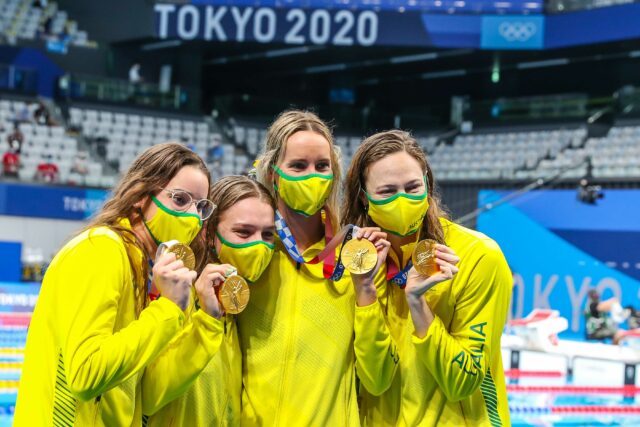 As reported earlier this month, both Cate and Bronte Campbell were spotted among those participating at Australia's National Event Camp. Since then, both sisters have shared Instagram posts about the camp and both teased an upcoming bid for another Olympic appearance. It's been a bit over a year since Cate Campbell confirmed her intention to race in Paris, sharing in February 2022 that she will be training in Europe en route to another Olympic bid. Now that they are both back in the water, it seems like we could see both sisters on the heat sheets for Australian Olympic Trials in 2024.
Bronte says that she's been back in training for four weeks, and while Cate was less specific, she did #paris2024 in her post.
The Paris Olympics are roughly a year and a half away and if the Campbells qualified it would be Bronte Campbell's 4th-straight appearance and Cate Campbell's 5th.
After racing at the Tokyo 2020 Olympics in 2021, both Campbell sisters took a step back from major international competition. Neither of them has raced for Australia since Tokyo and both have been transparent about what they've been up to since the Games. They have shared via Instagram photos and videos of their travels, hobbies, and, in Cate's case, experience conducting interviews for the Australian press at the 2022 Commonwealth Games.
Should they race at Paris 2024, it would be an opportunity for each sister to add to what are already legendary careers. Cate Campbell swam at her first Olympic Games back in 2008 when she qualified for the 50 and 100 freestyles in Beijing. Campbell made a strong impression at her first Games, taking home bronze in the 50 freestyle with a 24.17. She finished 10th overall in the 100 free with a 54.54 but got another medal in the 4×100 freestyle relay, leading off Australia's finals contingent with a 54.43.
Bronte made her Olympic debut four years later in London as she and Cate represented Australia in the 50 free. Both sisters qualified for the semi-finals but neither made it to the final as Bronte hit a 24.94 for 10th while Cate swam a 25.01 for 13th. Cate also swam in the finals of the 4×100 freestyle relay in London, contributing to the team's 3:33.15 Olympic record and Olympic gold medal-winning swim.
In 2016, both sisters returned to the Games, and both qualified to race the 50 and freestyle individually and both of them made it into both finals. Bronte was 7th in the 50 (24.42) and 4th in the 100 (53.04) while Cate finished 5th in the 50 (24.15) and 6th in the 100 (53.24). Campbell notably set the Olympic record in the 100 during both prelims (52.78) and semi-finals (52.71) but was unable to pull off a podium finish in the final heat.
The sisters' biggest swim of the meet in 2016 came during the final of the 4×100 freestyle relay when they, along with Emma McKeon and Brittany Elmslie, set a new world record and took home Olympic gold. They put up a 3:30.65 to defeat the United States by over a second. Cate also picked up a silver medal in 2016 as a member of the 4×100 medley relay.
During their most recent Olympic performances, in 2021, they repeated that relay feat when they, McKeon, and Meg Harris swam to 4×100 freestyle gold in world record time. They swam a 3:29.69 to bring the mark under 3:30 for the first time in history. While Bronte didn't swim any individual events at Tokyo 2020, Cate managed to snag her first individual Olympic medal since 2018 when she came third in the 50 freestyle (24.36). She also placed 7th overall in the 100 freestyle, hitting a 52.52.
The Campbell sisters already have a storied career at the Olympic level and if they end up qualifying for Paris 2024 they would likely add to their medal haul. The Australian women are presently a fairly unstoppable force in the 4×100 freestyle relay and are heavily favored to win the event at Paris 2024.
Without the Campbell sisters, who both spent the summer of 2022 away from competition, the Australian women decisively won the 4×100 freestyle at the Budapest World Championships. Mollie O'Callaghan, Madi Wilson, Meg Harris, and Shayna Jack swam a 3:30.95 in the event to out-touch Canada's 3:32.15 and the USA's 3:32.58. That relay team was also missing Australia's top sprinter and most decorated Olympian Emma McKeon, who sat out of the Championships in 2022.
McKeon rejoined Team Australia for the 2022 Commonwealth Games, where she, Wilson, Jack, and O'Callaghan topped the 4×100 freestyle podium with a 3:30.64.
If you're keeping track, between the Tokyo 2020 Olympics, the 2022 World Championships, and the 2022 Commonwealth Games, seven women have won gold for Australia in the 4×100 free: Cate Campbell, Bronte Campbell, Emma McKeon, Madi Wilson, Mollie O'Callaghan, Shayna Jack, and Meg Harris. In 2021, six of the seven women qualified to race the 4×100 freestyle. Shayna Jack was absent from the field that year as she was serving a doping suspension. Less than a second separated victor Emma McKeon (52.35) from sixth-place finisher Mollie O'Callaghan (53.25). Jack has since returned to competition and has decisively inserted herself into the race.
As the Paris 2024 Olympics approach, it has become clear that the Australian contingent in the 4×100 freestyle will most likely consist of some combination of these seven women. Four women will swim in the final, another two will race prelims, leaving one of those seven off the team. It's worth noting that there's a pack of 15-16 year olds including swimmers like Hannah Casey, Milla Janssen, and Olivia Wunsch, and some women who have hit 54s like Brianna Throssell, Leah Neale, and Mia O'Leary will be in the mix here. The level of skill and experience contained within the top seven, however, makes it hard to see a future where anyone else breaks in.
Emma McKeon is the favorite right now, having won Olympic gold in the 100 free in 2021 with a 51.96. That's the fastest time in the world in recent years and makes her one of few women to get under 52 seconds in history. If you look beyond McKeon, however, the other six women all sit between 52.43 and 53.01 when looking at 2021 – 2023. If all seven women bring their A-game in 2024, the Australian Trials 100 freestyle final could end up being a more competitive race than the Olympic final a few months later.
Australian Women's 100 Freestyle Rankings (Jan 1, 2021 – February 12, 2023)
We could get a preview of this 7-way showdown in 2023 if all seven swimmers show up at the Australian Trials in June, vying for a spot on the team at the 2023 World Championships. While the Campbells seem to have their sights set on Paris, it's unclear if they will attempt to race at World Championships in Fukuoka in 2023.
SwimSwam: Seven Women, Six Spots: Aussie 100 Freestyle Race Heats Up As Campbell Sisters Return(?)