By Retta Race on SwimSwam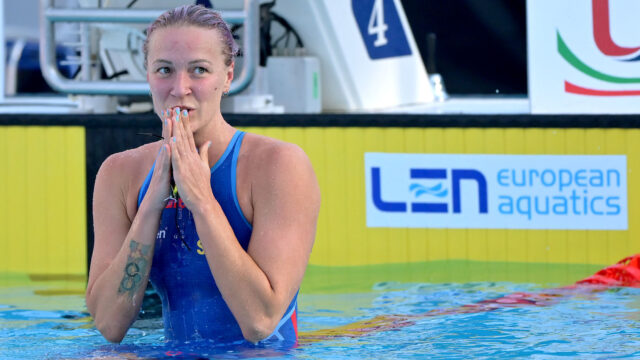 2023 LUXEMBOURG EURO MEET
Friday, January 27th – Sunday, January 29th
Centre National Sportif et Culturel d'Coque, Luxembourg
LCM (50m)
World Championships-qualifying meet
The 2023 Luxembourg Euro Meet kicks off this Friday, however, one of its most anticipated stars will no longer be competing.
29-year-old Sarah Sjostrom of Sweden was set to make her 2023 racing debut this weekend but tells SwimSwam she has withdrawn due to a recurring back injury.
"I've been having problems with my back for many years," the multi-Olympic champion said.
"Most of the time I'm able to train and compete normally. But last week I was struggling with bad pains and I didn't feel ready to race this week."
This isn't the first time her back issues have forced a withdrawal from competition. During the 2020 International Swimming League (ISL) season, the Team Energy Standard member missed her squad's match #6 of that year.
But Sjostrom has already proved she's as tough as they come.
In 2021, the year of poned 2020 Olympic Games, she slipped on ice while visiting a friend in February and fractured her elbow. Sjostrom lost 4 centimeters of muscle mass from her injured arm due to atrophy after the injury. However, the Swede fought her way back to silver in the women's 50m free in Tokyo.
SwimSwam: Sarah Sjostrom Withdraws From Euro Meet Due To Back Pain