By Braden Keith on SwimSwam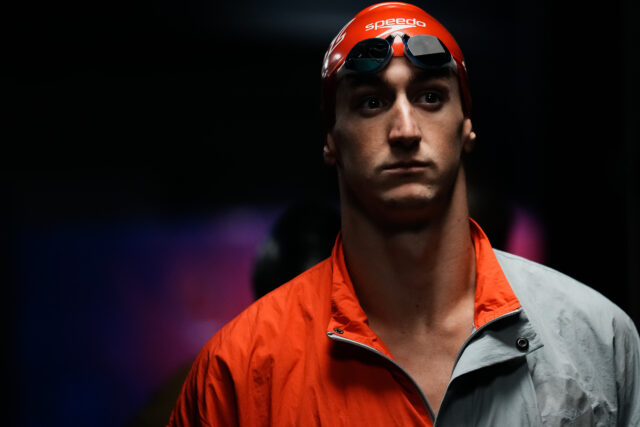 American swimmer Ryan Hoffer, an NCAA Champion and the #2 overall pick in the 2021 International Swimming League rookie draft, has retired from competitive swimming.
Hoffer confirmed that he has moved on from competition on Thursday, more than a year after his last meet in November 2021 during the International Swimming League season.
Hoffer says that while he still likes to swim and train casually, and that he will always be an athlete, he has taken his talents down a non-aquatic career path.
"I jumped into another competitive environment selling medical supplies for McKesson!" Hoffer told SwimSwam.
McKesson is a large pharmaceutical and health information technology company that employs over 78,000 people and delivers a third of all pharmaceuticals used in North America. It is the 7th-largest corporation in the US with 2021 revenues of $238.2 billion.
Hoffer ruled out a comeback to swimming, even if the ISL was revived, saying that "ISL was great but I saw it as too much of a risk financially to continue to pursue."
Hoffer was the 2021 NCAA Champion in the 50 free, 100 free, and 100 fly, as well as the 2019 champion in the 50 free (the 2020 meet was canceled). He also won a pair of relay titles as a senior in 2021 and earned a total of 27 CSCAA All-America awards, which is one shy of the maximum possible.
Hoffer was always a better short course swimmer than long course swimmer. He finished 19th in the 50 free and 26th in the 100 free at the 2021 US Olympic Trials. In spite of a best time of 22.50 in the 50 free, he was still more than 8-tenths of a second away from qualifying for the Olympics.
That left ISL as his most likely path to financial viability in swimming. His short course prowess made him the #2 overall pick for the DC Trident in the ISL's first-ever rookie draft in 2021 behind only Dutch swimmer Arno Kamminga.
His first, and ultimately only, ISL season started off slowly. In spite of the fact that the Trident had a breakthrough year, Hoffer ranked just 145th in the league in total scoring with 86.50 points, averaging 10.8 points/match. He improved as the season went on, but never really had the expected impact for the Trident.
Among the major honors he earned in his swimming career include twice being named the Pac-12 Swimmer of the Year (2020-2021) and being named a semifinalist in 2020 for the AAU James E. Sullivan Award, given annually to the country's top amateur athlete.
As a junior swimmer in Scottsdale, Arizona he broke many National Age Group Records, which included in 2014 becoming the youngest swimmer under 43 seconds in the 100 yard free.
Hoffer majored in public health at Cal.
SwimSwam: Ryan Hoffer, the #2 Pick in the 2021 ISL Rookie Draft, Retires from Swimming