Mercedes driver George Russell has spoken of how he felt like he was a rookie all over again during his first season with the team in 2022.
The 24-year-old British driver actually made his debut with Williams in the 2019 Australian Grand Prix, and had racked up 60 Grand Prix starts by the time he graduated full-time to Mercedes last year.
But even though he'd had one taste of being at the top when he sat in for an unwell Lewis Hamilton in the 2020 Sakhir GP, nothing could quite prepare him for the difference being a full-time Mercedes driver would make.
"In some regards I almost feel like a bit of a rookie," he told select media at the end of the 2022 season, citing "the level at which this team works" as one of the main factors.
"We're talking about things that I've never even spoken about before in Formula 1 before," he continued, as reported in Motorsport.com this week.
"That's taken me some time to understand: what the team's processes are during a race weekend, how I can make the car faster in terms of set-up," he explained. "That's why I felt a bit of a rookie at the start.
"Being team-mates with Lewis is such an amazing position to be in," he continued. "He's obviously the greatest driver of all time and there's a huge amount I've learned from him.
"Probably more off-track, to be honest, with how he conducts himself with the engineers and goes about his business," he said. "But equally, small details on-track that have been really impressive for me to see.
"If you want to be a Formula 1 world champion you've got to beat the best and you've got to beat everyone. And what a position I'm in to have Lewis as my benchmark!"
Russell became known as 'Mr Consistency' in the opening rounds of 2022 due to his long run of top five finishes. There was a bit of a stutter mid-season before he came good with his maiden F1 victory in Brazil.
"In this sport, you've got to let things flow," he said when asked about his clashes with Valtteri Bottas and Mick Schumacher in Singapore, and Carlos Sainz in Austin, or inadvertently throwing away a chance of pole in Mexico.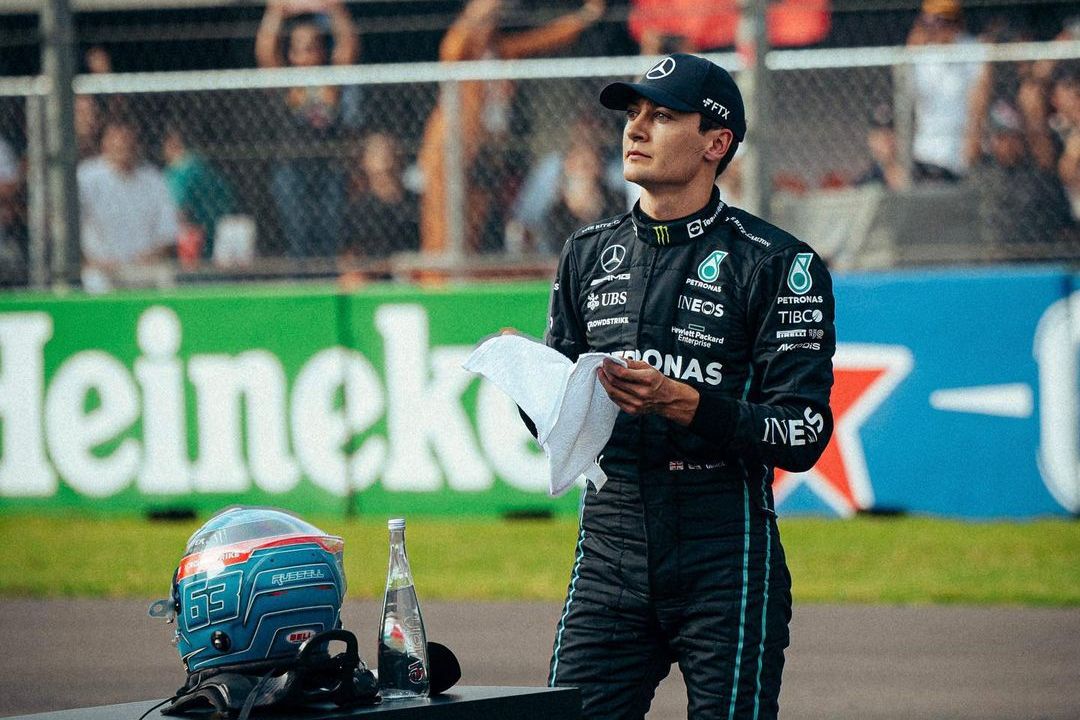 "You want to drive the car in anger but sometimes that isn't the fastest way," he acknowledged. "I think ultimately it comes down to experience.
"I knew in Mexico going on that lap for pole I made a bit of a mistake, so I tried harder to make up for lost time," he recalled. "It was inevitable I was going to ruin the lap, because I was already trying to go as fast as possible.
"I always kind of knew that driving at 99 per cent, there's a lot more performance than at 101 per cent. At 101 per cent, you are off the cliff and you are past the peak.
"If you drive at 99 per cent, you have probably only left 0.01 of a second on the table. If you drive at 101 per cent, you've lost the car or you've crashed.
"Austin, I don't think I was necessarily trying too hard, I think that was just unfortunate – a bit of a misjudgement," he insisted. "But again I'm trying to push these limits.
"Going back to that feeling of me almost being a rookie in some regards," he said. "You are racing at the front for the first time. It's a totally different story compared to when you are racing at the back.
"You learn these little unique-ness of being there, the same way I learned what it was like being at the back," he said.
"How you approach turn 1 is totally different, when you have a few cars ahead of you rather than the concertina effect of 15 cars in front," he said. "There's a lot more dirty air when you are behind 15 cars compared to when you are behind three.
"I've spent three years racing at the back, and I've only got 20 races under my belt racing at the front."
Gallery: The beautiful wives and girlfriends of F1 drivers
Keep up to date with all the F1 news via Facebook and Twitter
Russell felt 'like a bit of a rookie again' in 2022 F1i.com.