By Spencer Penland on SwimSwam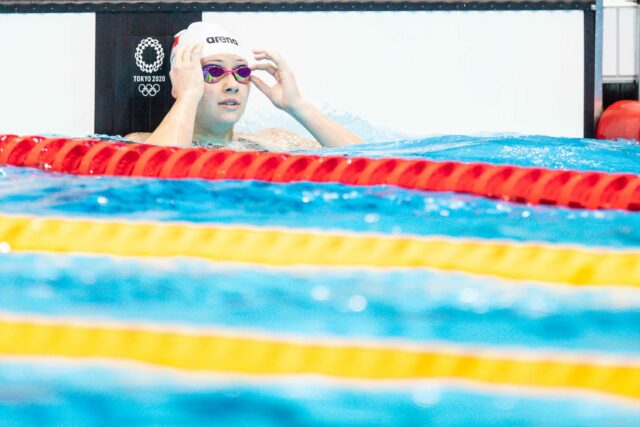 2023 PRO SWIM SERIES – FORT LAUDERDALE
March 1-4, 2023
Fort Lauderdale Aquatic Center, Fort Lauderdale, Florida
Long Course Meters (50 meters), Prelims/Finals
Hong Kong superstar and former University of Michigan standout Siobhan Haughey is making her return to Long Course competition this week at the Pro Swim Series in Fort Lauderdale, Florida. Due to an untimely injury last year, the Olympic silver medalist hasn't competed in a "real" LC meet since the Tokyo Olympics in the summer of 2021.
Haughey suffered an ankle injury before Mare Nostrum last year, which took her out of that meet, as well as the LC World Championships in Budapest. Haughey returned from the injury with a vengeance, though she did so in Short Course Meters, winning gold in the 200 free at the SC World Championships in Melbourne at the end of 2022. She also won silver in the 100 free in Melbourne.
Haughey is currently training in Israel under Tom Rushton. Rushton was set to work with Israel's top athletes for a six-week period which went through the end of February, so we don't know where he and Haughey will be heading. The duo has been all over the place, including Turkey and Spain in the past two years.
After the great success in SC racing at the end of the year, we're eagerly waiting to see how Haughey stacks up against the stiff competition in Fort Lauderdale this week. She's entered in five events: the 50 free, 100 free, 200 free, 400 free, and 50 breast. We don't see Haughey race breaststroke that often, but she was a great 200 IM'er during her time at Michigan, and she recently swam a 1:08 in an LC 100 breast time trial while in Israel.
As for the freestyle events, Haughey is the reigning Olympic silver medalist in both the 100 free and 200 free, so she stands as good a chance as anyone at winning those events this week. She's the third seed in the 200 free, coming in behind Katie Ledecky and Summer McIntosh, who have raced the event much more recently than Haughey. She's also seeded third in the 400 free, that time behind Leah Smith and Katie Grimes, since both Ledecky and McIntosh aren't racing the event this week. Given that field, the women's 400 free could turn into one of the most thrilling races of the meet between those top three.
SwimSwam: Olympic Silver Medalist Siobhan Haughey Making Her Return to LC Racing in Ft. Lauderdale