By Retta Race on SwimSwam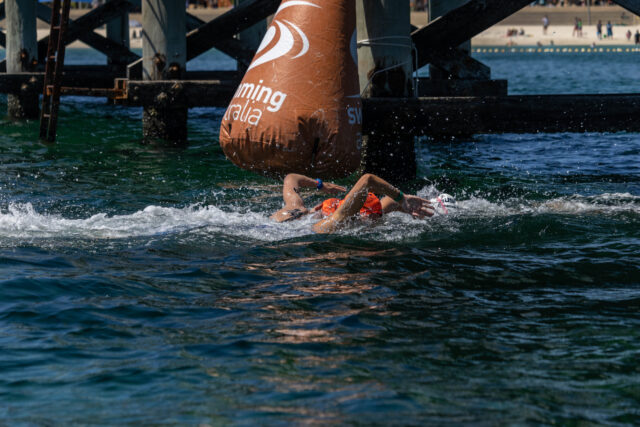 2023 OCEAN SWIM FESTIVAL/AUSTRALIAN OW CHAMPIONSHIPS
Wednesday, January 25th – Saturday, January 28th
Busselton Jetty, Western Australia
Open Water
The 2023 Ocean Swim Festival/Australian Open Water Championships kicked off today in Western Australia. The competition represents one of the qualifying opportunities for this summer's World Championships in Fukuoka, Japan.
Per Swimming Australia's selection criteria, the LEN Cup 10k series race, which is scheduled for March 19th in Eilat, Israel is also a consideration event. The first and second-ranked male and female athletes who accrue the most points based on the combined point score from both these Championships and the LEN Cup race will be considered for Fukuoka selection.
Right off the bat today, Noosa's Nick Sloman successfully defended his national title, securing 10k gold for the men. This marks the 25-year-old's 5th overall title, as the open water ace hit the time pad in a time of 1:50:00.10.
Teammate Thomas Raymond was next, finishing just under 2 seconds behind in 1:50:01.84 while USC's Bailey Armstrong and Kai Edwards rounded out the top 3, tying in 1:50.04.47.
Sloman's career highlight thus far is the bronze medal earned in the 10k at the 2018 Pan Pacific Championships. He is seeking his first Olympic berth with Paris 2024 now just over one year away.
Yeronga Park's Chelsea Gubecka grabbed gold in the women's 10k, with tonight's podium-topping performance representing the 24-year-old's 6th overall title and first since 2018.
Gubecka snagged a time of 1:57:37.41 to beat out runners-up Moesha Johnson and Maddie Gough. Johnson secured silver in 1:57:45.17 while Gough bagged bronze in 1:58:17.15.
375 athletes have entered these Australian Open Water Championships, with additional distances of 500m, 1.25km, 2.5km, 5km, 7.5km on the schedule.
Additional Winners
The girls' 18-year-old 10k saw Toowoomba Grammar's Sienna Deurloo earn the Aussie national title, while the girls' 19-year-old title went to Finella Gibbs-Beal.
Dylan Thompson gave Noosa another gold by winning the boys' 18-year-old 10k while Trinity Grammar's Caleb Dryer hit the top spot in the boys' 19-year-old race.
SwimSwam: Nick Sloman, Chelsea Gubecka Snare 10k Wins At Aussie OW Championships