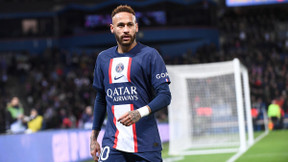 Currently away from the field due to groin discomfort, Neymar is unanimous within PSG. Often criticized for his misconduct, the Brazilian international was praised by Luis Campos. Sports advisor to the Parisian club, the Portuguese praised the qualities of his star, announced on departure during the last summer transfer window.
Arrived in 2017 at PSG against a check for €220m, Neymar has not been spared criticism in recent years. Because of his lifestyle, his misbehavior, but also his sometimes mediocre performance. So much so that rumors have raised a possible departure from PSG during the last summer transfer window.
PSG finally announces good news for Neymar https://t.co/ftzlqtL2BC pic.twitter.com/LaCCOK3YLv

— 24hfootnews (@24hfootnews) February 5, 2023
Neymar shining ahead of the World Cup
Touched by the whistles of the Parisian public, Neymar decided to make efforts during the off-season. Author of 11 goals before the World Cup, the Brazilian player was one of the fit men Christophe Galtier, before slowing down after the competition. Decreased by pain in the ankle, Neymar is also disturbed by discomfort in the adductor. Absent from Toulouse this Saturday, he hopes to return to full form before the round of 16 first leg of Champions League facing Bayern Munich.
"I had 0 criticism against Neymar"
Guest of the show Telefoot on TF1, Luis Campos mentioned the case Neymar. The Portuguese praised the qualities of the Brazilian international. " The truth is that as soon as I arrived, I had 0 criticism against Neymar. I have always said good things. Always on time, always available. He's an incredible Neymar, but big stars can't win a trophy alone. They need teammates, we need harmony, players with a collective sense. We have progressed and we must continue to progress " confided the sports adviser of the PSG this Sunday.