By James Sutherland on SwimSwam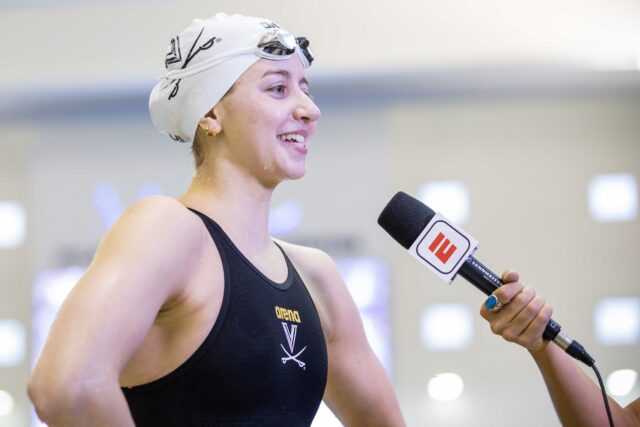 College Sports Communicators (CSC), formerly CoSIDA, has announced the 2022-23 Academic All-District Men's and Women's Swimming & Diving Teams, recognizing the nation's top student-athletes for their combined performances in the pool and in the classroom.
Swimming & diving athletes are recognized in NCAA Division I, Division III, Division III and NAIA, and are separated by gender.
This year's list includes 287 Division I men and 449 Division I women earning Academic All-District recognition, including individual 2022 NCAA champions Leon Marchand, Gretchen Walsh, Kate Douglass, Taylor Ruck, Kaitlyn Dobler and Mia Vallee.
Other swimmers that picked up Division I championship titles in relays last season that earned recognition include Carson Foster, Coby Carrozza, Bjorn Seeliger and Lexi Cuomo.
All of the honorees will advance to the CSC Academic All-America ballot, with the first, second and third team honorees set to be announced in mid-March.
Voting for the Academic All-America teams opened on Feb. 28 and will close on Tuesday, March 7, at 11:59 pm ET. You can vote here.
CoSIDA officially rebranded to College Sports Communicators last fall following a membership-wide vote on Aug. 31, 2022.
You can find a full list of the swimmers & divers receiving Academic All-District honors below.
Men's Division I
Alexander Colson Arizona State University
Andrew Gray Arizona State University
Leon Marchand Arizona State University
Mason Mathias Auburn University
Conner Pruitt Auburn University
Aidan Stoffle Auburn University
Nate Stoffle Auburn University
Noah Berryman Ball State University
Bryce Handshoe Ball State University
Zach Moody Ball State University
Jack Wolfred Ball State University
George Kipshidze Binghamton University
Ryan Maierle Binghamton University
Henry Shemet Binghamton University
Jake Vecchio Binghamton University
Justin Lee Boston University
Jacob Lindner Boston University
Ethan Thomas Boston University
Vincent Huang Brown University
Jack Kelly Brown University
Lukas Scheidl Brown University
Alec Baker Bucknell University
Justin DiSanto Bucknell University
Garrett Kiesel Bucknell University
Chris Kopac Bucknell University
Jimmy Butler Cal Poly San Luis Obispo
Sean Keegan Cal Poly San Luis Obispo
Brian Wong Cal Poly San Luis Obispo
Rory Hess College of the Holy Cross
Brendan O'Brien College of the Holy Cross
Hunter Sullivan College of the Holy Cross
Stanford Li Columbia University
Thomas Shepanzyk Columbia University
Jonathan Suckow Columbia University
Soodong Kim Cornell University
Carter Walles CSU Bakersfield
Connor Bishop Dartmouth College
Tim Cushman Dartmouth College
Tim Park Dartmouth College
Kyle Schubert Dartmouth College
Alessio Gianni Drexel University
Eli Kofman Drexel University
Will Soleo Drexel University
Nikita Timoshenko Drexel University
Cole Reznick Duke University
Alex Adams Eastern Illinois University
Marshall Holt Eastern Illinois University
Alexey Belfer Fairfield University
Evan Fair Fairfield University
Ethan Crim Florida Atlantic University
Jackson Kirk Florida Atlantic University
Nick Shaffer Florida Atlantic University
Peter Tanner Florida Atlantic University
Tazman Abramowicz Florida State University
Jesco Helling Florida State University
Nick Mason Florida State University
Arijus Pavlidi Florida State University
Tanat Kanjanakaset Fordham University
Daniel Langlois Fordham University
Paris Raptis Fordham University
Alex Wilhelm Fordham University
Spencer Bystrom George Washington University
Tyler Kawakami George Washington University
Dylan Koo George Washington University
Marek Osina George Washington University
Justin Alderson Georgia Tech
Antonio Romero Georgia Tech
Will Grant Harvard University
Marcus Holmquist Harvard University
Ryan Linnihan Harvard University
Jared Simpson Harvard University
Josh Matheny Indiana University
Andrew Capobianco Indiana University
Kevin Burke IUPUI
Dane Charleston IUPUI
Nicholas Dibley IUPUI
Thomas Reedy IUPUI
Avery LeTourneau Lafayette College
Aaron Tupper Lafayette College
Keagan Casey Lehigh University
Miles Cox Lehigh University
Aiden McCurley Lehigh University
Dani Chocano Fernández LIU
Benny Karlsson LIU
Marcell Matyikó LIU
Noah Cumby Louisiana State University
Christopher Dauser Marist College
Jacob Macrina Marist College
Luciano Mattoli Marist College
Tyler Wenzel Marist College
Zach Bann Miami University
Jack Herczeg Miami University
Mason Miller Miami University
Yonatan Rosin Miami University
Jack Garcia Milwaukee
Jared Kleczka Milwaukee
Jonathan Kollen Milwaukee
Ben Lorenz Milwaukee
AJ Huskey Missouri State University
Pawel Krawczyk Missouri State University
Nick Schuster Missouri State University
Brunno Suzuki Missouri State University
Blake Reynolds Monmouth University
Callan Smith Monmouth University
Ian Horstkamp-Vinekar NJIT
Ben Forbes Northwestern University
Ben Miller Northwestern University
Conor Morikawa Northwestern University
Henry Schirmer Northwestern University
Christian Bart Oakland University
Andrew Bernsdorf Oakland University
Sam McKenzie Oakland University
Ben Rojewski Oakland University
Lachlan Byrne Pennsylvania State University
Ben Doyle Pennsylvania State University
Tommy Hurley Pennsylvania State University
Calvin Wise Pennsylvania State University
George Callanan Princeton University
Max Kreidl Princeton University
Nicholas Lim Princeton University
Max Walther Princeton University
Aaron Frollo Purdue University
Blake Ratliff Purdue University
Andrew Witty Purdue University
Skyler Younkin Purdue University
Devin Bunner Rider University
Nicholas Lane Rider University
David McSorley Rider University
Andrew Smolar Rider University
Joe Feder Saint Louis University
Jeddrick Gamilla Saint Louis University
Daniel Verdico Saint Louis University
Preston Waldusky Saint Louis University
Andres Banuelos Seattle University
Justin Kalugin Seattle University
George Thiss Seattle University
Eric Thomure Seattle University
Angus Corbeau SMU
Jack Easton SMU
Cotton Fields SMU
Dominic Hoefer SMU
Caleb Harthoorn South Dakota State University
Naested Smit South Dakota State University
Damon Venner South Dakota State University
Max White South Dakota State University
Adam Cernek Southern Illinois University
Will Chavez Southern Illinois University
Donat Csuvarszki Southern Illinois University
Ian Marshall Southern Illinois University
Alexander Behr St. Bonaventure University
Teddy Murphey St. Bonaventure University
Griffin Witte St. Bonaventure University
Preston Forst Stanford University
Leon MacAlister Stanford University
Luke Maurer Stanford University
Ron Polonsky Stanford University
Max Burman TCU
Bryce Flynn TCU
Parker Hughes TCU
Anze Fers Erzen Texas A&M University
Thomas Shomper Texas A&M University
Jay Johnson The Ohio State University
Lyle Yost The Ohio State University
Cam Auerbach The University of Alabama
Derek Maas The University of Alabama
Jake Marcum The University of Alabama
Eric Stelmar The University of Alabama
Trey Adkins Towson University
Carson Bauer Towson University
Brian Benzing Towson University
Brendan Farrar Towson University
Patrick Colwell U.S. Naval Academy
James Lee U.S. Naval Academy
Jackson Schultz U.S. Naval Academy
Cade Brower UC San Diego
Dominic Falcon UC Santa Barbara
Oliver Gassmann UMBC
Daniel Nicusan UMBC
Niklas Weigelt UMBC
Silas Crosby UNCW
Dave Fitch UNCW
Kenneth Lowe UNCW
Sam O'Brien UNCW
Tate Bahti University of Arizona
Ty Coen University of Arizona
Ryan Purdy University of Arizona
Dylan Hawk University of California, Berkeley
Preston Niayesh University of California, Berkeley
Even Petty University of California, Berkeley
Björn Seeliger University of California, Berkeley
Conner Funke University of Cincinnati
Hunter Gubeno University of Cincinnati
Murat Sagdullaev University of Cincinnati
Spencer Sehlhorst University of Cincinnati
Evan Cieck University of Delaware
Gavin Currie University of Delaware
Simeon Sabev University of Delaware
Ben Cote University of Florida
Jace Crawford University of Florida
Mason Laur University of Florida
Alfonso Mestre University of Florida
Andrew Abruzzo University of Georgia
Jackson Bates University of Georgia
Nolan Lewis University of Georgia
Makena Ginoza University of Hawaii
Sawyer Kruse University of Hawaii
Justin Lisoway University of Hawaii
Ian Venter University of Hawaii
Adam Rosipal University of Kentucky
Sam Duncan University of Kentucky
Timothy Ellett University of Kentucky
Zane Rosely University of Kentucky
Jack Artis University of Massachusetts
Nadav Aaronson University of Michigan
Connor Hunt University of Michigan
Kameron Liberman University of Michigan
Clark Wakeland University of Michigan
William Christenson University of Minnesota
Chris Nagy University of Minnesota
Desmon Sachtjen University of Minnesota
Bar Soloveychik University of Minnesota
Anton Down-Jenkins University of North Carolina
Alex Hart University of North Carolina
Boyd Poelke University of North Carolina
Thacher Scannell University of Notre Dame
Cason Wilburn University of Notre Dame
Cameron Cash University of Pittsburgh
Jerry Chen University of Pittsburgh
Josh Parquet University of Pittsburgh
Jackson Salisbury University of Pittsburgh
Rafael Davila Zambrano University of South Carolina
Erge Gezmis University of South Carolina
Patrick Groters University of South Carolina
Daniel West University of South Carolina
Jack Berdahl University of South Dakota
Aidan Gantenbein University of South Dakota
Zachary Kopp University of South Dakota
Caleb Swanson University of South Dakota
Alex Foti University of St. Thomas
Will Goildman University of St. Thomas
Joe Rudd University of St. Thomas
A.J. Carollo University of St. Thomas
Luke Brice University of Tennessee
Griffin Hadley University of Tennessee
Gus Rothrock University of Tennessee
Coby Carrozza University of Texas
Noah Duperre University of Texas
Carson Foster University of Texas
Jake Foster University of Texas
Dylan Parente University of the Pacific
Aidan Scott University of the Pacific
Bridger Sink University of the Pacific
Noah Carlson University of Utah
Luke McDivitt University of Utah
Parker McOmber University of Utah
Preston Planells University of Utah
Sean Conway University of Virginia
Josh Fong University of Virginia
August Lamb University of Virginia
Drew Nixdorf University of Wisconsin
Matthew Segal University of Wisconsin
Daniel Cumnock-Francois University of Wyoming
Reilly Gilbert University of Wyoming
Cameron Murphy University of Wyoming
Jack O'Neil University of Wyoming
Andrew Berzai Valparaiso University
Nolan Danus Villanova University
Henry Halloran Villanova University
Patrick Hemingway Villanova University
Charlie Hinckley Villanova University
Joseph Hong Virginia Tech
William Koeppen Virginia Tech
Cobi Lopez Miro Virginia Tech
Keith Myburgh Virginia Tech
Jonathan Bennett West Virginia University
Zach Boley West Virginia University
Justin Heimes West Virginia University
Conrad Molinaro West Virginia University
Kent Codding William & Mary
Connor Sokolowsky William & Mary
Cole Younger William & Mary
Andrew Martin Xavier University
Jack Parker Xavier University
Greg Kalin Yale University
Joseph Page Yale University
Jami Rzepecki Yale University
Adam Zapatka Yale University
WOMEN'S DIVISION I
Mimi Watts American University
Charli Brown Arizona State University
Emma Gehlert Arizona State University
Lindsay Looney Arizona State University
Abigail Farrar Auburn University
Meghan Lee Auburn University
Lexie Mulvihill Auburn University
Hannah Ownbey Auburn University
Hannah Jones Ball State University
Phoebe Rensink Ball State University
Marcella Ribeiro Ball State University
Apsara Sakbun Ball State University
Mel Carousso Binghamton University
Annalise Pepper Binghamton University
Meadow Perez Binghamton University
Blythe Brenner Boston University
Sumi Cameron Boston University
Clarissa Hoyt Boston University
Sara Barrett Brown University
Audrey Orange Brown University
Anna Podurgiel Brown University
Jenna Reznicek Brown University
Catherine Craig Bucknell University
Sophia Donati Bucknell University
Caroline McGann Bucknell University
Sabrina Vumbacco Bucknell University
Amy Harter Cal Poly San Luis Obispo
Erin Kim Cal Poly San Luis Obispo
Kelly McDermott Cal Poly San Luis Obispo
Jackie Samaniego Cal Poly San Luis Obispo
Abigail Bacon Central Connecticut State University
Kaylin McMahon Central Connecticut State University
Cassidy Stotler Central Connecticut State University
Kelly Stotler Central Connecticut State University
Katelyn Cerulli College of the Holy Cross
Adelle Feeley College of the Holy Cross
Caleigh Straker College of the Holy Cross
Greta Walting College of the Holy Cross
Jessica Albanna Colorado State University
Megan Hager Colorado State University
Anika Johnson Colorado State University
Maya White Colorado State University
Olivia Jubin Columbia University
Karen Liu Columbia University
Allegra Walker Columbia University
Georgia Young Columbia University
Emilie Boisrenoult Cornell University
Chloe Brown CSU Bakersfield
Hannah Marsh CSU Bakersfield
Mikayla Popham CSU Bakersfield
Skyler Robinson CSU Bakersfield
Zoe Moon Dartmouth College
Sophie Wiener Dartmouth College
Rachel Zhang Dartmouth College
Alyssa Palacios Dartmouth University
Aldercy Bui Drexel University
Chelsea Gravereaux Drexel University
Lera Nasedkina Drexel University
Ewa Osiniak Drexel University
Sarah Foley Duke University
Reagan Linkous Duquesne University
Sidney O'Donnell Duquesne University
Amy Read Duquesne University
Sydney Sherman Duquesne University
Phoebe Croston Eastern Illinois University
Autumn Grinter Eastern Illinois University
Corinne Staneart Eastern Illinois University
Lainie Bell Eastern Michigan University
Camryn Hughes Eastern Michigan University
Katie Shoen Eastern Michigan University
Keira Veltigian Eastern Michigan University
Sydney Scalise Fairfield University
Kirsten Hobson Florida Atlantic University
Alicia Mora Florida Atlantic University
Selina Staudenherz Florida Atlantic University
Riley Trout Florida Atlantic University
Jordan Browning Florida International University
Kelsie Campbell Florida International University
Maha Gouda Florida International University
Eriana Temperino Florida International University
Isabel Gregersen Florida State University
Jenny Halden Florida State University
Maddie McDonald Florida State University
Anna Metzler Florida State University
Clare Culver Fordham University
Lilia de Oliveira Pelaez Fordham University
Millie Haffety Fordham University
Megan Morris Fordham University
Silvia Alessio Fresno State
Athena Clayson Fresno State
Mackenzie Hutler Fresno State
Korrie Tengan Fresno State
Jamie Doak George Washington University
Marlee Rickert George Washington University
Barbara Schaal George Washington University
Siena Senn George Washington University
Zuri Clavo Georgia Southern University
Lilly Kasra Georgia Southern University
Jenna Maloy Georgia Southern University
Anna Bradescu Georgia Tech
Claudia Butterfield Georgia Tech
McKenzie Campbell Georgia Tech
Carmen Woodruff Georgia Tech
Abby Carr Harvard University
Evie Geier Harvard University
Elizabeth Miclau Harvard University
Samantha Shelton Harvard University
Cassidy Carey Illinois State University
Emma Feltzer Illinois State University
Madyson Morse Illinois State University
Anne Fowler Indiana University
Ching Hwee Gan Indiana University
Noelle Peplowski Indiana University
Joscelyn Buss Iowa State University
Winter Craig Iowa State University
Brinley Horras Iowa State University
Keely Tierney Iowa State University
Midori Adams IUPUI
Lilly Brandt IUPUI
Emma Theobald IUPUI
Emmaleigh Zietlow IUPUI
Grace Bousum James Madison University
Jordyn Schnell James Madison University
Karen Siddoway James Madison University
Maddie Yager James Madison University
Margaret Champagne Lafayette College
Sydney Perks Lafayette College
Natalie Martin Lehigh University
Hallie Wilson Lehigh University
Abbie Shaw Liberty University
Sydney Stricklin Liberty University
Eva Suggs Liberty University
Meagan Tuohy Liberty University
Venna Anderson LIU
Magali Mouton LIU
Bebe Choroser LMU
Heidi Ly LMU
Maggie MacNeil Louisiana State University
Sarah Lu Loyola Marymount University
Molly Hewett Marist College
Melanie Nunn Marist College
Nellie Thompson Marist College
Leigh-Anne Zanella Marist College
Honor Brodie-Foy Miami University
Camila Lins de Mello Miami University
Nicole Maier Miami University
Erin Szczupakiewicz Miami University
Giulia Guerra-Montes Milwaukee
Riley Melendy Milwaukee
Julie Rebek Milwaukee
Makaila Scheiblein Milwaukee
Cabrini Johnson Missouri State University
Sami Roemer Missouri State University
Kelly Sego Missouri State University
Jordan Wenner Missouri State University
Tahlia Botha Monmouth University
Alexandra Ho Monmouth University
Alexa Houseknecht Monmouth University
Camryn McHugh Monmouth University
Markie Hopkins Northwestern University
Ally Larson Northwestern University
Justine Murdock Northwestern University
Leah Parsons Northwestern University
Taylor Bailey Oakland University
Susan LaGrand Oakland University
Sohvi Nenonen Oakland University
Jordyn Shipps Oakland University
Gabrielle Brust Ohio University
Emma Fortman Ohio University
McKenzie Grau Ohio University
Molly Carson Pennsylvania State University
Anna Redican Pennsylvania State University
Mac Sullivan Pennsylvania State University
Ellie Tiskus Pennsylvania State University
Lexie Martin Pepperdine University
Jenna Sanchez Pepperdine University
Paige Tattersall Pepperdine University
Jordan Williams Pepperdine University
Amelia Liu Princeton University
Ellie Marquardt Princeton University
Maddie Seltzer Princeton University
Nikki Venema Princeton University
Maggie Merriman Purdue University
Kat Mueller Purdue University
Jenna Sonnenberg Purdue University
Maycey Vieta Purdue University
Kate Jablonski Rice University
Ahalya Lettenberger Rice University
Ginny Qian Rice University
Zoe Spitz Rice University
Paola Carlesso Rider University
Meaghan Keegan Rider University
Maddie McSorley Rider University
Connar Melcher Rider University
Sofia Chichaikina Rutgers University
Jenna Douglass Rutgers University
Rachel Kimmel Rutgers University
Emily Leonard Saint Louis University
Carly McKeon Saint Louis University
Lauren Payton Saint Louis University
Emily Schroeder Saint Louis University
Izzie Fraire San José State University
Ela Freiman San José State University
Reagan Mathieson San José State University
Emily San Jose San José State University
Nikki Cooper Seattle University
Lydia Genson Seattle University
Isabella Guadiamos Seattle University
Margaret Robben Seattle University
Elisabeth Balicanta Siena College
Demi Bobarakis Siena College
Audrey Shultz Siena College
Talia Spenziero Siena College
Frederica Kizek SMU
Maxine Parkinson SMU
Nicole Stambo SMU
Indra Vandenbussche SMU
Natalie Cannell South Dakota State University
Sianne Downes South Dakota State University
Katie Pattee South Dakota State University
Grace Witherspoon South Dakota State University
Lucia Romero Southern Illinois University
Mima Zaborska Southern Illinois University
Silvana Cabrera St. Bonaventure University
Ellie Kraus St. Bonaventure University
Halle Myers St. Bonaventure University
Beth Thomas St. Bonaventure University
Allie Raab Stanford University
Taylor Ruck Stanford University
Morgan Tankersley Stanford University
Emma Wheal Stanford University
Maddie Conley Stonehill College
Sydney Stockwell Stonehill College
Jordan Edwards TCU
Emma Hultquist TCU
Gracie Liang TCU
Lucia Simovicova TCU
Abigail Ahrens Texas A&M University
Jordan Buechler Texas A&M University
Abby Grottle Texas A&M University
Chloe Stepanek Texas A&M University
Amy Fulmer The Ohio State University
Felicia Pasadyn The Ohio State University
Katherine Zenick The Ohio State University
Kalia Antoniou The University of Alabama
Kensey McMahon The University of Alabama
Diana Petkova The University of Alabama
Laura Gaffney Towson University
Tiffany Matulis Towson University
Maddie Mince Towson University
Katie Nunez Towson University
Olivia Davison Tulane University
Samantha Krew Tulane University
Gabi Baldwin U.S. Naval Academy
Cameron Horner U.S. Naval Academy
Caroline Irwin U.S. Naval Academy
Katja Pavicevic UC San Diego
Jordan Phillips UC San Diego
Miranda Renner UC San Diego
Tina Reuter UC San Diego
Hannah Butler UCLA
Gabby Dang UCLA
Zoe Jespersgaard UCLA
Paige MacEachern UCLA
Sierra Tosten UMBC
Delaney Carlton UNC Asheville
Nora Segurola UNC Asheville
Bela Stuart UNC Asheville
Addison Wright UNC Asheville
Courtney Klausen UNCW
Katie Knorr UNCW
Tink Niebel UNCW
Sarah Olson UNCW
Sawyer Bosley University at Buffalo
Clarice Fisher University at Buffalo
Marialis Kwak University at Buffalo
Toni Naccarella University at Buffalo
Olivia DeRodes University of Akron
Andrea Fischer University of Akron
Rachel Schiffli University of Akron
Abigail Workman University of Akron
Cat Wright University of Alabama
Julia Heimstead University of Arizona
Erin Lang University of Arizona
Delaney Schnell University of Arizona
Alyssa Schwengel University of Arizona
Kobie Melton University of Arkansas
Andrea Sansores University of Arkansas
Luciana Thomas University of Arkansas
Mia Kragh University of California
Mia Motekaitis University of California
Leah Polonsky University of California
Ayla Spitz University of California
Jessica Davis University of Cincinnati
Madelyn Hensler University of Cincinnati
Natalie Dobrzykowski University of Delaware
Cristin Earley University of Delaware
Peyton Rautzhan University of Delaware
Kaitlyn Sullivan University of Delaware
Maha Amer University of Florida
Katie Mack University of Florida
Tylor Mathieu University of Florida
Caroline Pagac University of Florida
Callie Dickinson University of Georgia
Abby McCulloh University of Georgia
Rachel Stege University of Georgia
Meghan Wenzel University of Georgia
Anna Friedrich University of Hawaii
Kathryn Ivanov University of Hawaii
Elma Lund University of Hawaii
Laticia Transom University of Hawaii
Chase Farris University of Houston
Hedda Grelz University of Houston
Julia Koluch University of Houston
Elizabeth Richardson University of Houston
Laurel Bludgen University of Illinois
Cara Bognar University of Illinois
Kaleigh Haworth University of Illinois
Athena Salafatinos University of Illinois
Dewi Blose University of Kansas
Mackenzie Bravence University of Kansas
Amanda Fingerut University of Kansas
Kaitlyn Witt University of Kansas
Caitlin Brooks University of Kentucky
Izzy Gati University of Kentucky
Lauren Poole University of Kentucky
Anna Havens Rice University of Kentucky
Mia Vallee University of Miami
Tara Vovk University of Miami
Megan Glass University of Michigan
Lucy Hogan University of Michigan
Natalie Kan University of Michigan
Letitia Sim University of Michigan
Eliot Kennedy University of Minnesota
Emma Lezer University of Minnesota
Jordan McGinty University of Minnesota
Joy Zhu University of Minnesota
Emily Haimes University of Nebraska
Lexi Kucera University of Nebraska
JoJo Randby University of Nebraska
Madesyn Ronquillio University of Nebraska
Paige Edmier University of New Hampshire
Madison Linstedt University of New Hampshire
Abby McKinney University of New Hampshire
Olivia Stille University of New Hampshire
Amy Dragelin University of North Carolina
Georgia Nel University of North Carolina
Elizabeth Vannote University of North Carolina
Katharine Ward University of North Carolina
Ashley Cozad University of North Florida
Bella Giresi University of North Florida
Ashley Kephart University of North Florida
Gabriella Reeves University of North Florida
Olivia Dollar University of North Texas
London Farris University of North Texas
Diana Kolb University of North Texas
Shaena McCloud University of North Texas
Amber Finke University of Northern Iowa
Taylor Hogan University of Northern Iowa
Faith Larsen University of Northern Iowa
Kassidy Lovig University of Northern Iowa
Sarah Bender University of Notre Dame
Alec DeLong University of Notre Dame
Megan Deuel University of Notre Dame
Coleen Gillilan University of Notre Dame
Emma Gravgaard University of Pittsburgh
Jacqueline Tinneny University of Pittsburgh
Sophie Yendell University of Pittsburgh
Victoria Kwan University of South Carolina
Isabella Pantano University of South Carolina
Brooke Schultz University of South Carolina
Sophie Verzyl University of South Carolina
Stella Fairbanks University of South Dakota
Emily Kahn University of South Dakota
Kayla Middaugh University of South Dakota
Christina Spomer University of South Dakota
Kaitlyn Dobler University of Southern California
Isabelle Odgers University of Southern California
Carolina Sculti University of Southern California
Adele Schnautz University of Southern Indiana
Abby Larson University of St. Thomas
Lily Linden University of St. Thomas
Ella Palmquist University of St. Thomas
Caroline Peterson University of St. Thomas
Brooklyn Douthwright University of Tennessee
Josephine Fuller University of Tennessee
Kara Holt University of Tennessee
Mona McSharry University of Tennessee
Janie Boyle University of Texas
Ava Longi University of Texas
Bridget O'Neil University of Texas
Emma Sticklen University of Texas
Alexia Ferguson University of the Pacific
Jadyn Phillips University of the Pacific
Caitlin Tan University of the Pacific
Madison Giglio University of Toledo
Lauren Kilgore University of Toledo
Kennedy Lovell University of Toledo
Katie Hale University of Utah
Kayla Miller University of Utah
Lexi Mills University of Utah
Charity Pittard University of Utah
Lexi Cuomo University of Virginia
Kate Douglass University of Virginia
Ella Nelson University of Virginia
Gretchen Walsh University of Virginia
Abby Carlson University of Wisconsin
Mallory Jump University of Wisconsin
Brooke Ford University of Wyoming
Kali Franckowiak University of Wyoming
Gabriella Haigler University of Wyoming
Carly Palmer University of Wyoming
Gabbie Adams Utah Tech University
Danyael Cuison Utah Tech University
Mandy Farnum Utah Tech University
Skyler Lyon Utah Tech University
Haley Hume Valparaiso University
Sophie Morelock Valparaiso University
Bridget Pollard Valparaiso University
Sara Strauss Valparaiso University
Eleanor Beers Vanderbilt University
Chantal Jordan Vanderbilt University
Gabriela Pierobon Mays Vanderbilt University
Kailia Utley Vanderbilt University
Molly Benson Villanova University
Lexi Elkovitch Villanova University
Lainey Quinones Villanova University
Hannah Wasmuth Villanova University
Morgan Miller Virginia Tech
Izzi Mroz Virginia Tech
Janika Perezous Virginia Tech
Sarah Shackelford Virginia Tech
Hailey Grotte Washington State University
Noelle Harvey Washington State University
Mikaela Kirton Washington State University
Kiana Swain Washington State University
Jacqueline McCutchan West Virginia University
Tatum Peyerl West Virginia University
Abby Reardon West Virginia University
Marian Tiemeier West Virginia University
Elizabeth Intihar William & Mary
Katie Stevenson William & Mary
Grace Tramack William & Mary
Annie Tuttle William & Mary
Kali Fischer Xavier University
Raime Jones Yale University
Alex Massey Yale University
Ophelia Pilkinton Yale University
Lindsey Wagner Yale University
MEN'S DIVISION II
Brian Klotsche Adelphi University
Cooper Rivers Adelphi University
Joe Cummins Ashland University
Josh Hagan Ashland University
Ethan Maddrey Barton College
Jeremy Glick Bentley University
Ryan Looney Bentley University
Michael Motisi Bentley University
Anthony Vizental Bentley University
Luke Bartruff Biola University
Michael Maurer Biola University
Tanner Smith Biola University
Patrick Waggoner Biola University
Patrick Agnew Bloomsburg University
Tucker Ball Bloomsburg University
Nicholas Fiddler Bloomsburg University
Luke Scoboria Bloomsburg University
Asger Hartvig Carson-Newman University
Jed Little Carson-Newman University
Logan McCay Carson-Newman University
Benaiah McDowell Carson-Newman University
Brayden Conboy Chowan University
Fabrizio Infante Chowan University
David Bocci Clarion
Paul Flowers Clarion
Trent Napholz Clarion
Ty Rabenstein Clarion University
Lane Austin Colorado Mesa University
Mahmoud Elgayar Colorado Mesa University
Ben Sampson Colorado Mesa University
Jacob Troescher Colorado Mesa University
Charles Burroughs Colorado School of Mines
Seth Krause Colorado School of Mines
Jaron O'Grady Colorado School of Mines
Andres Saa Colorado School of Mines
Kevin Mills Davenport University
Richard Polasek Davenport University
Dominik Karacic Drury University
Andrew Rodriguez Drury University
Kyle Carson Fairmont State University
Nathan Fubio Fairmont State University
Patrick Fubio Fairmont State University
Nathan Harvey Fairmont State University
Niko Frese Florida Southern College
Kyle Micallef Florida Southern College
Ludwig Mueller Florida Southern College
Matteo Zampese Florida Southern College
Daniel Aizenberg Florida Tech
Robert Catron Florida Tech
Max Martino Florida Tech
Connor Orth Florida Tech
Creelman Andrew Frostburg State
Noah Loper Frostburg State
Ryan Barclay Gannon University
David Gallion Gannon University
Stephen McCallum Gannon University
Tyler McGillan Indiana University of Pennsylvania
Luke Mikesell Indiana University of Pennsylvania
Gideon Bezuidenhout King University
Sam Osowiecki King University
Noah Martin Lenoir-Rhyne University
Nathan McCormick Lenoir-Rhyne University
Micah McRea Lenoir-Rhyne University
Dalton Brown Lynn University
Julian Chan Quee Lin Lynn University
Mike Sickels Lynn University
Ryan Jurgensen Maryville University
Luca Alessandrini Nova Southeastern University
Robert Spekis Nova Southeastern University
Sean Rorke Pace University
Alexander Clark Saint Leo University
Aaron Bouchard Saint Michael's College
Liam Burke Saint Michael's College
Trevor Johnson Saint Michael's College
Nolan Speidel Saint Michael's College
David Johnson Shippensburg University
Zaidian Van Orden Shippensburg University
Nathan VanNatter Shippensburg University
Elijah Zinn Shippensburg University
Randon Hall Simon Fraser University
Kobe Dominguez Southern Connecticut State University
Collin Doyle Southern Connecticut State University
Christopher Roewer Southern Connecticut State University
Jayden Porter St. Cloud State University
Dan Fink Truman State University
Aaron Kohler Truman State University
Jaxson Mahlstadt Truman State University
Jacob Pocivasek Truman State University
Adam Hornak University of Findlay
Jaden Humphrey University of Findlay
Aidan Shue University of Findlay
Tim Stollings University of Findlay
Cedric Buessing University of Indianapolis
Cade Hammond University of Indianapolis
Diego Mas University of Indianapolis
Jon Osa University of Missouri-St. Louis
Conley Savage University of Missouri-St. Louis
Trent Mobley University of Montevallo
Samuel Rix University of Montevallo
Jacob Rubin University of Montevallo
Jeffrey Cottingham, Jr. Wayne State University
Luka Cvetko Wayne State University
Trevor Jones Wayne State University
Stewart Nowinski Wayne State University
Logan Brockway West Chester University
Joel Dunnigan West Chester University
Dalton Fink West Chester University
Gabriel Laslo West Chester University
Jacob Berkheimer William Jewell College
Ethan Hathcock Wingate University
Miguel Marcos Wingate University
Slava Ohnov Wingate University
Marcel Snitko Wingate University
WOMEN'S DIVISION II
Delaney Noel Adelphi University
Abby Locke Ashland University
Sydney Porinchok Ashland University
Leona Coha Augustana University
Nesrine Jelliti Augustana University
Kamryn Robarge Augustana University
Amaya Street Augustana University
Amanda Anderson Azusa Pacific University
Riley Smith Azusa Pacific University
Montana White Azusa Pacific University
Moira Euker Barton College
Sydney Hopkins Barton College
Megan Schueller Barton College
Avery Tucker Barton College
Emily Blatt Bentley University
Kate Galvin Bentley University
Mary Huminski Bentley University
Jordan Nuzback Bentley University
Anna Cohee Biola University
Eliana Cote Biola University
Anna Haaksma Biola University
Liza Parahnevich Biola University
Grace Beierschmitt Bloomsburg University
Courtney Hubric Bloomsburg University
Tara Kupsky Bloomsburg University
Anna Sugra Bloomsburg University
Delaney Carlson Cal State East Bay
Brooklyn Dressel Cal State East Bay
Emilie Giannini Cal State East Bay
Emma Knott Cal State East Bay
Avrey Barnes California (PA)
Autumn Christner California (PA)
Gabby Miller California (PA)
Leah Trocchio California (PA)
Kyla Blakemore Carson-Newman University
Summer Osborne Carson-Newman University
Rachel Peden Carson-Newman University
Anna Tudor Carson-Newman University
Ashley Mayes Chowan University
Erica Mock Chowan University
Alexa Gonczi Clarion
Haley Miller Clarion
Corina Paszek Clarion
Anna Vogt Clarion
Logan Anderson Colorado Mesa University
Kyra Apodaca Colorado Mesa University
Lily Borgenheimer Colorado Mesa University
Lauren White Colorado Mesa University
Annie Osmun Colorado School of Mines
Jorie Selig Colorado School of Mines
Meghan Slowey Colorado School of Mines
Charly Horn Concordia-St. Paul
Farida Maher Concordia-St. Paul
Laura Vekony Concordia-St. Paul
Katherine Beebe Converse University
Kaitlin Brown Converse University
Jovana Mitic Converse University
Sarah Purinton Converse University
Emily Bolt Davenport University
Rebecca Wallis Davenport University
Claire Conover Drury University
Erin Brandeburg East Stroudsburg University
Gabby Ciesla East Stroudsburg University
Avery Fohring East Stroudsburg University
Jenna Johnson East Stroudsburg University
Stephanie Sipple Edinboro
Paige Gelenski Emory & Henry College
Peyton Helscher Emory & Henry College
Rachel Ritter Emory & Henry College
Zsófi Bévárdi Fairmont State University
Kayla Fogle Fairmont State University
Cheri Signorelli Fairmont State University
Kaitlyn Stumpf Fairmont State University
Allie Brinton Florida Southern College
Erin McCann Florida Southern College
Olivia Miles Florida Southern College
Emily Peck Florida Southern College
Kiera Ceely Florida Tech
Harper Powell Florida Tech
Chrstina Ramirez Florida Tech
Shaelyn Rutta Florida Tech
Lydia Nebiolo Frostburg State
Elizabeth Perry Frostburg State
Chenay Date Line Gannon University
Francesca Nemetz Gannon University
Sterre van de Goor Gannon University
Caroline Holmes Hillsdale College
Phoebe Johnston Hillsdale College
Elise Mason Hillsdale College
Sydney Slepian Hillsdale College
Allison Brownlee Indiana University of Pennsylvania
Rachel Johnson Indiana University of Pennsylvania
Paige Mikesell Indiana University of Pennsylvania
Olivia Santee Indiana University of Pennsylvania
Abbie Erme King University
Gwen Haag King University
Michelle Morlock King University
Lisa Boernigen Lenoir-Rhyne University
Elizabeth Bowman Lenoir-Rhyne University
Isabelle Hurd Lenoir-Rhyne University
Kayanna Taylor Lenoir-Rhyne University
Lily Arledge Lock Haven University
Madison Griffin Lock Haven University
Sydney Houck Lock Haven University
Shachaf Bachar Lynn University
Helga Fodor Lynn University
Luna Mertins Lynn University
Karolina Smylek Lynn University
Hannah Doss Maryville University
Courtney Harris Maryville University
Carolyn Bolden Millersville University
Leah Miksa Millersville University
Jordan Plempel Millersville University
Becca Yeager Millersville University
Nicole Beckman Minnesota State University, Mankato
Ella DeFever Minnesota State University, Mankato
Sydney Hanson Minnesota State University, Mankato
Ayla Taylor Minnesota State University, Mankato
Arina Bratamidjaja Minnesota State University, Moorhead
Demi-Lee Carlisle Minnesota State University, Moorhead
Lily Lengerich Minnesota State University, Moorhead
Molly Lenmark Minnesota State University, Moorhead
Brooke Dobrzanski Notre Dame College
Alexis Torosian Notre Dame College
Steven Aimable Nova Southeastern University
Estelle Bauer Nova Southeastern University
Celina Marquez Nova Southeastern University
Neta Shiff Nova Southeastern University
Emily Calandro Pace University
Caelyn Smith Pace University
Vittoria Bonsanti Saint Leo University
Isabelle Sering Saint Leo University
Vanda Vöröshazy Saint Leo University
Bella Amedio Saint Michael's College
Mary Kohn Saint Michael's College
Rachel McAdams Saint Michael's College
Margaret Wilk Saint Michael's College
Marissa Bittner Shippensburg University
Lauren Croll Shippensburg University
Michaela Hersh Shippensburg University
Alyssa Tomb Shippensburg University
Madelyn Dean Southern Connecticut State University
Faith Littleton Southern Connecticut State University
Lindsay McCawley Southern Connecticut State University
Olivia Strelevitz Southern Connecticut State University
Natalie Bohnert Southwest Minnesota State University
Sarah McDonald Southwest Minnesota State University
Addi Schroeder Southwest Minnesota State University
Juliana Villa Southwest Minnesota State University
Anna Reschko St. Cloud State University
Olivia Travis St. Cloud State University
Sidney Durbin Truman State University
Meg Heveroh Truman State University
Kylie Strobl Truman State University
Emily Traube Truman State University
Anna Miller UNC Pembroke
Nina Wiatrowski UNC Pembroke
Mille Berg University of Findlay
Macy May University of Findlay
Johanna Buys University of Indianapolis
Kaitlyn McCoy University of Indianapolis
Mikaela Starr University of Indianapolis
Leticia Vaselli University of Indianapolis
Breena DeLegge University of Mary
Victoria Murillo University of Mary
Korie Riely University of Mary
Rylie Webb University of Mary
Franziska Hauptmann University of Missouri-St. Louis
Zara Konstapel University of Missouri-St. Louis
Elizabeth Balent University of Montevallo
Isabel Harris University of Montevallo
Erica Mills University of Montevallo
Amanda Ware University of Montevallo
Katie Cornelio University of Nebraska at Kearney
Madison Kathol University of Nebraska at Kearney
Emily Miksch University of Nebraska at Kearney
Audrey Stelling University of Nebraska at Kearney
Nathalia Silva University of North Carolina at Pembroke
Makenzy Kennedy University of Sioux Falls
Sarah Knox University of Sioux Falls
Domencia Solano Ocampo University of Sioux Falls
Elizabeth Spaans University of Sioux Falls
Yael Danieli University of West Florida
Brooke Dorr University of West Florida
Stefanie Markwardt University of West Florida
Daniela Reyes University of West Florida
Jordan Fox Wayne State University
Barbara Munoz Wayne State University
Isidora Sekaric Wayne State University
Mikaela Senkus Wayne State University
Ann Carozza West Chester University
Sophia Gerhart West Chester University
McKenzie Hemingway West Chester University
Mikayla Niness West Chester University
Tayla Liddle Western Colorado University
Jordan Maruska Western Colorado University
Addison O'Donnell Western Colorado University
Claire Hays William Jewell College
Anna Lancaster William Jewell College
Martina Torrent William Jewell College
Hana Kubalova Wingate University
Kelsea Munro Wingate University
Lily Sanocki Wingate University
Gracie Williams Wingate University
MEN'S DIVISION III
Justin Huttenlocher Albion College
Jack Malnar Allegheny College
Matt Arrigoni Alma College
Ryan Gray Alma College
Nate Toth Alma College
Andrew Bernstein Amherst College
Jeff Gerber Amherst College
Gabriele Lunardi Amherst College
Jaden Olson Amherst College
Anthony Stultz Anderson University
Joseph Addison Augustana College
Kacper Cebula Augustana College
Gavin McCorry Augustana College
Isaiah Valentine Augustana College
Cody Dean Austin College
Pat Anutarasoti Babson College
Joshua Kim Babson College
Jason Heisler Baldwin Wallace University
Mason Kooyman Baldwin Wallace University
Tommie McQueary Baldwin Wallace University
Austin Olsavsky Baldwin Wallace University
Nathan Berry Bates College
Edmond Giang Bates College
John Marcolina Bates College
Nate Sommer Bates College
Billy Blood Berry College
Bear Breeze Berry College
Ross Valdez Berry College
Logan Marks Bethany College (WV)
Sam Dienstag Brandeis University
Ean Helmlinger Bridgewater College
Eric Wilbur Bridgewater College
Luke Wintersgill Bridgewater College
Cooper Castellone Bridgewater State University
Luc Durand Bridgewater State University
Thomas Scalese Bridgewater State University
Chase Simao Bridgewater State University
Colby Riexinger Buffalo State University
Michael Gray Cabrini University
Thomas Ronayne Jr. Cabrini University
Matthew Seifried Cabrini University
Lucas Abounader Caltech
Naci Keskin Caltech
Jason Lin Caltech
Leo Yang Caltech
Julien Camy Calvin University
Jay Cen Calvin University
Jacob Heeres Calvin University
Forrest Peterson Calvin University
Parker Johnson Carleton College
Ian Scott Carleton College
Sean Smith Carleton College
Josh Wu Carleton College
James Kyle Carnegie Mellon University
Judson Kyle Carnegie Mellon University
Matthew Nagler Carnegie Mellon University
Aleksander Tarczynski Carnegie Mellon Universtiy
Michael Bartczyszyn Carthage College
Paul Busse Carthage College
Conner Hwang Carthage College
Jack Piccoli Carthage College
Ethan Chuang Case Western Reserve University
Campbell Patterson Case Western Reserve University
Andrew Smith Case Western Reserve University
Sean Yetter Case Western Reserve University
Ellis Prescott Catholic University
Jeffrey Schriefer-Flores Catholic University
Aiden Peterkin Centenary College of Louisiana
Jackson Fears Centre College
Simon Jacobs Chapman University
Cole Kershner Chapman University
Frank Applebaum Claremont-Mudd-Scripps
Anderson Breazeale Claremont-Mudd-Scripps
Thayer Breazeale Claremont-Mudd-Scripps
Alec Vercruysse Claremont-Mudd-Scripps
Charlie Jordan Clarkson University
Tim Jordan Clarkson University
Tristan Miranda Clarkson University
Michael Schroeder Clarkson University
Zach Kolker Coe College
Nate Cordick Colby College
Neil Mortimer Colby College
Carson Rehkopf Colby College
Jackson Rocket Colby College
Mac O'Brien Colorado College
Collin Ralston Colorado College
Justin Finkel Connecticut College
Sean Geisler Connecticut College
Marc Stern Connecticut College
Ben Zamstein Connecticut College
Gavin Jones Denison University
Brock Kinnamon DePauw University
Braden Mallery DePauw University
Robbie Sheffield DePauw University
Evan Steffy DePauw University
Hayden Koh Drew University
Harrison Neal Drew University
Marco Niro Drew University
CJ Talerico Drew University
Connor Rego Eastern Connecticut State University
Jeff Echols Emory University
Ryan Gibbons Emory University
Jake Meyer Emory University
Lucas Bumgarner Emory University
Andrew Canjura Franklin & Marshall College
Jack Rowe Franklin & Marshall College
Evan Willertz Franklin & Marshall College
Kyle Haflich Franklin College
John Hasquin Franklin College
Logan Parker Franklin College
Jules Yance Gallaudet University
Charlie Cross Gettysburg College
Luke McKenna Gettysburg College
Harry Nelson Gettysburg College
Hunter Sundlun Gettysburg College
Zachary Barneson Gordon College
Sam Heller Grinnell College
Ben Johnson Grinnell College
Marc Dieter Grove City College
Mac Hancock Grove City College
Andrew Becker Gustavus Adolphus College
Jared Dawson Gustavus Adolphus College
Peyton Richardson Gustavus Adolphus College
Matt Strom Gustavus Adolphus College
Sam Pettengill Hamilton College
Andrew Rehak Hampden-Sydney College
Jack Armstrong Hartwick College
Michael Schultz Hartwick College
Storm Fuller Hood College
Patrick Krol Hood College
Russell Odor Hood College
Hazen Stowell Hood College
Ben Catton Hope College
Conner Halberg Hope College
Colin Kalkman Hope College
Bailey Smith Hope College
Matthew Steeves Husson University
Isaias Therio Husson University
Joe Vail Husson University
Alex Kula Illinois Wesleyan University
Ethan Lowder Illinois Wesleyan University
Lane Wagner Illinois Wesleyan University
Matthew Johnston Ithaca College
Matthew Stevens Ithaca College
Ben Young Ithaca College
Michael Heller John Carroll University
Bryce Liddell John Carroll University
Luke Novak John Carroll University
Jonathan Simoes John Carroll University
Joe Castagno Johns Hopkins University
Kellen Roddy Johns Hopkins University
Brandon Stride Johns Hopkins University
Kyle Wu Johns Hopkins University
Erik Danielson Kalamazoo College
Luke Middlebrook Kalamazoo College
Ben Pickrel Kalamazoo College
Oliver Tye Kalamazoo College
Mason Fishell Kenyon College
Spencer Pruett Kenyon College
Drew Albrecht Kenyon College
Noah Hargrove Kenyon College
Erik Aguero King's College (Pa.)
Ryan Bixler King's College (Pa.)
Anthony Macko King's College (Pa.)
Riley Komp Lake Forest College
Luke Bedalov Lake Forest College
Jake Beidler Lebanon Valley College
Justin Kopp Lebanon Valley College
Dain Vallie Lebanon Valley College
Nathan Herde Linfield University
Alex Landry Linfield University
Gavin Smith Linfield University
Casey Wong Linfield University
Jack Bell Luther College
Jack Meehan Luther College
Ryan Malecha Luther College
Jacob Wenger Luther College
Isaac Kisker Macalester College
Adan Schroeder Macalester College
Ponce Saltysiak Maine Maritime Academy
Trevor Cairns Marymount University
Jason Lee Marywood University
Brayden Reeves McMurry University
Alfonso Santoya McMurry University
Ben Clarke Messiah University
Mark Lukens Messiah University
Isaac McCabe Messiah University
Aedan Wilkinson Messiah University
Riley Griffis Middlebury College
Jason Rickenbacher Middlebury College
Christopher Farrell Misericordia University
Jonus Gurski Misericordia University
Ben Sorrentino Misericordia University
Roderick Huang MIT
Adam Janicki MIT
Jaden Luo MIT
Tobe Obochi MIT
Ryan Kappes Montclair State University
Cameron Fairley Nazareth College
Ryan Hough Nazareth College
Cael Dice Nebraska Wesleyan University
David Basin New York University
Thomas Pritchard New York University
Hunter Whitbeck New York University
Jaeden-Hans Yburan New York University
Benjamin Stark Norwich University
Tobias Macedo Norwich University
Logan Wineriter Norwich University
Lucas Draper Oberlin College
Myles Felt Oberlin College
Erik Fendorf Oberlin College
Isaac Viviano Oberlin College
Holden Cubberley Ohio Northern University
Brady Horgan Ohio Northern University
Vincent Morando Ohio Northern University
Charlie Spyker Ohio Northern University
Aamir Motiwala Ohio Wesleyan University
Seth Kading Olivet College
Landon Morgan Olivet College
Takato Timmerman Olivet College
Henri Coronado-Volta Pacific Lutheran University
Charlie Cutter Pacific Lutheran University
Na'inoa Loo Pacific Lutheran University
Ethan Andrews Penn State Altoona
William Donaldson Piedmont University
Leandro Forero Piedmont University
Erick Fortner Piedmont University
Lyden Fogg Plymouth State University
Tom Steinberg Plymouth State University
Ben Willett Pomona-Pitzer
Larry Yu Pomona-Pitzer
Caleb Baron Ramapo College
Samuel De Leon Ramapo College
Emile Eeckhout Ramapo College
Michael Sooy Ramapo College
Sam Hey Randolph College
Michael Senter Randolph-Macon College
Ethan Gadbois Rensselaer Polytechnic Institute
Lorenzo Gurri Rensselaer Polytechnic Institute
Daniel Savidge Rensselaer Polytechnic Institute
William Tan Rensselaer Polytechnic Institute
Ethan Brennan Ripon College
Ben Rahlf Ripon College
Brendan Kapp RIT
Drew Scheib RIT
Ben Sippel RIT
Ryan Sweet RIT
Evan Fuller Roger Williams University
Andrew Mungovan Roger Williams University
Nick Edwards Rose-Hulman Institute of Technology
Caleb Munger Rose-Hulman Institute of Technology
Vineet Ranade Rose-Hulman Institute of Technology
Evan Sellers Rose-Hulman Institute of Technology
Rocco Evangelista Rowan University
Michael Fracchiolla Rowan University
Paul Riter Rowan University
Kevin Yanagisawa Rowan University
Jack Grabinski Saint John's University (Minn.)
Ethan Huber Saint John's University (Minn.)
Joe Koller Saint John's University (Minn.)
Carter Larson Saint John's University (Minn.)
Shawn Perry Saint Joseph's College of Maine
Jay Ceperley Simpson College
Brian Borchard Skidmore College
Miles Herman Skidmore College
Liam Keating Skidmore College
David Marcello Skidmore College
James Chan Springfield College
Jonathan Chan Springfield College
Daniel Bloedow St. Olaf College
Jaden Chant St. Olaf College
Andrew Noecker St. Olaf College
Tim Rizzo St. Olaf College
Lance Meeson SUNY Cortland
Jack-Henry Whalen SUNY Cortland
Sean Zupko SUNY Cortland
Joseph Campise SUNY Oneonta
Mason DeLisio SUNY Oneonta
Jonathan Stanzione SUNY Oneonta
Sophia Frenyea SUNY Potsdam
Brett Worden SUNY Potsdam
Brendan Alvino Susquehanna University
John Imburgia Susquehanna University
Trevor Johnson Susquehanna University
Vijay Chhabra Swarthmore College
AJ Das Swarthmore College
Cole Griscavage Swarthmore College
Jacob Sherman Swarthmore College
Tucke Andrewjeski The College of Wooster
Noah Golovan The College of Wooster
Ryan Gross The College of Wooster
Josh Pearson The College of Wooster
Conner Hood Transylvania University
Kaden Siler Transylvania University
Jacob Young Transylvania University
Liam Colleran Trinity College
Tudor Ionescu Trinity College
Dillon McDermott Trinity College
Quin Woods Trinity College
Nathaniel Early Trinity University
Matteo Lanzara Trinity University
Konstantine Partalas Trinity University
Kendal Southwell Trinity University
Peter LaBarge Tufts University
Zach Lawrence Tufts University
Kai Renshaw Tufts University
Evan Szablewski Tufts University
Oliver Austin U.S. Merchant Marine Academy
Armand Hebert U.S. Merchant Marine Academy
David McCranie U.S. Merchant Marine Academy
James Todd U.S. Merchant Marine Academy
Joel Akey UC Santa Cruz
Presley Golling UC Santa Cruz
Judah Good UC Santa Cruz
Aaron Wu UC Santa Cruz
Andrew Boyd Union College
James Javier Jr. Union College
Bill Megas Union College
Zack Panlilio Union College
Garrett Clasen University of Chicago
Arthur Kiselnikov University of Chicago
John Paul Phillips University of Chicago
Jesse Ssengonzi University of Chicago
Zach Bennett University of Lynchburg
Matt Fields University of Lynchburg
Chris Jennings University of Lynchburg
Colton Schnars University of Lynchburg
Eli Holm University of Mount Union
Michael Hubbard University of Mount Union
Brett Scheib University of Mount Union
Nathan Williams University of Mount Union
Blake Eddow University of Redlands
Tom Jansen University of Redlands
Thomas Long University of Redlands
Lucas Walker University of Redlands
Jose Corredor Alvarez University of Rochester
Sean Finnerty University of Rochester
Trevor Hoch University of Rochester
Matt Kiel University of Rochester
Aaron Gauvin University of Saint Joseph (Conn.)
David Kavanaugh University of Saint Joseph (Conn.)
Nicolai Van Zyl University of the Ozarks
Cameron Harris University of Wisconsin – Stevens Point
Will Lennertz University of Wisconsin – Stevens Point
Brett Farmer University of Wisconsin-Eau Claire
Quincy Kabe University of Wisconsin-Eau Claire
Vaughn Kromrey University of Wisconsin-Eau Claire
Jack Poppitz University of Wisconsin-Eau Claire
Jacob Brehmer University of Wisconsin-La Crosse
Mitchell Johnson University of Wisconsin-La Crosse
Nicholas Litterer University of Wisconsin-La Crosse
Andrew Perrin University of Wisconsin-La Crosse
Kasznay Jonah Ursinus College
Robbie Perot Vassar College
Eddie McDonald Virginia Wesleyan University
Stuart Reyes Virginia Wesleyan University
Todd Echols Washington and Lee University
Matt Fritz Washington and Lee University
Luke Nagel Washington and Lee University
Reese Nelson Washington and Lee University
Austin Bick Washington University in St. Louis
Pace Edwards Washington University in St. Louis
Mark Lipkin Washington University in St. Louis
Alex McCormick Washington University in St. Louis
Allen Riego De Dios Western Connecticut State University
Stephen Adametz Westminster College
Patrick Holton Westminster College
Kevin MacMurdo Westminster College
Dawson Yocum Westminster College
Davis Connor Wheaton College (Illinois)
Anthony Fitzgerald Wheaton College (Illinois)
Harrison Smith Wheaton College (Illinois)
Geffen Chang Whittier College
Nick Coltrin Whittier College
Connor Florey Whitworth University
Ty Patterson Whitworth University
Shane Miller Wilkes University
Cole Lindberg Willamette University
Julius Wilhelmi Willamette University
Anthony Newman William Paterson University
Oliver Schalet Williams College
Ben Shapiro Williams College
Nick Whitcomb Williams College
Austin Reed Wilmington College
Matt Crane Worcester Polytechnic Institute
Kyle Staubi Worcester Polytechnic Institute
WOMEN'S DIVISION III
Megan Anderson Albertus Magnus College
Maria Estrada Albertus Magnus College
Ana Lucia Gutierrez Gomez Albertus Magnus College
Chloe Oliver Albertus Magnus College
Hannah Fathman Albion College
Maggie Baham Allegheny College
Ariana Clark Allegheny College
Jenna Halenda Allegheny College
Olivia Kraus Allegheny College
Marissa Luzac Alma College
Megan Neeley Alma College
Danielle Ries Alma College
Sydney Bluestein Amherst College
Lauren Eng Amherst College
Jess Gordon Amherst College
Grace Walker Amherst College
Heather Karm Anderson University
Halle Strege Anderson University
Maya Merritt Augsburg University
Lexci Wourenma Augsburg University
Bella Casanovas Augustana College
Hailey Glasnovich Augustana College
Isabelle Sansom Augustana College
Liberty Chanin Austin College
Sammi Thiele Austin College
Molly Cox Babson College
Audrey Daniels Babson College
Mallory Dondorfer Baldwin Wallace University
Bella Ratino Baldwin Wallace University
Lauren Slife Baldwin Wallace University
Kate Wells Baldwin Wallace University
Abigail Gibbons Bates College
Grace Wenger Bates College
Natalie Young Bates College
Viola Hasko Berry College
Grace Pleasant Berry College
Hannah Smith Berry College
Jordan Haslacker Bethany College (WV)
Aidah Shuttleworth Bethany College (WV)
Bailey Gold Brandeis University
Ema Rennie Brandeis University
Isabelle Bauer Bridgewater College
Kate Tolone Bridgewater College
Katelyn Wiglesworth Bridgewater College
Katie Yoder Bridgewater College
Jenna Maxim Bridgewater State University
Brynn Murray Bridgewater State University
Gabriella Rivera Bridgewater State University
Danielle Vissering Bridgewater State University
Kelly Peterson Bryn Mawr College
Teagan Rooney Bryn Mawr College
Vivian Sandifer Bryn Mawr College
Lindsay DeBoth Buffalo State University
BB Garcia Buffalo State University
Hannah Heil Buffalo State University
Maggie Parobek Buffalo State University
Jennifer Allison Cabrini University
Belinda Hedden Cabrini University
Adri Pietrewicz Cabrini University
Catherine Sexton Cabrini University
Lynda Steen Calvin University
Haley Thier Calvin University
Raine Bernhard Carleton College
Caroline Crampton Carleton College
Maddie Damberg-Ott Carleton College
Brenna Russell Carleton College
Mathea Myhrvold Carnegie Mellon University
Aidan Pinto Carnegie Mellon University
Emilia Schwallie Carnegie Mellon University
Tiffany Tseng Carnegie Mellon University
Nicole Johnson Carroll University
Kara Loy Carroll University
Joselyn Peterson Carroll University
Catherine Casanovas Carthage College
Ashleigh Espinoza Carthage College
Maria Gutzweiler Carthage College
Grace Norman Carthage College
Abby Halsdorfer Case Western Reserve University
Angeli Paull Case Western Reserve University
Maria Pritchett Case Western Reserve University
Abigail Wilkov Case Western Reserve University
Kaitlyn Caple Catholic University
Emma Gould Catholic University
Alexa Hipp Catholic University
Ava Snyder Catholic University
Christine Goodman Centenary College of Louisiana
Camryn Hebert Centenary College of Louisiana
Bryn Jenkins Centenary College of Louisiana
Audrey Becker Centre College
Claire Pellegrin Centre College
Callie West Centre College
Avery Hall Chapman University
Meghan Kluck Chapman University
Ella Blake Claremont-Mudd-Scripps
Izzy Doud Claremont-Mudd-Scripps
Annie Johnson Claremont-Mudd-Scripps
Augusta Lewis Claremont-Mudd-Scripps
Gabriela McSwieney Clarkson University
Madelyn Nowicki Clarkson University
Claudia Scala Clarkson University
Bella Triolet Clarkson University
Megan Norris Coe College
Lauren Pio Coe College
Alex Mayo Colby College
Eleanor McGrath Colby College
Lily Moy Colby College
Ann Tolan Colby College
Molly Johanson College of Saint Benedict
Fiona Rosko College of Saint Benedict
Lindsay Smutka College of Saint Benedict
Kate Brush Colorado College
Peyton Classon Colorado College
Vaughn Ammon Connecticut College
Marie-Eve Hebert Connecticut College
Tiernan Shea Connecticut College
Anika Svoboda Connecticut College
Tara Culibrk Denison University
Kerstyn Johnson Denison University
Savannah Sargent Denison University
Tarah Lang DePauw University
Mei-Li Minnich DePauw University
Emily Thompson DePauw University
Elise Umbach DePauw University
Grace Aboussleman Drew University
Katie Cashin Drew University
Amira Hadri Drew University
Katerina Poulathas Drew University
Lindsay Weaver Eastern Connecticut State University
Maddey Brelsford Elizabethtown College
Sarah Marston Elizabethtown College
Sloane Donovan Emory University
Anna Glowniak Emory University
Taylor Leone Emory University
Caroline Maki Emory University
Emma Dougherty FDU-Florham
Sarah Dougherty FDU-Florham
Julianna Fazzio FDU-Florham
Kristen Farabaugh Franciscan University
Sarah Kelty Franciscan University
Anne Konstanty Franciscan University
Olivia Mete Franciscan University
Sarah Gartner Franklin & Marshall College
Olivia Lockey Franklin & Marshall College
Jenna Lu Franklin & Marshall College
Julie McFadden Franklin & Marshall College
Carley Bond Franklin College
Faith Jackson Franklin College
Erin Perkins Franklin College
Becky Pfeifer Franklin College
Dakota Ronco Gallaudet University
Lindsay Blake Gettysburg College
Annabel Gorman Gettysburg College
Lauren Manning Gettysburg College
Natalie Wisniewski Gettysburg College
Lily Brooks Gordon College
Grace Haxhinasto Gordon College
Gina Ouellette Gordon College
Ella Robinson Goucher College
Sophia Carroll Grinnell College
Rachel Grubbs Grove City College
Sarah Kuchma Grove City College
Rachel Ledford Grove City College
Ellen Hofstede Gustavus Adolphus College
Marit Isaacson Gustavus Adolphus College
Lucy Peterson Gustavus Adolphus College
Abby Yartz Gustavus Adolphus College
Madison Goodman-Leong Hamilton College
Irene Keh Hamilton College
Caroline Shen Hamilton College
Katt Withers Hamilton College
Courtney Broyles Hamline
Elizabeth Baird Hartwick College
Joelle Ocheltree Hartwick College
Molly Cronin Hood College
Andrea Kassa Hood College
Ridley Little Hood College
Grace Winpigler Hood College
Sophia Farbarzhevich Hope College
Alyssa Kerkman Hope College
Sara Kraus Hope College
Delaney Wesolek Hope College
Abbie Howe Husson University
Erin Madden Husson University
Kayla Payson Husson University
Shelby Peterson Husson University
Hadley Fudge Illinois Wesleyan University
Abigail Ignagni Ithaca College
Leah Levin Ithaca College
Abby Marraccino Ithaca College
Karalyn Pawcio Ithaca College
Gwyneth Hamilton John Carroll University
Catherine Steinwachs John Carroll University
Kristen Alicea-Jorgensen Johns Hopkins University
Sophia Girgenti Johns Hopkins University
Kate Overbey Johns Hopkins University
Taylor Rohovit Johns Hopkins University
Sarah Densham Kalamazoo College
Camille Misra Kalamazoo College
Mya Richter Kalamazoo College
Sam Vande Pol Kalamazoo College
Amanda Davis Kean University
Isabel DeSanno Kean University
Brianna Shaw Kean University
Ella Campbell Kenyon College
Sydney McCallie Kenyon College
Kira Bowling Kenyon College
Caleigh Wukitch Kenyon College
Roni McClelland King's College (Pa.)
Jamie Navarro King's College (Pa.)
Maddison Quick King's College (Pa.)
Violet Anderson Lake Forest College
Helena Blumenau Lake Forest College
Caprice Kalvelage Lake Forest College
Ally McCarthy Lake Forest College
Karli Averill Lebanon Valley College
Emily Beard Lebanon Valley College
Rachel Gibson Lebanon Valley College
Rachel King Lebanon Valley College
Avery Campbell Linfield University
Emma Campbell Linfield University
Alexis Matthiesen-Johnson Linfield University
Kate Walkup Linfield University
Kinsey Bogen Loras College
Taylor Hrabak Loras College
Nina Schiro Loras College
Ellianna Stine Loras College
Ellie Gardner Luther College
Nev Nelson Luther College
Anna Thomley Luther College
Clara Wodny Luther College
Katherine Brown Lycoming College
Courtney Chapman Lycoming College
Elisa DiNicola Lycoming College
Olga Merkadeau Macalester College
Natalie Pollock Macalester College
Jocelyn Radke Macalester College
Verity Wray-Raabolle Macalester College
Sage Dentremont Maine Maritime Academy
Megan Durrua Maine Maritime Academy
Natasha Kopeck Maine Maritime Academy
Roxanna MacGregor Maine Maritime Academy
Delaney Carey Marymount University
Madison Grubb Marymount University
Isabella Ochalik Marymount University
Caryn Sanclementi Marymount University
Mackenzie Blithe Marywood University
Maggie Davis Marywood University
Molly O'Neill Marywood University
Sabrina Zieger Marywood University
Lainey Flanagan Messiah University
Erin Goudie Messiah University
Caitlin Ross Messiah University
Abigail Soerens Messiah University
Isabella Caddeau Middlebury College
Chloe Katz Middlebury College
Alyson Barnes Millikin University
Brianna Brunk Millikin University
Shay Buchanan Millikin University
Kendall Rossignol Millikin University
Breanna Fluhr Misericordia University
Analiese Hargreaves Misericordia University
Camryn Hubric Misericordia University
Jennifer Scott Misericordia University
Kate Augustyn MIT
Edenna Chen MIT
Rachel Loh MIT
Laura Rosado MIT
Lauren Johnson Monmouth College
Isabella Peetz Monmouth College
Evelyn Schaefer Monmouth College
Juliana Skopp-Cardillo Montclair State University
Julie Tiedemann Montclair State University
Catherine Lovett Moravian University
Jaelyn Mitchell Moravian University
Marissa Werner Moravian University
Lauren Leese Mount Holyoke College
Anais Magner Mount Holyoke College
Jess Mohr Mount Holyoke College
Erin Schrama Mount Holyoke College
Amy Barry Nazareth College
Grace Cioffi Nazareth College
Julie Filipski Nazareth College
Elizabeth Tripp Nazareth College
Isabella Brosvik New York University
Jessica Flynn New York University
Caitlin Marshall New York University
Issara Schmidt New York University
Nikky Avise Norwich University
Rebecca Klements Norwich University
Jenna Tschida Norwich University
Emily Ferrari Oberlin College
Elinor Frost Oberlin College
Ava Peyton Oberlin College
Audrey Weber Oberlin College
Mara Brown Ohio Northern University
Morgan Fernandez Ohio Northern University
Gabbie Grant Ohio Northern University
Annie Richters Ohio Northern University
Josephine Stark Ohio Wesleyan University
Jennifer Mann Olivet College
Makenzie Chan-Orcutt Pacific Lutheran University
Sidney Chan-Orcutt Pacific Lutheran University
Annika Eisele Pacific Lutheran University
Malia Wisham Pacific Lutheran University
Madison Coleman Penn State Altoona
Grace Dangelo Penn State Altoona
Grace Frey Penn State Altoona
Avery Heisey Penn State Altoona
Olivia Bechtel Piedmont University
Gillian Lloyd Piedmont University
Madison Nance Piedmont University
Gwyneth Thomas Piedmont University
Kyra Donahue Plymouth State University
Jessica McGregor Plymouth State University
Alex Gill Pomona-Pitzer
Alex Turvey Pomona-Pitzer
Kaitlin Balasaygun Ramapo College
Keila Fane Ramapo College
Katie Riva Ramapo College
Eva Hey Randolph College
Kelsey Craighead Randolph-Macon College
Gabby Crouch Randolph-Macon College
Sarah Nelson Randolph-Macon College
Katelyn Vieni Randolph-Macon College
Olivia Luhnau Regis College
Megan Miller Regis College
Cashman Murphy Regis College
Shannon Brown Rensselaer Polytechnic Institute
Alyssa Cahill Rensselaer Polytechnic Institute
Patricia Christensen Rensselaer Polytechnic Institute
Colleen Whittaker Rensselaer Polytechnic Institute
Lauren Bahr Ripon College
Elle Holland RIT
Samantha Russell RIT
Emma Thomas RIT
Tabitha DiDonato Roger Williams University
Caterina Liseo Roger Williams University
Sandy Remson Roger Williams University
Brenna Guilmette Roger Williams University
Therese Jaeger Rose-Hulman Institute of Technology
Tori Kinnamon Rose-Hulman Institute of Technology
Natalija Pumpurs Rose-Hulman Institute of Technology
Cate Stauffer Rose-Hulman Institute of Technology
Linsday Cave Rowan University
Alexis Kidchob Rowan University
Emily Nelson Rowan University
Bella Stefanowicz Rowan University
Anna Walker Saint Joseph's College of Maine
Sarah Alexander Saint Vincent College
Lauren Connors Saint Vincent College
Katie Kozy Saint Vincent College
Kylie Clark Salem College
Eleanore Regenthal Salem College
Karli Chancey Salisbury University
Jordan DeGruchy Salisbury University
Layla Tiberio Salisbury University
Meg Driscoll Simmons University
Caroline Mazariegos Simmons University
Eva Piernas Simmons University
Katelyn Quinlan Simmons University
Breana Hinson Simpson College
Kate Minette Simpson College
Katie Oosterhuis Simpson College
Katelyn Smith Simpson College
Chloe Kim Skidmore College
Sophia May Skidmore College
Elissa Miller Skidmore College
Rachel Olson Skidmore College
Mikaili Charlemagne Springfield College
Erin Kelaher Springfield College
Nina Lamb Springfield College
Kay Shen Springfield College
Gillian Durand St. Catherine University
Emma Svendsen St. Catherine University
Anneke van Oosterom St. Catherine University
Annie Voss St. Catherine University
Lacy Geurts St. Norbert College
Annika Cleven St. Olaf College
Julia Cordes St. Olaf College
Rachel Stumpf St. Olaf College
Izzy Treanor St. Olaf College
Leah Bernhardt SUNY Cortland
Adriane Casey SUNY Cortland
Mackenzie Dickman SUNY Cortland
Kaila O'Hara SUNY Cortland
Cadence Dudley SUNY Oneonta
Anna McCall SUNY Oneonta
Paige Splendido SUNY Oneonta
Emma Trumino SUNY Oneonta
Zoe Gliganic SUNY Potsdam
Sasha Truax SUNY Potsdam
Julia Adams Susquehanna University
Mia Doll Susquehanna University
Haley Muth Susquehanna University
Kaja Arusha Swarthmore College
Annabella Boardman Swarthmore College
Gaby Ma Swarthmore College
Olivia Stoetzer Swarthmore College
Kass Carpenter Sweet Briar College
Acadia ElzHowe Sweet Briar College
Jillian Lewis Sweet Briar College
Maddie Becker The College of Wooster
Ollie Bream The College of Wooster
Hallie Findlan The College of Wooster
Kay Wetmore The College of Wooster
Olivia Greinke Transylvania University
Hannah Tapp Transylvania University
Mary Grace Thompson Transylvania University
Grace Vogel Transylvania University
Morgan Lenoce Trinity College
Marissa Lopez-Ona Trinity College
Rachel Papalski Trinity College
Avery Rowland Trinity College
Gabi Fulk Trinity University
Emma Hagan Trinity University
Caroline Myers Trinity University
Alexis Radhakrishnan Trinity University
Tory Atkinson Tufts University
Claire Brennan Tufts University
Chloe Deveney Tufts University
Katelin Isakoff Tufts University
Emma Clarkson U.S. Merchant Marine Academy
Camden Martin U.S. Merchant Marine Academy
Claire Cruse UC Santa Cruz
Maddy Gruender UC Santa Cruz
Kate Kramer UC Santa Cruz
Sarah Krawczyk UC Santa Cruz
Grace Athanas Union College
Meghan Seidberg Union College
Filippa Kolokotsa University of Chicago
Grace Schwieters University of Chicago
Cynthia Tang University of Chicago
Karen Zhao University of Chicago
Kira Degelsmith University of La Verne
Emma Vu University of La Verne
Francesca Cuchna University of Lynchburg
Lindsey Hair University of Lynchburg
Delaney Kennedy University of Lynchburg
Emma-Grace Spach University of Lynchburg
Abby Doyle University of Minnesota Morris
Lilly Radintz University of Minnesota Morris
Emily Hauck University of Mount Union
Maddie Horrigan University of Mount Union
Emma Kreber University of Mount Union
Leila Alejos University of Redlands
Sydney Britton University of Redlands
Abby Dimicco University of Redlands
Sarah Szafranski University of Redlands
Sophie Lever University of Rochester
Jaelyn Shaver University of Rochester
Leah Tang University of Rochester
Ashley Updike University of Rochester
Emily Beyer University of Saint Joseph (Conn.)
Gabriela Targonska University of Saint Joseph (Conn.)
Faith Coffin University of the Ozarks
Skylar Frazier University of the Ozarks
Macy McPhillips University of the Ozarks
Rosie Wade University of the Ozarks
Kyler Ernst University of Wisconsin – Stevens Point
Abby Hopfensperger University of Wisconsin – Stevens Point
Joy Vandenberg University of Wisconsin – Stevens Point
Elaina Plonis University of Wisconsin-Eau Claire
Bella Thovson University of Wisconsin-Eau Claire
Katy Volz University of Wisconsin-Eau Claire
Ella Weaver University of Wisconsin-Eau Claire
Maddy Albert-Nelson University of Wisconsin-La Crosse
Kathleen Casella University of Wisconsin-La Crosse
Brooke Presny University of Wisconsin-La Crosse
Claire Vandenhouten University of Wisconsin-La Crosse
Grace Fergus University of Wisconsin-Oshkosh
Francesca Schiro University of Wisconsin-Oshkosh
Cadence Showalter University of Wisconsin-Oshkosh
Brianna Smith University of Wisconsin-Oshkosh
Katie Barlow Ursinus College
Abby Ferguson Ursinus College
Molly Stevens Ursinus College
Lillian Lowenthal Vassar College
Abby Whittington Vassar College
Britni Arrington Virginia Wesleyan University
Ariana Fletter Virginia Wesleyan University
Makenna Good Virginia Wesleyan University
Samantha Vos Virginia Wesleyan University
Amanda Graves Washington & Jefferson College
Jillian Cantrell Washington and Lee University
Brynn Martinson Washington and Lee University
Myla Rice Washington and Lee University
Sophia Rollo Washington and Lee University
Caroline DeLuca Washington University in St. Louis
Rosie Finglass Washington University in St. Louis
Abby Liff Washington University in St. Louis
Riyapreet Sahota Washington University in St. Louis
Ariana Mitsuoka Wellesley College
Molly Henry Western Connecticut State University
Hope Johnsky Western Connecticut State University
Annie Sobolewski Western Connecticut State University
Kara Banagan Westfield State University
Nicole Pechulis Westfield State University
Alexa Richter Westfield State University
Isabella Barnabei Westminster College
Olivia Herman Westminster College
Christina Loewe Westminster College
Sara MacMurdo Westminster College
Emily Hahn Wheaton College (Illinois)
Sophie Pelling Wheaton College (Illinois)
Emily Flores Whittier College
Chloe Fung Whittier College
Piper Guinn Whittier College
Jenna Marsh Whittier College
Carly Hoff Whitworth University
Taylor Thorne Whitworth University
Maddy Kinard Wilkes University
Jordan Edner Willamette University
Gwyn Fritz Willamette University
Tatum Good Willamette University
Jacqueline Hall Willamette University
Nicole Kahwaty William Paterson University
Hailey Krajewski William Paterson University
Emily Murphy William Paterson University
Adelaide Herman Williams College
Georgia Panitz Williams College
Emma Schulman Williams College
Sophia Verkleeren Williams College
Audrey Bibb Wilmington College
Peyton Mullins Wilmington College
Rylee Kay Puthoff Wilmington College
Sierra Szuhay Wilmington College
Elinor Ross Worcester Polytechnic Institute
Molly Sykes Worcester Polytechnic Institute
MEN'S NAIA
Alec Chournos College of Idaho
Ian Clifford College of Idaho
Alberto Garcia Marcos Keiser University
Fynn Kunze Keiser University
Alex Kusik Keiser University
Marti Ranea Vila Keiser University
Malte Ahrens Lindsey Wilson College
James de Goede Lindsey Wilson College
Will Thilwind Lindsey Wilson College
Jeremi Aubin Midland University
Andre Bazzana Milligan University
Connor Harrison Milligan University
Ben Hawkins Milligan University
Easton Gelinne Morningside University
Matthew Hanner Morningside University
Mason Beall Olivet Nazarene University
Timothy Braun Olivet Nazarene University
Nicholas Klenner Olivet Nazarene University
Liam Kuiper Olivet Nazarene University
Konnor Kolberg OUAZ
Joshua Rummel OUAZ
Philips Ametsikor Soka University of America
Zachary Holt Soka University of America
Mikhi Hassim St. Ambrose University
Ryan Joehl St. Ambrose University
Brett Jones St. Ambrose University
Petter Kolaas St. Ambrose University
Peyton Berter University of the Cumberlands
Creed Farthing University of the Cumberlands
Thomas Holzkamm University of the Cumberlands
Charles Wolfram University of the Cumberlands
WOMEN'S NAIA
Mary Grace Doyle Aquinas College
Hope McGarry-Costello Aquinas College
Anna Cook College of Idaho
Avalon Jones College of Idaho
Keidon Reynolds College of Idaho
Micah Sharples College of Idaho
Abby Harvey Indiana Wesleyan University
Ashtin McDivitt Indiana Wesleyan University
Erica Samuel Indiana Wesleyan University
Olivia Vanderlaan Indiana Wesleyan University
Nikoline Biltoft-Jensen Keiser University
Camryn Hudson Keiser University
Abby Ertz Midland University
Lilli Heaston Midland University
Annamaria Lowary Midland University
Rachel Connell Milligan University
Gabby MacPherson Milligan University
Liz Mahan Milligan University
Kaylee Williams Milligan University
Mackenzie Campbell Morningside University
Grace Holzerland Morningside University
Sydney Lueth Morningside University
Payton Miller Morningside University
Halle Briner Olivet Nazarene University
Kayla Deubel Olivet Nazarene University
Allison Pearson Olivet Nazarene University
Megan Schroeder Olivet Nazarene University
Anthea Mudanye Soka University of America
Leyre Antonanzas St. Ambrose University
Caitlin Pieroni St. Ambrose University
Rylie Steinkamp St. Ambrose University
Lauren Williams St. Ambrose University
Sydney Schmidt Sterling College
Kaylee Brosch University of Tennessee Southern
Maria Basto University of the Cumberlands
Kayana Cook University of the Cumberlands
Emma Lehmkuhl University of the Cumberlands
Hanne te Velthuis University of the Cumberlands
SwimSwam: NCAA Champions Douglass, Marchand Highlight 2022-23 CSC Academic All-District Teams