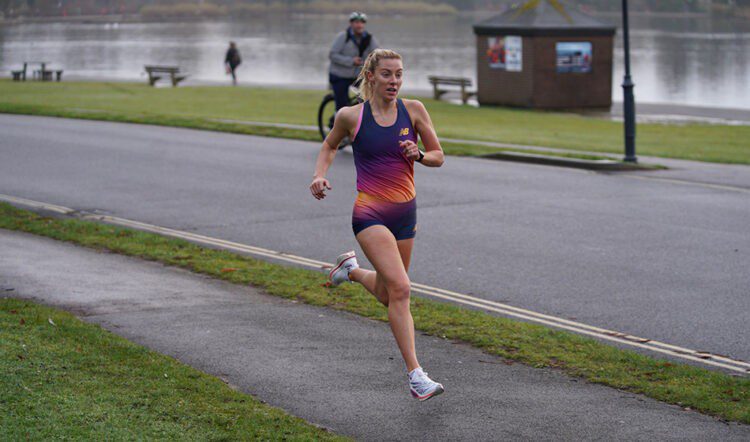 Middle-distance runner clocks fastest-ever time by a woman of 15:31 in Poole on Saturday
Melissa Courtney-Bryant sliced six seconds off Samantha Harrison's female parkrun 'world record' with 15:31 at the Poole parkrun held on Christmas Eve in Dorset.
The 29-year-old is from Poole and looks to be wintering well after beating a mark by Harrison which was set only three weeks earlier in Long Eaton.
Courtney-Bryant finished fifth overall at Poole as the first runner home was Daniel Mulryan in 14:53.
Courtney-Bryant's form has been improving through 2022 following an injury-hit spell that forced her to miss the Tokyo Olympics.
She made teams for the three major outdoor championships this year but was knocked out of the heats in the 1500m at the World Championships and European Championships and finished 10th in the Commonwealth Games final.
Her season's best of 4:04.13 was short of her PB of 4:01.81 set in 2020, but in November she placed 19th in the Euro Cross trials at Sefton Park and on Saturday (Dec 24) ran her quickest 5km away from the track, where she has run 14:53.82.
Prior to this winter, the best time by a woman in a UK parkrun was Charlotte Arter's 15:49 from Cardiff in 2020, whereas Australian Caitlan Adams held the 'world record' at Lochiel parkrun, Australia, in 2021 with 15:38.
Recent weeks have seen a few fast times with Clara Evans also clocking 15:49 at the Cardiff parkrun.
READ MORE: Fastest and slowest parkrun courses
Another leading athlete in form on Christmas Eve was Jake Wightman – the world 1500m champion stretching his legs with 14:39 at the Bushy Park parkrun in London just days after returning from altitude training in Flagstaff, Arizona.
Look out for more fast times over the festive period as well due to a number of parkruns holding events on Christmas Day and New Year's Day.
» For more AW news, CLICK HERE
Melissa Courtney-Bryant runs parkrun 'world record' appeared first on AW.