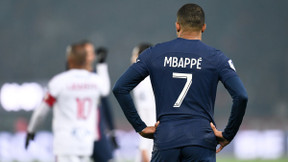 While Kylian Mbappé gave an unexpected rant following the video published by PSG for next season's subscription campaign, Spain obviously took up the matter. And on the other side of the Pyrenees, the message sent by the crack of Bondy is clear, his departure is inevitable, at the latest in 2024.
This controversy, no one saw it coming. THE PSG actually aired the launch video for its subscription campaign for next season. A video in which Kylian Mbappe is almost the only player highlighted. Which didn't please him at all. Through a message on Instagram, he therefore gave a huge rant.
Messi – Neymar: He takes revenge on PSG, Mbappé enrages https://t.co/dzBfB9okPT pic.twitter.com/7Wse3qWBRg

— 24hfootnews (@24hfootnews) April 6, 2023
Mbappé triggers a controversy
" I have just taken part in the viewing of the club's renewal campaign for the 2023/2024 season. At no time was I informed of the content of the interview with my interlocutor. It looked like a basic interview at a club marketing day. I disagree with this posted video. That's why I fight for individual image rights. PSG is a big club and a family, but it is certainly not the Kylian Saint-Germain "wrote the attacker of the PSG. And seen from Spain, it looks like the preparation for a close departure as the journalist explains Edu Aguirre.
"Mbappé is starting to prepare the ground to leave this summer"
" It's very clear to me. Mbappé is starting to prepare the ground to leave this summer. Mbappé begins to play his cards. I think there is very little chance that PSG will let him leave this summer and Mbappé would really have to force things so that Paris understands that the situation is unbreathable and agrees to negotiate with Real. But Real Madrid are not going to negotiate with PSG and do not want to enter into negotiations with PSG after what happened. What I am 100% sure of and it is information is that Mbappé will no longer be at PSG in the summer of 2024. Mbappé's story at PSG is coming to an end, it is a reality. It remains to be seen if it will be this summer or in 2024 ", he confides on the set of the Chiringuitos.