By Sophie Kaufman on SwimSwam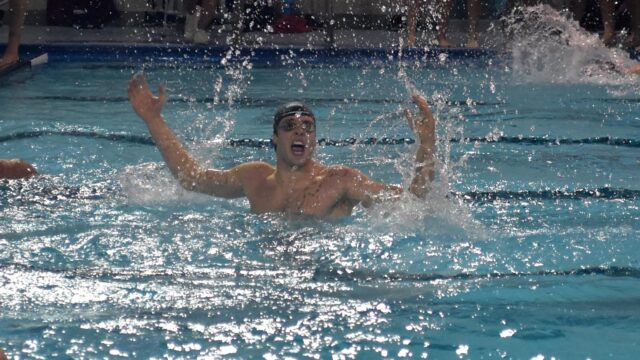 The NCAA season is back, and the dual meets are already electric.
The UNC-Wilmington Seahawks hosted the University of South Carolina Gamecocks over the weekend, and the men's meet was a nail-biter. UNCW was trailing with two events left, but then freshman William Carrico won the 400 IM, meaning that the meet was going to be decided by the final event of the day–the 200 free relay.
In front of stands packed with fans cheering for the home team, Noah Sipowski, Jacob Duracinsky, Mac Russell, and Kenneth Lowe clocked a 1:22.35, edging out the Gamecock relay (1:22.86) to deliver the Wilmington men's first win over South Carolina since 2002.
Told our team that I don't think I've ever had that much fun on this pool deck. It was loud & electric.

It was a pleasure to share the deck with my high school coach @Jeffpoppell and his great up and coming team @GamecockSwmDive

Good luck to USC for the rest of the season! pic.twitter.com/s1waI0XH6X

— Bobby Guntoro (@bobbygunt) September 30, 2023
Courtesy: Bobby Guntoro (via @bobbygunt on Twitter)
UNCW 200 Free Relay Splits
South Carolina had the lead by three-hundredths after the first 50, and had widened the gap by the halfway mark. Russell powered the Seahawks to a lead of .11 seconds at the final exchange. Then, Lowe widened their lead on his anchor leg, securing the event and meet wins by .51 seconds.
Last season, these teams faced off in January; however, UNCW did race Tennessee at this same time last year, and this relay is 1.44 seconds faster than the 1:23.79 the team put up against the Volunteers. Sipowski is the only one of this quartet who was on last season's relay, and he split 20.62 on the second leg.
Sipowski, Duracinsky, and Russell–a transfer from Kentucky–are all juniors, while Lowe is a senior. Sipowski was second in the 50 free at the 2023 CAA Championships in a personal best 19.92. Meanwhile, Duracinsky won both the 100 free (43.37) and 200 free (1:35.17). The Seahawk men are the two-time defending CAA champions.
Related:
ABOUT LIVEBARN
LiveBarn is the global leader in live streaming of amateur and youth sporting events and is the official supplier of live and on-demand video streaming services for swimming pools utilized by USA Swimming member clubs. LiveBarn works directly with USA Swimming clubs to install their Live Streaming technology in pools across the country. LiveBarn is installed in over 1,200 venues broadcasting over 2,700 streams with additional partners added weekly. As a global company, they provide live streaming from US, Canada, Sweden and Israel, broadcasting swimming, ice hockey, baseball, basketball/volleyball and soccer. To learn more, please visit livebarn.com.

FOLLOW LIVEBARN
LiveBarn is a SwimSwam partner.
SwimSwam: LIVEBARN Race of the Week: UNCW Men Claim 200 FR Relay and Meet Against South Carolina