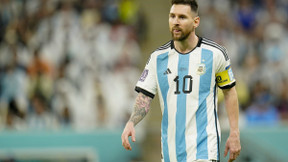 Official biographer of Lionel Messi, Guillem Balague has spoken out about La Pulga's post-career. And according to the Spanish journalist, the number 30 of PSG should remain in the world of football, but not as a coach. It is rather towards a career as a sports director that Lionel Messi is heading.
As revealed exclusively by 24hfootnews.com, the extension of Lionel Messi to PSG has been discussed for several months. But even if it were to succeed, it would be for a short time. And for good reason, from the height of his 35 years, the world champion must start thinking about his retraining. And his biographer, Guillem Balague predicted to Lionel Messi a career as a sports director.
PSG: "A disaster for the collective", Messi takes a lot https://t.co/ZCDb2md4em pic.twitter.com/ghwbH5hqq8

— 24hfootnews (@24hfootnews) February 1, 2023
What conversion for Messi?
" Even if he can sometimes give his opinion when the coach asks him, he is not the type to then intervene in the tactical reflections of a coach and his staff or with his teammates in the locker room. ", explains the Spanish journalist in an interview granted to 20 minutes before imagining Lionel Messi in the shoes of a sports director.
"He will remain in football, but no longer as a sports director"
" But when you talk about football with him, you realize his knowledge of the game, he analyzes well and very quickly, he watches a lot of matches, mainly the Argentinian and Spanish championship. That's why I think that once his career is over, he will stay in football, but more as a sporting director than as a coach because he is above all someone who knows how to recognize talent in others. », adds Guillem Balague.