By Braden Keith on SwimSwam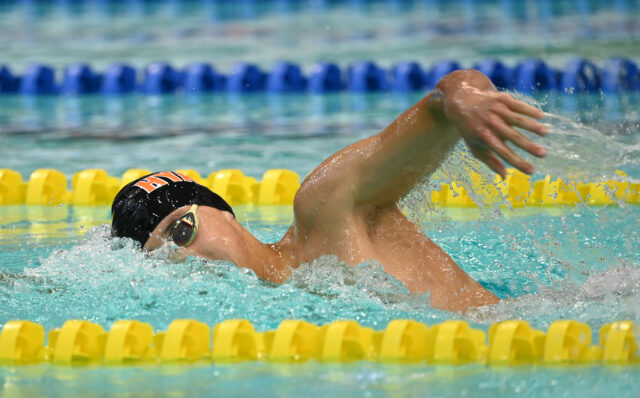 2023 CANADIAN SWIMMING TRIALS
March 28 – April 2, 2023
Toronto Pan Am Sports Centre – Toronto, Ontario
TPASC
Long Course Meters
14-year old Laon Kim from the Hyack Swim Club in British Columbia continued his decimation of the Canadian Age Group Record books on Thursday morning with a new 13-14 national record in the 50 free.
Kim swam 23.65 to tie for 19th in prelims. With 10 swimmers per final, that swim will bypass the junior final and put him into the B-Final on Thursday evening.
That cracks his own record of 23.81 set in early March. The prior record holder was Josh Liendo, who is Canada's top current male sprinter, thanks to a 24.27 from 2017. Before Liendo, the record of 24.39 (Yannick Lupien) had stood since 1994.
Kim entered the meet holding the Canadian Age Records for boys from the 50 free through the 800 free. So far this week, he has relowered his record in the 400 free twice (4:01.28 in prelims, 3:56.79 in finals to win); and the 800 free (8:17.16). All four of his swims so far at the meet (he scratched prelims of the 100 fly) have been 13-14 Records.
He still has remaining swims in the 200 IM, 100 free, 400 IM, 200 free, and 1500 free. The 1500 free is the only of the freestyle events in which Kim does not hold the Canadian Age Group Record for 13-14s: the legendary Alex Baumann's 16:00.93 from 1979 still survives.
SwimSwam: Laon Kim Breaks Another Canadian 13-14 Record, 4-for-4 This Week in Toronto