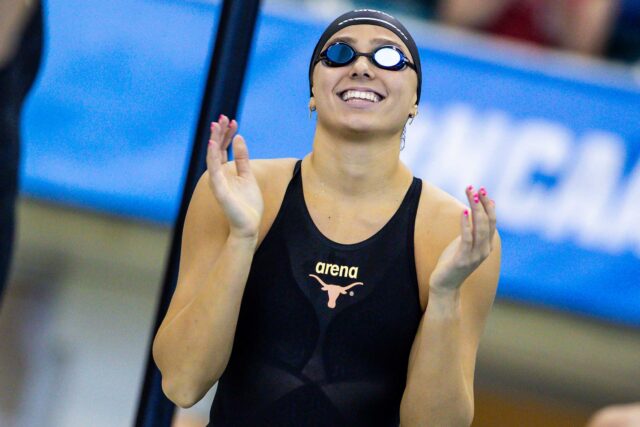 Texas vs. NC State
January 27 to 28, 2023
Lee & Joe Jamail Texas Swimming Center, Austin, Texas
SCY (25 yards)
On Friday at the Texas vs. NC State dual meet, Texas senior Kelly Pash swam a massive time of 1:42.73 in the 200 free, which overtakes Taylor Ruck's 1:43.11 as the fastest time in the NCAA. Pash is the first woman to break 1:43-point in the 200 free and one of the seven swimmers to go an NCAA-leading time in January (alongside Erica Sullivan, Kate Douglass, Kristen Stege, Leon Marchand, Grant House, and Gretchen Walsh).
Pash's best time currently stands at a 1:42.38, from when she finished third at the 2022 NCAA Championships. Her season-best prior to today was a 1:43.40, which had made her second in the nation behind Ruck.
Within her race today, Pash dominated, beating out her teammate and second-place finisher Olivia Bray by over two seconds. Bray still had an impressive swim of her own, clocking a personal best time of 1:44.94. Her previous best prior to today was a 1:45.10 from the Minnesota Invite.
Top Performs, 2022-23 NCAA Season, Women's 500 Free:
Kelly Pash, Texas — 1:42.73
Taylor Ruck, Stanford — 1:43.11
Brooklyn Douthwright, Tennessee — 1:43.60
Chloe Stepanek, Texas A&M — 1:43.83
Amy Fulmer, Ohio State — 1:44.04
You can watch the race video here:
Compared to NCAAs, Pash was slightly faster on both her first 50 and last 50, but slower by a larger margin on the middle 100—which accounted for the difference between the two swimmers. That being said, her in-season speed could give her the momentum to break the 1:42-point barrier or even become the national title favorite headed into NCAAs.
Comparative Splits, Texas vs. NC State 2023 vs. NCAAs:
| | | |
| --- | --- | --- |
| | Kelly Pash, Texas vs. NC State, 2023 | Kelly Pash, 2022 NCAA Championships |
| 50y | 23.81 | 23.92 |
| 1o0y | 26.06 | 25.84 |
| 150y | 26.40 | 25.97 |
| 200y | 26.46 | 26.65 |
| Total | 1:42.73 | 1:42.38 |
SwimSwam: Kelly Pash Swims NCAA-Leading 1:42.73 200 Free At Texas-NC State Dual Meet