By Riley Overend on SwimSwam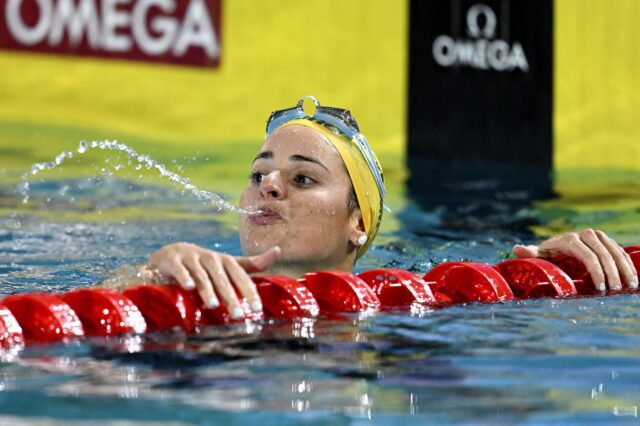 2022 FINA SHORT COURSE WORLD CHAMPIONSHIPS
Tuesday, December 13 to Sunday, December 18, 2022
Melbourne Sports and Aquatics Centre, Melbourne, Australia
SCM (25m)
Psych Sheets (Updated)
Kaylee McKeown's 200 backstroke victory in 1:59.26 just missed breaking her own world record from two years ago, but she still made history on Sunday at the 2022 Short Course World Championships. 
The 200 back win solidified McKeown as the first woman ever to concurrently hold Olympic, Commonwealth, long-course world, and short-course world titles in the same event. 
The 21-year-old Australian almost achieved the feat in two events, but the LCM 100 back world record holder scratched her specialty event at Worlds this summer to focus on the 200 IM (where she took silver behind Alex Walsh). 
McKeown joins fellow Aussie world record holder Grant Hackett as the only swimmers to have won the same event at each of those four major competitions. Of course, by adding the Commonwealth Games to that list, about three-quarters of the world is effectively excluded from the criteria since only the 54 countries that are members of the Commonwealth of Nations compete there. 
What made Hackett's achievement so impressive was that he essentially accomplished the sweep twice across multiple Olympiads. He triumphed in the 1500 free at every major competition from the 1998 World Championships through the 2004 Olympics. 
"I had no idea, and it's pretty surreal," McKeown said after the race. "To be up there with someone like him, it's phenomenal."
Defending her titles could only get more difficult as the target on her back grows bigger with each success. Fortunately for McKeown, the next three major competitions (2023 Worlds, 2024 Worlds, 2024 Olympics) all take place in the larger 50-meter pool, which she said she prefers. 
"I was the chaser (before Tokyo) … and now I have all these girls wanting to chase me," she said. "I just have to put myself back in that position and realize, hey, just because I've done this in my career, it doesn't mean it's going to be given to me the next time I step up to do it."
Swimming in front of home fans in Melbourne, Australia, McKeown secured three gold medals at Short Course Worlds this week. On top of the 200 back, she picked up victories in the 100 back and 4×50 medley relay. Earlier in the meet, she also shaved a tenth of a second off her own Australian record in the 200 IM to become the country's first short-course IM medalist since 2006. 
SwimSwam: Kaylee McKeown Becomes 1st Woman to Concurrently Own Olympic, World, CG, and SCW Titles