By Braden Keith on SwimSwam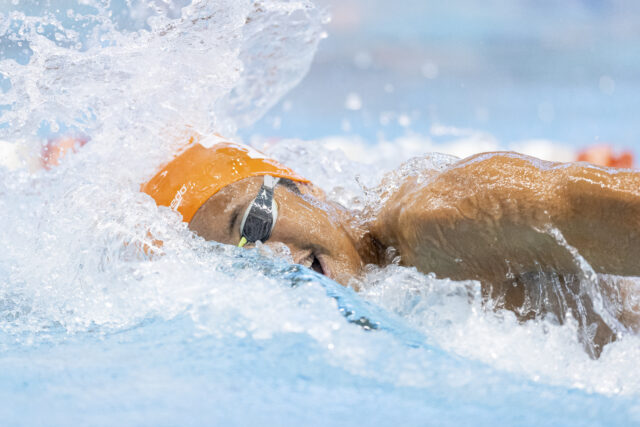 2023 SEC SWIMMING & DIVING CHAMPIONSHIPS
Tuesday, February 14 – Saturday, February 18, 2023
Rec Center Natatorium, College Station, TX
Defending Champions:

Women: Tennessee (1x)
Men: Florida (10x)
University of Tennessee sophomore Jordan Crooks became the second man to swim a 17-point in the 50 yard freestyle on Wednesday evening, winning a second consecutive SEC title in 17.92.
He now sits behind only a pair of swims by Caeleb Dressel at the 2018 NCAA Championships on the all-time lists. Dressel first broke into the 17s on a leadoff leg in finals of the 200 free relay, with a 17.81, and then in the individual event final, he laid down that indomitable 17.63 that is burned into the minds of American swim fans.
Crooks is now the fastest sophomore in the history of the event, clearing the 18.20 that Dressel swam at the 2016 NCAA Championships. Crooks is older than Dressel was as a sophomore (he's approximately 20 years, 9 months old, Dressel was 19 years, 7 months old at NCAAs that year), but that matters less-and-less as Crooks approaches Dressel's mind-boggling senior year times.
Remember that Dressel didn't go sub-18 seconds in the 50 free until he was 21 years, 7 months old.
ALL-TIME PERFORMERS, MEN'S 50 SCY FREESTYLE
Caeleb Dressel, University of Florida – 17.63
Jordan Crooks, University of Tennessee – 17.92
Bjorn Seeliger, Cal – 18.27
Ryan Hoffer, Cal – 18.33
Josh Liendo, University of Florida – 18.35
Cesar Cielo, Auburn – 18.47
Matt Target, Auburn – 18.52
(TIE) Brooks Curry, LSU/Ryan Held, NC State – 18.56
–
(TIE) Matthew Brownstead, Virginia/Drew Kibler, Texas – 18.60
Crooks remains in the #2 all-time performers slot that he first earned in prelims on Wednesday with an 18.25. He also becomes the first man to swim a 17-point 50 freestyle outside of an NCAA Championship meet.
Crooks' swim breaks the SEC Meet Record of 18.23 that was set at the 2016 Championship by then-sophomore Caeleb Dressel. It also breaks Crooks' own Pool Record of 18.25 from prelims. Prior to the meet, the pool record was Nathan Adrian's 18.71, set at the infamous super-suited 2009 NCAA Championships in College Station.
Crooks, a native of the Cayman Islands, won the World Short Course Championship in the 50 free in December. He finished 3rd at NCAAs last year in 18.60, which was a slight add from the 18.53 that he swam at the SEC Championships.
RACE VIDEO:
SwimSwam: Jordan Crooks Becomes Second Man Ever to Swim 17-Point in the 50 Yard Free (RACE VIDEO)