By Spencer Penland on SwimSwam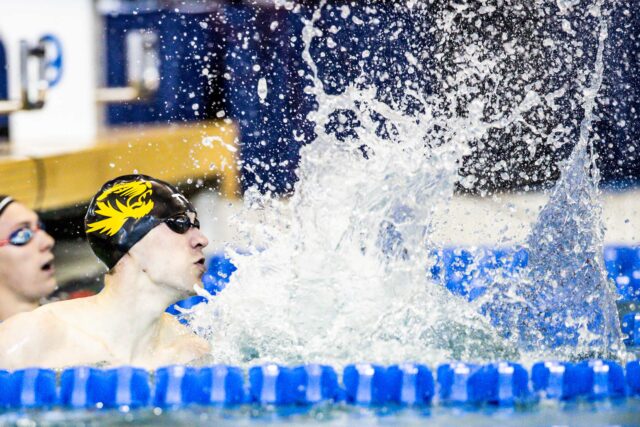 MIZZOU vs SOUTHERN ILLINOIS (MEN'S & WOMEN'S DUAL)
Friday, January 27, 2023
Mizzou Aquatic Center, Columbia, MO
SCY (25 yards)
TEAM SCORES
MEN
Mizzou – 190
SIU – 99
WOMEN
Mizzou – 199
SIU – 88
Mizzou hosted Southern Illinois for a men's and women's dual meet today in Columbia, beating the Salukis handily in both the men's and women's meets.
Jack Dahlgren popped off a season best 1:40.66 on the men's 200 backstroke, winning the race by six seconds. Dahlgren is now tied with Indiana's Brendan Burns for ninth in the NCAA this season with that performance. He was within two seconds of his personal best in the event, which sits at 1:38.85 from last year's NCAA Championships. Dahlgren swam that time in prelims at NCAAs, qualifying him for the 'A' final, where he would finish sixth with a 1:40.17.
Dahlgren also won the 50 free today, posting a 19.72. That event marked one of SIU's top performances of the day, as Donat Csuvarszki finished second in 19.93.
Mizzou's Clement Secchi also had a great performance on the day, speeding to victory in the men's 200 fly with a 1:43.25. Teammate Jan Zubik was close behind, swimming a 1:44.41 for second. Secchi would go on to win the 100 fly in 46.05, that time winning the race by a massive margin.
Fernanda Goeij was a double event winner for the Tigers as well, first taking the women's 200 back in 1:57.22. She then went on to win the women's 400 IM in 4:16.90.
Freddie Rindshoej took home a pair of victories as well. Rindshoej won the men's 200 free in 1:36.89, then clocked a 2:00.07 to win the men's 200 breast.
Molly Gowans (Mizzou) kicked things off with a 1:47.28 to win the women's 200 free comfortably. She then toon the women's 500 free in 4:50.84.
Jane Smith (Mizzou) won the women's 1000 free by a gigantic margin, finishing in 10:04.82 to touch first by nearly 40 seconds. Malin Grosse (Mizzou) also swept the women's breaststroke events, winning the 100 in 1:00.64, then the 200 in 2:10.73.
Southern Illinois picked up a win in the men's 100 back, where Ruard Van Renen blasted a 46.95 to win.
OTHER EVENT WINNERS
Men's 200 medley relay: Mizzou (Rees, Grosse, Hanson, Gill) – 1:38.69
Men's 200 free relay: Mizzou (Dahlgren, Patton, Secchi, Hammer) – 1:24.51
Women's 200 medley relay: Mizzou (Moderski, Gill, Smith, Fedderson) – 1:30.74
Women's 200 free relay: Mizzou (Wilson, Hammer, Patton, Bochenski) – 1:19.17
Men's 1-meter diving: Lee Haywood (SIU) – 283.45
Men's 3-meter diving: Carlo Lopez (Mizzou) – 350.40
Women's 1-meter diving: Kamryn Wong (Mizzou) – 270.95
Women's 3-meter diving: Kamryn Wong (Mizzou) – 296.65
Men's 1000 free: Jibran Himsieh (Mizzou) – 9:21.76
Women's 100 back: Meredith Rees (Mizzou) – 52.90
Men's 100 breast: Eric Storms (Mizzou) – 53.76
Women's 200 fly: Brecken Merkel (Mizzou) – 2:00.59
Women's 50 free: Sierra Smith (Mizzou) – 23.19
Women's 100 free: Alex Moderski (Mizzou) – 49.69
Men's 100 free: Daniel Wilson (Mizzou) – 43.75
Men's 500 free: Ben Louis (Mizzou) – 4:28.09
Women's 100 fly: Taylor Williams (Mizzou) – 53.38
Men's 400 IM: Jakob Nissen (Mizzou) – 3:53.03
SwimSwam: Jack Dahlgren Pops Off 1:40.66 200 Back in Mizzou Dual Meet with Southern Illinois