By Anne Lepesant on SwimSwam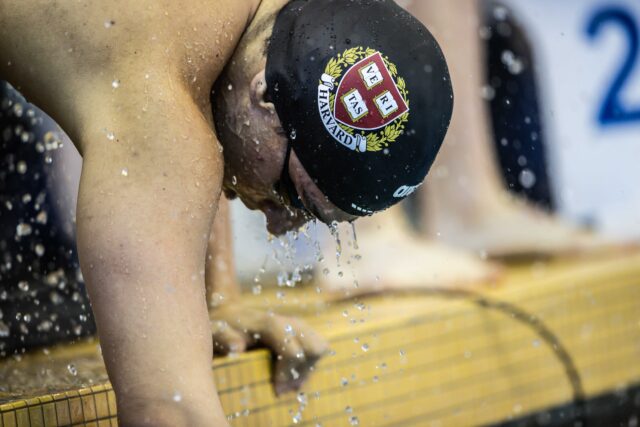 Harvard University vs. Princeton University vs. Yale University Double Dual Meet
January 27-28, 2023
Blodgett Pool, Cambridge, MA
SCY (25 yards)
Team Scores

Harvard (M) 181-Princeton (M) 172
Harvard (M) 239-Yale (M) 113
Princeton (M) 231-Yale (M) 122
The Harvard men won the annual HYP meet against its ivy foes, Princeton and Yale, for the fifth consecutive time on Saturday. Harvard did away with Yale, 239-113, but the dual against Princeton came down to the last two events. The Crimson pulled out a thrilling 181-172 victory over the Tigers and thus ended the dual meet season with a 7-0 league record. They take home the 2022-23 Ivy League dual meet crown, but the Ivy League champion will be determined at the conference meet on February 22-25, 2023 at Brown.
Harvard won all four relays, earning valuable points each time. Umit Gures (19.81), Ryan Linnihan (19.76), David Greeley (19.60), and Marcus Holmquist (19.87) kicked off the meet with a 1:19.04 in the 200 free relay, just off their season-best time from the Minnesota Invite. Gunner Grant (47.05), Jared Simpson (52.62), Gures (45.74), and Holmquist (42.51) combined to take 2.3 seconds off their best time of the season to win the 400 medley relay in 3:07.92. In the 200 medley relay, Anthony Rincon (21.97), Saavan Shah (24.13), Gures (20.06), and Greeley (19.65) won with 1:25.81. And in the 400 free relay, with the HYP title on the line, Harvard eked out a win from Linnihan (44.22), Greeley (43.90), Aayush Deshpande (43.47), and Homquist, thanks in large part to a 42.74 anchor from Holmquist.
Harvard went 1-2 in the 100 back with Grant (46.53) and Rincon (47.39); the latter getting his hand to the wall .02 ahead of Princeton's Tyler Hong. Grant also won the 200 back by 1.3 seconds over Hong, 1:42.22 to 1:43.50. Rincon was third (1:44.37).
Gures won the 50 free (19.60); the only other sub-20 was Yale's Joe Page (19.97). Holmquist won the 100 free individual event with 43.78, edging Page by .11. Princeton's Max Walther (44.16) and Mitchell Schott (44.22) both held off Linnihan (44.24). Gures also secured a big win in the 100 fly (45.68), beating Connor Lee of Yale by nearly seven-tenths.
Yale sophomore Noah Millard was key for the Bulldogs, earning wins in the 200 free (1:34.38), 400 IM (3:48.94), and the 500 free (4:19.28).
Princeton's Raunak Khosla went 52.61 to win the 100 breast by nine-tenths. He was nearly 3 seconds faster than second-place Alex Deng of Yale in the 200 breast, touching in 1:54.97. And, finally, in the 200 IM (1:44.86), he was 1.5 seconds faster than runner-up Grant of Harvard. Nicholas Lim beat the field by 1.9 seconds in the 200 fly with 1:44.03. Princeton went 1-2-4 in the 1000 free with performances from John Ehling (8:59.95), Dylan Porges (9:00.91), and Hunter Kim (9:06.20). Lucas Strobek came in second in the 400 IM with 3:51.52. Schott (4:22.02), Ehling (4:22.11), and Porges (4:22.90) finished 2-3-4 in the 500 free.
Princeton twins Taso (355.30 points) and George (327.45) Callanan went 1-4 on the 3-meter board, while Harvard's Adam Wesson (337.95) and Yale's Aidan Thomas (328.45) picked up second and third places. Wesson came out on top in 1-meter diving with 337.20 points. Teammate Luke Foster (319.80) was third, while Princeton's Taso Callanan (320.50), Joe Victor (310.85), and George Callanan (298.00) finished 2-4-5.
The Ivy League Championships have been dominated by Harvard and Princeton, who have finished either first or second every year since 1991, with the exception of 2017 when the Princeton team was benched for disciplinary reasons. Harvard has won the last five consecutive league titles.
SwimSwam: Harvard Men Sweep Princeton and Yale at 2023 HYP Tri-meet in Cambridge