By Nicole Miller on SwimSwam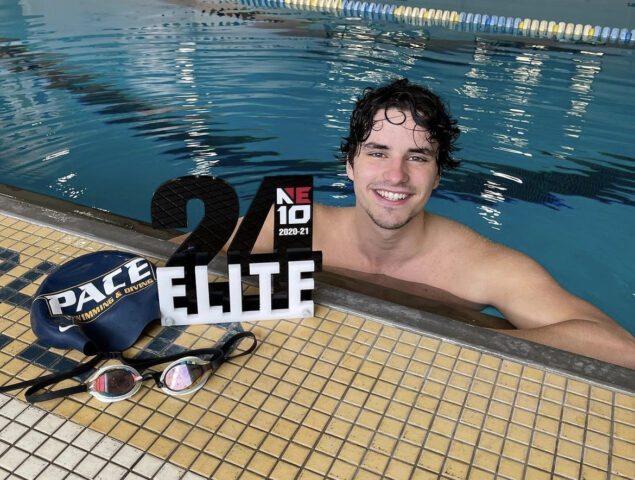 Former Pace University swimmer Brian (Bates) Batesy recently competed on Paramount's new reality TV dating show Love Allways. 
The plot of the show follows the story of 7 men and 7 women pursuing pansexual bachelorette Lexi Paloma. Like the hit reality series "The Bachelor", Paloma must eliminate one contestant per episode, narrowing her dating field until she can identify her "true love". The contestants are split up into two teams under the leadership of dating coaches Spicy Mari and Anthony Recenello, with the coaches directing Paloma and the other contestants in their dating endeavors. 
Batesy, who competed under the surname Bates, is a native of Norwell, Massachusetts. According to his page on the Pace University Swimming and Diving roster, he most recently competed during the 2020-2021 season. During his time at Pace, Batesy received the NE10's Elite 24 Award for having the top GPA of all men's swimmers and divers, was a multi-time NE10's Academic Honor Roll recipient, and finished as high as 11th in the 200 freestyle at the 2020 NE10 Championships. He graduated from Pace with a degree in Digital Cinema & Filmmaking in 2021. 
Prior to his time at Pace University, Batesy completed the first two years of his undergraduate degree at NCAA DI St. Peter's University in New Jersey, transferring after the 2018-2019 NCAA season. Batesy spent a majority of his teenage years competing for the South Shore YMCA Strypers, which is notably also the former club team of another reality TV star, Emma Hernan from the show Selling Sunsets. The pair did not compete for the club at the same time. Batesy later moved to Webb's Tornadoes Swim Team prior to entering the NCAA. 
Best Times SCY: 
50 Freestyle: 22.84

100 Freestyle: 50.03

200 Freestyle: 1:50.86
Since graduating, Batesy has moved to Los Angeles and has made appearances on multiple TV shows, mostly in minor or cameo roles, including the Netflix show Bridgerton. He also holds a TikTok following of 352,100 and has over 74,000 Instagram followers.

According to Batesy, the show is "a must watch, [representing] a great group of LGBTQIA+ people."
He also added that his experience in the pool contributed to his openness to exploring his sexual identity, "Since I was around so many supportive people on my YMCA, Webb's, Saint Peter's University, and Pace University swimming teams I never needed to have a "come out", love is love and in embodying that I just decided that being pansexual/ bisexual was my community," 
Batesy said his swimming experience helped him in the slip-n-slide challenge shown on episode two of the show. 
The first three episodes of Love Allways are available to stream on Paramount+, with one new episode added every Friday. The base plan for Paramount+ currently costs $4.99 per month, with a 7 day free trial available for new customers. 
SwimSwam: Former Pace Swimmer Brian Batesy Competes on New Paramount+ Reality Show Love Allways