By Anya Pelshaw on SwimSwam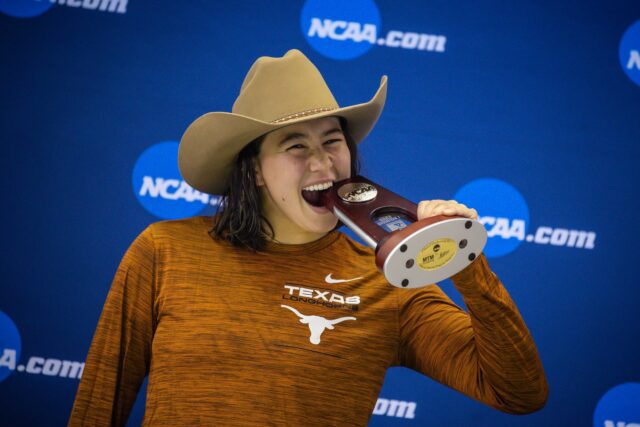 TEXAS VS. NC STATE
January 27 to 28, 2023
Lee & Joe Jamail Texas Swimming Center, Austin, Texas
SCY (25 yards)
Texas sophomore Erica Sullivan swam a 4:35.88 in the 500 free tonight suited up on day one of the two-day dual meet between Texas and NC State.
Sullivan led from start to finish, out in a 1:48.58 at the 200 mark, flipping in a 2:16.54 at the 250 mark, and coming home in a 2:19.34 on the second 250. She won the event by over six seconds.
Sullivan now takes over the #1 time in the NCAA so far this season by two and a half seconds. That mark was previously held by Virginia's Alex Walsh who swam a 4:38.34 at midseason. Sullivan previously sat at second behind Walsh as she swam a 4:39.26 during midseason.
Top Times in the NCAA so far this season 2022-2023
Sullivan has a personal best time of 4:34.07 in the event which comes from April 2021. Notably, she was faster today than she was at last year's NCAA Championships when she swam a 4:35.92 for third.
Her time today still would have finished third at the NCAA Championships as Lia Thomas swam a 4:33.24 for first and Emma Weyant was second in a 4:34.99. Although Sullivan's time is the top time in the NCAA so far this season, it would not make the top 25 performers in the event all-time (where Sullivan's best time of 4:34.07 puts her at 22nd).
Sullivan's time of 15:58.97 in the 1650 free from midseason currently sits at #3 in the NCAA. She was second in that event at last year's NCAAs in a 15:45.94.
SwimSwam: Erica Sullivan Swims 4:35.88 500 Free for #1 in NCAA this Season