By Coleman Hodges on SwimSwam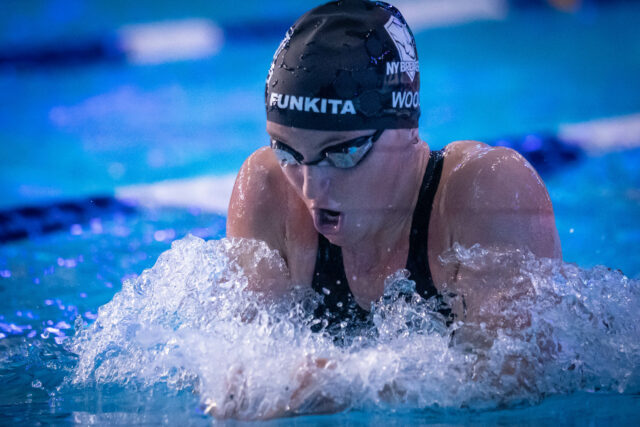 Looking for a job in swimming! Go here to see 4,291 Swim Jobs.
Coach for the Cortland Adapted Swim Team, Assistant Coach for the varsity Swimming and Diving teams
DURANGO SWIM CLUB – HEAD COACH
The Durango Swim Club (DSC) is seeking qualified applicants for a full-time, salaried Head Coach for its USA Swimming Club Team.  DSC is a USA Swim Club and operates as a 501c3 non-profit organization overseen by a volunteer Board of Directors.
HEAD SWIM COACH – AGE GROUP (CLUB)
Mavericks Swim Team is seeking an enthusiastic full time or part head coach to unify and lead our youth and junior club swim team. Mavericks is a community club team that develops swimmers at all levels up to 18 years of age.
Kenyon College invites applications for the position of Assistant Swimming Coach working with both the Men's and Women's teams. The position is a full-time 10-month appointment with flexibility to set work hours appropriate to the needs of the program. The position also includes a generous benefits package.
ASSISTANT COACH, SWIMMING & DIVING AND AQUATICS COORDINATOR
Wittenberg University is seeking applications for an Assistant Coach for Swimming & Diving and Aquatics Coordinator. This individual will assist the head coach in leading all aspects of an NCAA Division III Men's and Women's Swimming & Diving program, as well as lead the operational aspects of the aquatics operations.
HEAD AGE GROUP COACH – FULL TIME (W/ BENEFITS) – TOPEKA SWIMMING ASSOCIATION
The Topeka Swim Club is looking for an enthusiastic and energetic coach who is eager to play an intricate role in continuing progress and development of our age group athletes.  This coach should be excited to learn from the Head Coach while taking ownership and collaborating to create plans that develop their groups technique and training progression
ASSISTANT COACH- ANNAPOLIS SWIM CLUB
Annapolis Swim Club (ASC) is seeking coaches for the upcoming summer and 2023-2024 Season! We are looking for both lead group coaches and assistant group coaches to help expand the leadership of our growing team. Currently, we are seeking age group level coaches (athletes primarily ages 9-13) as well as senior group level coaches (athletes primarily ages 14-18). Positions are currently set as part time-hourly positions but could become full-time with the correct candidate.
Huntsville Swim Association (HSA), a USA Swimming Bronze Medal Club with over 40 years of excellence in swimming in Huntsville, Alabama, is looking to fill the position of Age Group Coach.
HEAD WOMEN'S AND MEN'S SWIM AND DIVE COACH
University of the Incarnate Word is a Catholic institution that welcomes to its community persons of diverse backgrounds, in the belief that their respectful interaction advances the discovery of truth, mutual understanding, self-realization, and the common good.
The Assistant Swimming Coach reports to the Director of Swimming and Diving and assists with the coaching and training of the Swimming and Diving Team.
Mass Audubon is the largest nature-based conservation organization in New England. Founded in 1896 by two women who fought for the protection of birds, Mass Audubon carries on their legacy by focusing on the greatest challenges facing the environment today: the loss of biodiversity, inequitable access to nature, and climate change.
HEAD BOYS & GIRLS SWIM COACH-MICHIGAN CITY HIGH SCHOOL (IN)
Michigan City (IN) High School is now accepting applications for the available position of Head Boys & Girls Swim Coach.  This is a part-time position with teaching positions and other full-time opportunities also available.  More detail is attached below.
HEAD MEN'S & WOMEN'S SWIMMING COACH
This is a full-time, 12-month position responsible for all phases of the swimming program in a manner compatible with department and University philosophies.
TRITONWEAR SEEKS ACCOUNT MANAGER
At TritonWear, we are the #1 swimming analytics platform helping coaches coach better, and swimmers swim faster. Our patented devices and AI-based auto-coaching tools guide teams on precisely what they need to do to improve. Using swimming as our $16B beachhead into the market, our products are being used by thousands of athletes globally in over 60 countries ranging from grassroots beginners up to Olympic Gold Medalists – including 30+ National Olympic Federations heading into the Tokyo 2021 Olympics.
DIRECTOR OF ROADRUNNER AQUATICS / SENIOR COACH
Position – Director of Roadrunner Aquatics / Head Senior Coach. Roadrunner Aquatic is owned and operated by CSUB Director of Swimming and Diving Coach, Chris Hansen
GRADUATE ASSISTANT COACH (DIVING)
his position will report to the Director of Men's and Women's Swimming/Diving and Aquatic facility.  The position includes, but is not limited to, duties assigned by the head coach, administrating all phases of a NCAA Div. I swimming and diving program, including recruitment of student-athletes, monitoring academic progress, administration duties, on deck-coaching and meet preparations.  In addition, must comply with all NCAA, institutional and MPSF rules and regulations.
HEAD AGE GROUP COACH – FULL TIME (W/ BENEFITS) – BELLINGHAM BAY SWIM TEAM
We are seeking a Head Age Group Coach to help lead our competitive swim team into the bright future. BBST is a USA Swimming team with a 25-year+ history. We currently have 160 swimmers in thirteen progressive training groups:  Blackfish, Bronze, Silver, Gold, Junior, & Senior that train year-round with a staff of 9 certified coaches.
SWIMSWAM SEEKS GRAPHIC DESIGNER/VIDEO EDITOR/SOCIAL MEDIA COORDINATOR
SwimSwam is adding a part-time graphic designer and video editor to their staff! The candidate must be a social media user. Ideally, the candidate has an understanding of swimming and sports culture, but high level skill and impressive examples of work matter more.
HURRICANE PENGUINS ASSISTANT COACHES
Our Swim Club is a year-round USA Swimming, Michigan Swimming, competitive swim club offering high quality Professional Coaching and Technique Instruction for all ages and abilities. Our coaches' mission to provide quality stroke instruction along with teaching sportsmanship, teamwork, a strong work ethic, and the love of competition. We are also a non-profit organization run by a volunteer Board of Directors.
KATY AQUATICS – KATY, TEXAS – LEAD AGE GROUP SWIMMING COACH/LEAD SITE COACH
Katy Aquatics is currently accepting applications for a full-time age group coach to serve as a Lead age group coach. Katy Aquatics is located west of Houston, TX. Katy Aquatics is a fast-growing program with over 600 competitive swimmers and a SwimAmerica program that teaches over 2000 lessons per month.
The Swim Director will plan, direct, and implement activities in Camp Cody's swimming Program. Overseeing all health and safety, risk assessments, and maintenance of the swimming equipment and area, while delivering lessons and coordinating swimming into the entire camp program.
HEAD AGE GROUP COACH/ASST. SENIOR COACH
The Greater Pensacola Aquatic Club (GPAC), a member of USA and Southeastern Swimming, is seeking qualified candidates for the position of Head Age Group Coach/Assistant senior coach.
DURANGO SWIM CLUB – HEAD COACH
The Durango Swim Club (DSC) is seeking qualified applicants for a full-time, salaried Head Coach for its USA Swimming Club Team.  DSC is a USA Swim Club and operates as a 501c3 non-profit organization overseen by a volunteer Board of Directors.
DIVING COACH – FLORIDA GULF COST UNIVERSITY – FORT MYERS, FL
Located in Southwest Florida between the Florida Everglades and the Gulf of Mexico, we offer an exceptional environment for learning. Half of our 800 acres is preserved or restored nature. Our campus and region serve as a living laboratory where life-enhancing discoveries are made.
ASSISTANT SWIM COACH (CONTRACT POSITION)
The Assistant Swim Coach assists the Head Swimming & Diving Coach in the planning and operation of the men's and women's swimming and diving teams. This position is responsible for the training and recruitment of men and women swimmers and assists in all aspects of the team as assigned by the head coach. As well as identifying, recruiting, and yielding student-athletes in accordance with Auburn University and the NCAA guidelines.
Camp Skylemar, a sports camp in Maine, has job/internship openings for swim coaches/instructors this summer.   Skylemar is a 6-week sports-oriented program for boys that brings together college students, coaches, and teachers who hope to positively impact the next generation.
FULL-TIME DIRECTOR OF OPERATIONS/HEAD COACH
We are seeking an enthusiastic and experienced individual to join our team as the Director of Operations/Head Coach, with high school coaching opportunities available packaged at a competitive salary.  The ideal candidate will possess strong leadership, organizational, and communication skills, along with a proven record of success in coaching competitive swimmers.
HEAD AGE GROUP COACH- ALPHA AQUATICS
Alpha Aquatics is a nationally competitive swim team of 200+ athletes located in west Los Angeles in the El Segundo and Westchester areas. The team focuses on creating a fun, energized, race paced training environment for all levels from beginner to Jr National and Sr National levels.
ASSISTANT MEN'S AND WOMEN'S SWIMMING COACH
Assist Head Men's and Women's Swimming Coach with the daily operation of the swim program and the recruitment of student-athletes. Perform additional coaching or administrative assignment and teach for the department as requested.
The Kansas Swimming & Diving Assistant Coach will be responsible for helping to strengthen a program that competes successfully at the Big 12 and national level.  Primary responsibilities are to coach an assigned training group, recruit highly competitive prospective student-athletes, and support the goals of the program as set by the Head Coach.
Dordt University has a full-time opening for a Head Swimming Coach who will provide leadership in the planning, organizing, and coaching of the inaugural Dordt University swimming team.
Directs and supervises program activities to meet the needs of the community and fulfill METS objectives. Develops and maintains collaborative relationships with other Ozark teams and community organizations.
GRADUATE ASSISTANT SWIM COACH (TWO POSITIONS)
The Graduate Assistant Coach will perform the responsibilities directed by the head coach and assistant coaches as a swim coach and assistant for administrative tasks. The successful candidate will also be assigned administrative tasks as the lead on. Technological proficiency would be an asset. The successful candidate will be a positive influence on the swimming and diving team and an effective leader.
ASSISTANT COACH, SWIMMING AND DIVING
Oakland University Athletics is a Division I program committed to academic and athletic excellence. Our Athletics Department is looking for a highly organized, driven and detail oriented individual to fill the position of Assistant Coach, Swimming and Diving. This position reports directly to the Head Coach, Swimming and Diving.
LIQUID LIGHTNING LEAD SENIOR COACH
LL is looking for a LEAD Senior Coach. You will be working with our Senior Development/Gold swimmers on a daily basis. He/She will also work closely with the Head Coach, Head Age Group Coach to build all levels of the program. Sharing and growing the passion of the sport.
DIVING COACH – CARNEGIE MELLON UNIVERSITY
Diving Coach will be in charge of practices, home and away meets, and some travel for UAA's, Zones, NCAA's. In addition to assigned duties by the head coach including recruiting support, etc…
Responsible for planning and conducting in-season and where appropriate and permissible pre-season, non-traditional and post-season team/individual athlete practices and competitions. Design instructions for individual student-athletes and for specific team needs, and teach proper skills, skill development, and team concepts to student-athletes. (20%)
Liquid Lightning Swim Team is looking for passionate, energetic assistant coaches who want to make the commitment to build and with our Bronze/Silver groups. The groups are developmental, and your skills would enhance that development as well as bringing a love and passion for the sport of swimming.
ROGER WILLIAMS UNIVERSITY GRADUATE ASSISTANT COACH
This position will carry extensive responsibilities with regard to recruiting, administrative functions: lifeguard & pool management, and overall swim training.
The fee to submit a Swimming Job is very low, only $100, and SwimSwam leverages the Swim Job to social media, @SwimSwamNEWS Twitter (with 113,600+ followers) and SwimSwam Facebook (with 712,000+ fans) and @SwimJobs on Instagram (with 364,000 followers).  Follow Swim Jobs on Instagram at @SwimJobs. I also leverage Swim Jobs on @GoldMedalMel (with 28,000+ followers) and GoldMedalMel Facebook (with 342,000+ fans). We've learned Swim Jobs are important to our audience. They like knowing what jobs are available in our big swimming family.
***Disclaimer: Because we have included the Swim Jobs above, it does not mean they are all available. Many swim jobs are filled very quickly. If you want to be a part of the swimming community, you have to act fast. Good luck with your Swim Job search.
SwimSwam: Do You Love Swimming? See 4,291 Swim Jobs You Might Love