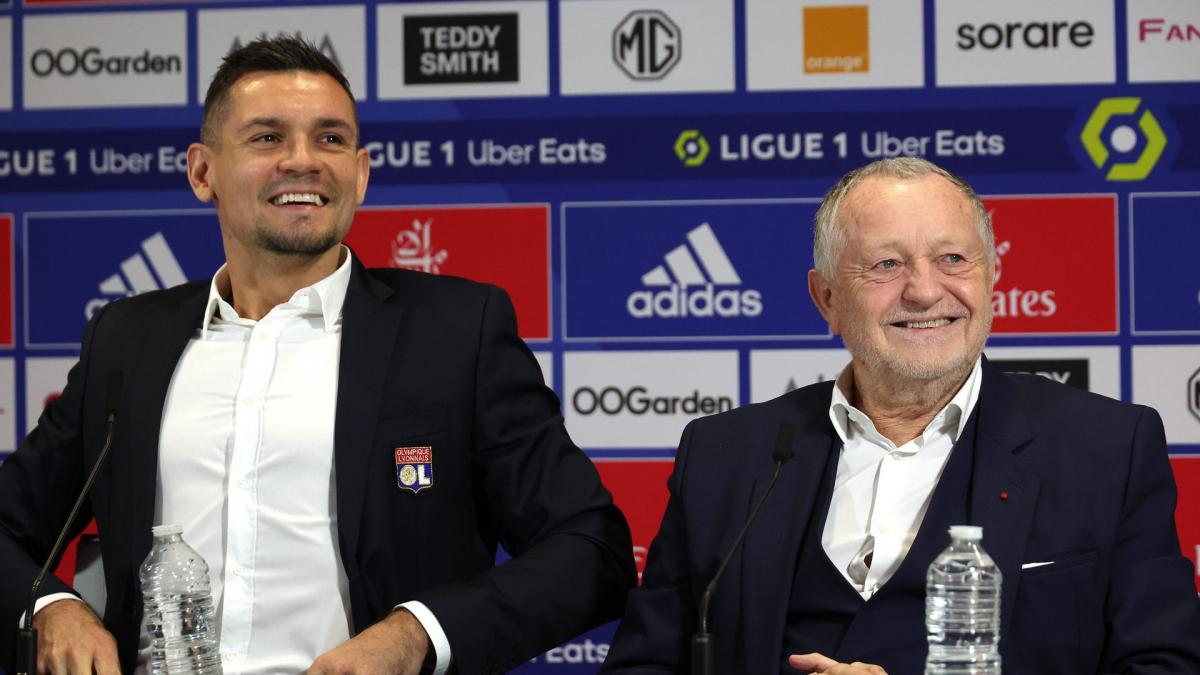 What's next after this ad
"A bit of experience, character and aggression, these are the three ingredients that I would like to bring to this group", admitted Laurent Blanc on December 30 when drawing up the composite portrait of the ideal defensive rookie in his eyes. A description that perfectly matches Dejan Lovren. A player who had the advantage of knowing Ligue 1 well, the language of Molière and Olympique Lyonnais. Indeed, great hope of Dinamo Zagreb, he was recruited in 2010 at the age of 20. Three years and 102 matches later, he joined Southampton, who had paid out €10m, plus €2m in incentives.
After a year with the Saints, he moved to Liverpool, where he played for six seasons before joining Zenit Saint Petersburg. But after three years in Russia, the 2018 vice-world champion said yes when OL came knocking on his door again. Ten years after his departure, Les Gones therefore formalized his comeback on January 2. This, to the delight of Laurent Blanc who wanted reinforcement very quickly. But his comeback was made against a backdrop of controversy. Indeed, the 33-year-old defender was accused of making gestures and singing fascist songs.
To read
OL: Jérôme Rothen smashes Jean-Michel Aulas
The Croatian wants to forget the controversies
Asked by theAFPLovren defended himself. "For me, it's a patriotic song that relates to my country which means that I love my country. (…) It has nothing to do with fascism." Pointed out for having also made homophobic remarks, the native of Zenica was in the middle of a storm. But Lyon supported him. Jean-Michel Aulas was also out of his hinges on Friday when a journalist revived the subject during the presentation of Dejan Lovren. The case is closed on the Lyon side. It is also on the side of the player who wants us to focus on his performances.
What's next after this ad
By taking a closer look, we can see that the Lovren effect is already being felt. However, the beginnings were not crowned with success. Established against Nantes (0-0, January 11), he played alongside Castello Lukeba. His team couldn't do better than a draw but they didn't concede any goals. Then he experienced defeat against Strasbourg (2-1, January 14). A meeting where the supporters expressed their dissatisfaction. Since then, OL have not been beaten when Lovren is on the green rectangle.
A recruit who already brings a lot
After a 3-0 victory against Chambéry on January 21 in the Coupe de France, Les Gones won against Ajaccio (2-0, January 29). Then, they conceded a draw against Brest (0-0, February 1) when their performance was quite good. Saturday in Troyes, they took the three points (3-1, February 4). For his part, the Croatian brings what is expected of him. Holder 6 times in the 6 matches in which he took part, Lovren was replaced twice. Solid defensively although he is no longer very young, he brings aggression and impact in the defensive sector. It also brings size and physique.
What's next after this ad
What his team lacked, still a little young and tender. His extensive experience and strong character are assets for Laurent Blanc. With him, OL only conceded 3 goals and made 4 clean sheets. He also supports his young teammates, Castello Lukeba (20) and Sinaly Diomandé (21), whom he advises. "He directs me a lot, he communicates. He's a boy of character and playing next to him is something good. I also learn a lot with him", explained the Ivorian in the mixed zone last Wednesday after the match against Brest. But his defense partners aren't the only ones he helps. He does this naturally with all his teammates.
A leader and a man of character
We saw him take the floor to reframe them or tell them to stay focused after OL scored. He also recognized it on Friday at a press conference. "Laurent Blanc expects me to be a leader on the pitch and in the locker room too. I'm here to help the team. I will be a leader with Corentin Tolisso, Alexandre Lacazette and Anthony Lopes. They have a lot of experience and I'm not alone here. Young people might look at me a little differently, like I'm scaring them, but I'm really nice to everyone. I want to help everyone because I know it's sometimes hard when you come to a club young. Big brother of this team, Dejan Lovren wants an OL that looks like him.
What's next after this ad
Training with more response. "We have a lot of work to do. I am confident that we can do better, I have a lot of confidence in the hierarchy and in the players. But it takes time, it's normal when you change things. We didn't concede too many goals, that's a good thing, we have to score now. I have confidence with the arrival of Amin Sarr but also the presence of Alexandre Lacazette, we are under pressure but as the president said the objective is Europe and we can still do it even if it's going to be hard. We need a winning mentality, there are a lot of young players and I will try to bring my experience. And he is already doing it with talent, he whom OL will need to pass the Lille obstacle in the Coupe de France on Wednesday and move up the rankings in L1.
Pub. THE
update the